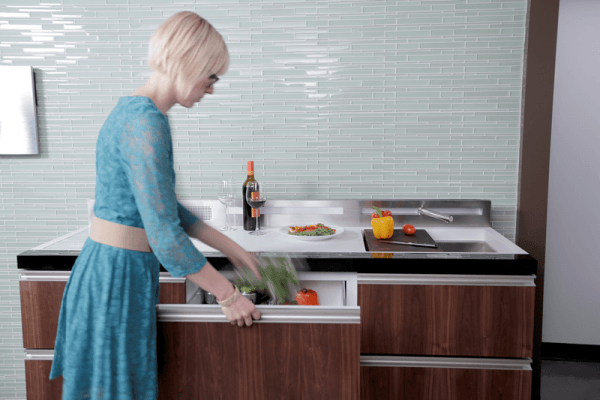 The vast technology of today has made us so much dependent on our daily use appliances that we are hardly ready to compromise with any of them, even when the living spaces are constricting. As a solution to this, we came across the Stealth Kitchen designed by Resource Kitchen that incorporated an entire kitchen behind a wooden cabinetry. Now the appliance giant GE Appliances has come forward and designed the Micro-Kitchen keeping in mind the space efficient needs of people today. Along with quenching your kitchen needs, it also includes non-kitchen appliances like washing machines and dryers.
GE unveiled their latest Micro-Kitchen concept at the Dwell on Design show in LA and their concept design seeks to maximize space and efficiency without sacrificing features, functionality or style of the kitchen appliances used on a daily basis. It includes kitchen appliances like fridges, dishwashers, ovens, and cooktops along with washing machines and dryers. The company has followed the less is more trend of the urban population of U.S. in their design to help people enhance their lifestyle even when living in small spaces.
The Monoblock concept is the most striking of all, as this single standalone enclosure integrated a cooking range, a dishwasher and a refrigerator all together. The unit could blend seamlessly into the surrounding cabinetry and because it is customizable, the users can preconfigure the unit with appliances of their choice.
The 24-inch wide modular platform based on counter top, equipped with a drawer based system,  is another interesting concept. Being customizable again, the users can integrate their moular system with any or all of the modules like a conventional oven, microwave oven, convertible refrigerator, a freezer, and dishwasher. It is further topped off with an induction or radiant glass cooktop, downdraft ventilation system, and kitchen sink with disposal. A combination of all such appliances in one provides the users a feeling of cooking in a fully equipped kitchen.
Although this impressive Micro-Kitchen is merely a concept right now, but GE appliances would soon turn these space efficient ideas into a reality, much to the delight of the end-users.
Via: Reuters