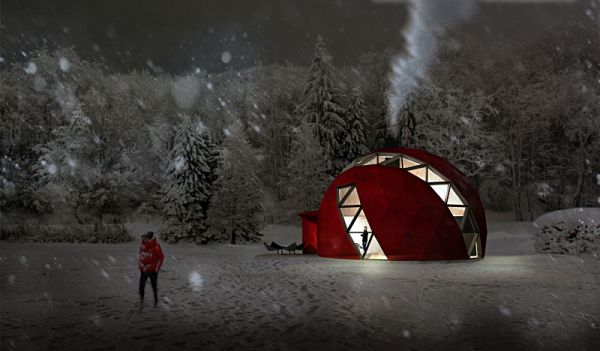 Geodesic domes have always enticed designers with their interesting shapes and outdoor 'setting-up' potential. And, as such there has been a development trend with an aim to allow such geodesic domes to be used as easily portable yet credibly habitable spaces in our outdoor surroundings. Well, the foldable, off-grid 'Geodesic DOM(E)' might just be the answer to all those research processes. Conceived by architectural studio NRJA, this 120 sq ft pre-fabricated conception boasts of a self-supporting internal structure, along with sustainable components like solar panels and a dedicated rainwater collection system.
The internal structure comprises of glued laminated timber with metal mounts, which when combined with the exterior finish of fiber concrete slabs (covered with liquid rubber) endows an effective insulation skin to the Geodesic DOM(E). The technique of micro-climate control is however not just limited to the building's insulation credentials. The shape of the structure also provides natural air exchange, while its ventilation system integrates an underground duct system for fresh and cool air supply.
Finally, coming its energy requirements, the Geodesic DOM(E) is completely self sufficient with its slew of green features. As we mentioned before, these include roof solar panels, which are actually connected to a water tank for provision of hot water in toilets and kitchen. Furthermore, a specialized drainage system is also incorporated within the spatial perimeter, which can be connected to the rainwater collection system. All of these is notched up on the habitable scale by a comfortable birch plywood finishing inside the portable building.
Via: NRJA