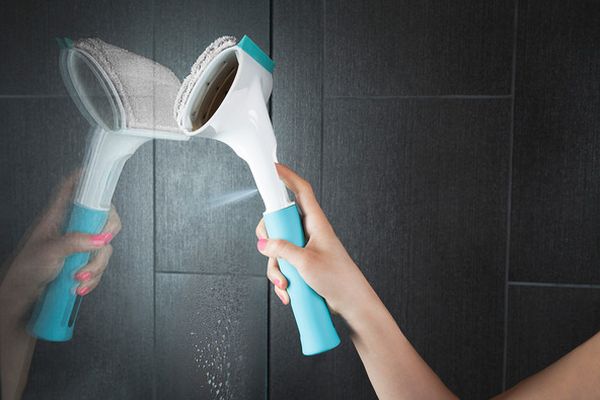 If you are a housewife, then you must have realized that keeping the surfaces like glass table tops, windows, tiles in the kitchen and other surfaces which often catch dust and grime easily are quite hard to clean. Quirky's TeamLab members realized it too and found a new way to make this task easier for you. They invented a new cleansing tool dubbed as Squeak. This product is an all in one cleansing tool and its fantabulous features makes it a hit in every household.
The, squeak cleaning tool integrates a surface conforming cleaning pad, squeegee, and cleaning liquid dispenser all within one sleek tool that can be easily managed. You can add the cleansing  liquid in the cleansing fluid reservoir by twisting off the handle of the squeak. The clear window in the handle lets you keep track of the cleansing fluid level Plus the spray nozzle on the handle allows you to sprinkle the cleansing liquid on the surface to be cleaned much easily. The microfiber cloth of this cleaning tool can also be removed and machine washed whenever required and the cleaning pads can be replaced without any trouble.
This all in one cleansing tool has a polypropylene head, a thermoplastic rubber (TPE) handle to prevent slippery during hardcore squeegee session to clean the windows thoroughly and a cleaning cloth made of microfiber.  The squeak cleaning tool measures 12.25" high, 8" wide and 3" deep and costs a cool $19.99 . So, sop stumbling with your cleaning tools, fight the grime using squeak to get the desired sparkle on your windows . Watch the video below for more of squeak.

Via:
Quirky