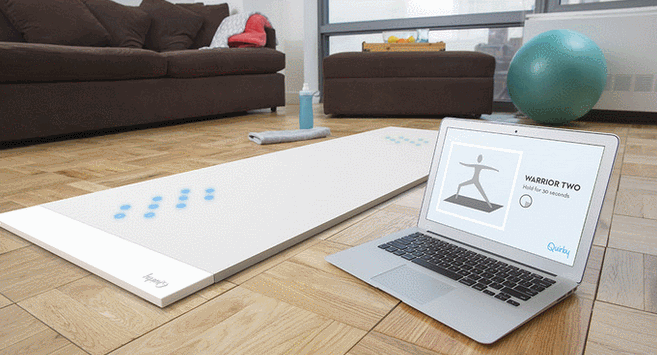 Say goodbye to your boring yoga mats and welcome the latest Smart yoga mat dubbed Beacon in your home. This smart mat is created by Molly Duffy, MIT graduate, for her mechanical engineering class, and now it is presumed to be popular among fitness enthusiasts. It is installed with smart technology that connects with your smartphone or laptop via Bluetooth or USB cable to provide interactive guidance at every step of yoga poses.
The mat is made of plastic and PVC foam for a comfortable cushion like effect and comes in dimensions of about 24 x 0.6 x 76-inches so that you can easily move into different positions. It is embedded with LEDs and pressure sensors for offering feedback and help you perfect all the poses.
These LED lightings turns purple to display the correct posture, red when you apply too much pressure at particular area and green when the posture is correct and evenly balanced. After use, you can fold it back and store in a cupboard or drawer until required.
Beacon yoga mat runs on a battery that can be easily recharged using a cable. It is currently seeking community influencers on Quirky, a campaigning website, and has already backed 60 influencers till now. Hopefully, it will be launched soon commercially once the inventor finalizes its price, you can also help her by suggesting a correct price for the smart mat on the campaigning website itself.
Via: Gadgetify