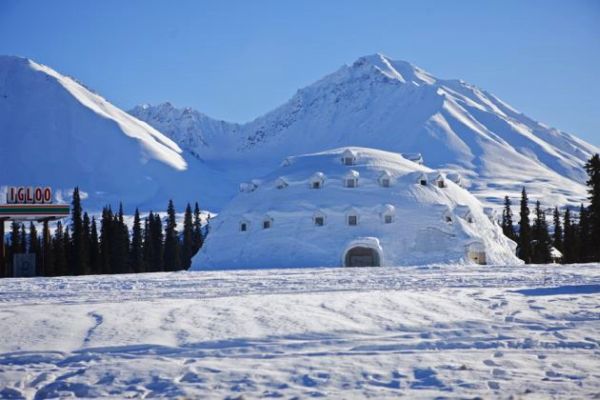 The massive urethane igloo hotel in Alaska is a must-stop tourist spot during summers near Parks Highway. The famous landmark on the way to Denali National Park is on sale for $300,000. The 80-feet high and 105-feet wide structure was once in a livable condition, but now it is slowly deteriorating. Brad Fisher is the current owner of the igloo since 1986, who received it through his family business. Igloo's owners never tried to maintain and renovate the hotel since ages, but tourists still find this abandoned igloo amazing because of its unique structure and the view of beautiful snow-capped mountains it offers through protruding windows.
The abandoned hotel on 38-acre site is not a real igloo but designed like one. Now, it is just a place for attracting tourists who visit here, click photographs and set off firecrackers in its open space. The property is located in Alaska's interior but its owner Brad Fisher somehow feels that there is a possibility to make money out of it. According to him, the hotel could be an eye catching seasonal restaurant and hotel as tourists visit here usually during summers for hiking and in winters for snowmobiling.
Igloo Hotel, situated in a beautiful location surrounded by snow covered mountains, is a bit pricey for an abandoned property but worth every penny. Moreover, investing in an abandoned property is also quite risky. The new owner will definitely have to spend more money on renovating the igloo hotel. There is no electricity available in the area or nearby areas, which means additional cost on electricity. Solar panels and winds mills, though, could solve the purpose and seems more affordable, but the amount sun rays this area receives per year doesn't make it a very good option. Now, let's see if the owner of igloo hotel finds a person willing to buy it at such high amount or not.
Via: Gizmodo