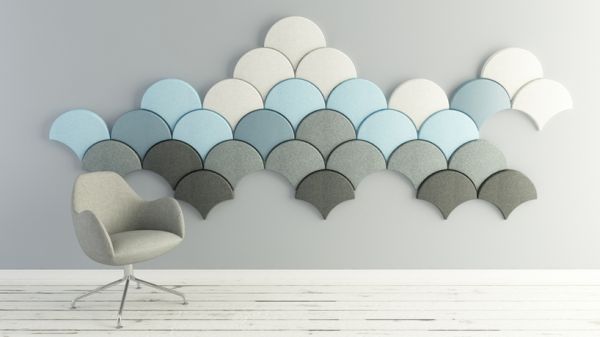 Soundproofing, which is also known as insulation of the house is important, as it stops the sounds from your house to flow out and also does not allow outdoor noise to enter inside. Now the sound absorbing panels have come a long way from the clunky and boring eyesores of yesteryear. To diminish boredom of traditional design, Swedish company Blå Station has launched their Ginkgo acoustic panels at the Stockholm Furniture Fair. These colorful sound absorbing panels not only provide efficient insulation, but also offer a distinctive flair to the home décor.
The Ginkgo acoustic panels combine Japanese tradition with modern European technology. This fantastic creation took its name and shape from the leaf that grows on Japan's ancient ginkgo tree. Produced by Stone Designs, Ginkgo gives you the opportunity to change the overall mood and significantly improve the impression of the room. This decorative solution is an artful sound-absorbing system that comprises distinctively shaped individual panels made from hot-pressed 100% polyester felt.
The fan shaped acoustic panels are available in a range of nature inspired colors including white, gray, anthracite but the surface can be laminated in other colors too. You can either repeat the same colored panels across the walls or create a graphically arresting pattern by combining panels of different colors that manage to transcend their function and morph into something closer to art. With this attractive creation, the designers have tried to improve the sound insulation in the room, and at the same time encourage people to insulate the wall.
Via: FreshersMag