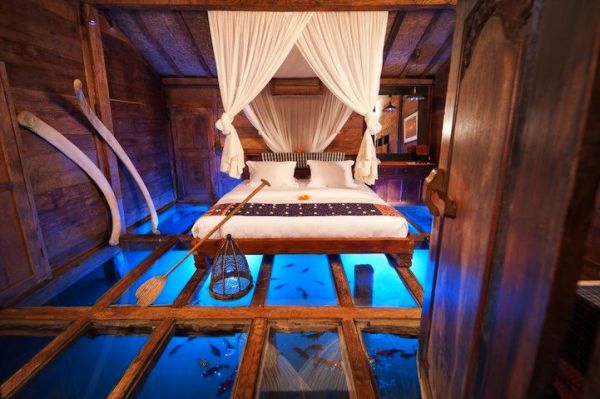 Udang House is located at Bambu Indah in Ubud, Bali and is built above a shrimp pond. The house is also known as the Shrimp House because of its peculiar trait of being built atop a shrimp pond. The most attractive feature of the house is its bedroom including glass floor panels. The glass panels offer a stunning view of blue water of the pond wherein fishes and other aquatic animals can be seen moving around from the bedroom itself. Guests/residents in the bedroom, besides resting, can enjoy the wonderful view underneath.
Other than this amazing bedroom the house includes a full-size bathroom and a living area. The bathroom has a glass-tiled roof that allows natural light of day to enter inside and at night the moonlight brighten up the area. The living area of the house is quite cozy with comfortable couches to spend a day lazing around. The entire house is made of wood with wooden furniture and contemporary designs and décor items. Outside, the house wooden chairs are kept to sit and relax staring at the nature's beauty.
Externally, a water fountain supplies fresh water to the natural pool and pond on which the house is built. The house is situated in between natural lush green environment surrounded by trees and plants. The Udang House is built in lap of Mother Nature for guests to spend their holidays relaxing close to nature.
Via: MyModernMet