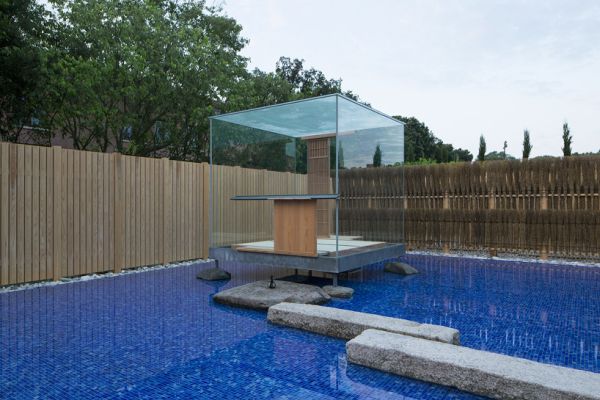 Drinking tea together in a sophisticated manner is an ancient tradition in Japan. The ceremony is called Chanoyu, Sado, or simply 'Ocha' in Japanese, in which Japanese green tea is served to the guests with sweets to balance its bitter taste. Along with the guests, the host, the seating arrangement and tea; a serene place is also required to enjoy this tradition to the fullest. Keeping this in mind, a Japanese artist Hiroshi Sugimoto has designed a sublime tea house, dubbed the Glass Tea House Mondrian Pavilion that was presented at this year's Venice Architecture Biennale.
The subtle Glass Tea House Mondrian Pavilion is located on Venetian island of San Giorgio Maggiore. The artist has beautifully united wood, glass and water to create a quite and transparent place for conducting the Japanese tea ceremony. The entire construction includes an open-air landscape, courtyard and an enclosed glass-wood cube where the ceremony is performed. Paying tribute to the Venice's storied glass makers, Sugimoto has made use of Venetian glass along with cedar wood frame to make a solid pavilion.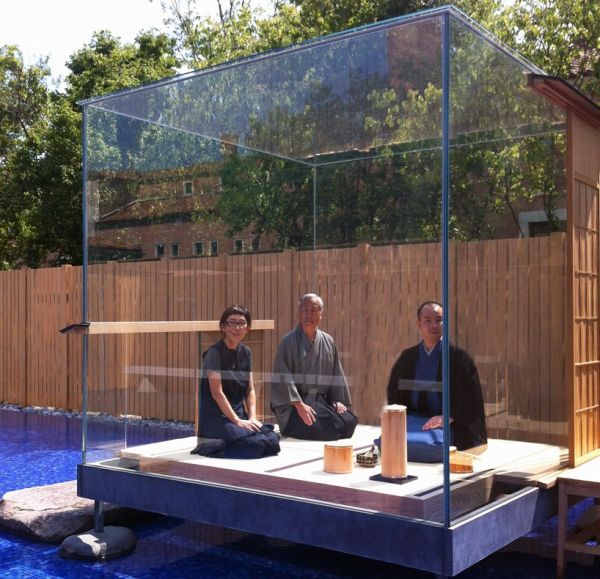 Hiroshi Sugimoto says,
I decided that a Japanese transliteration of the name 'Mondrian' would be an ideal name. I combined three characters that betoken 'a modest house where one can hear the birds sing.' I like to think that this tea house was designed by Mondrian after he heard Sen no Rikyû speaking to him through the singing of the birds.
The glass structure is constructed amidst a reflecting water pool made of glass mosaics and staggered wooden landings throughout the landscape lead the guests to this glass structure. The designer has combined culture of Japan with proficiency and handcraft techniques to construct this simple yet elegant tea house.
Via: Blog.2modern