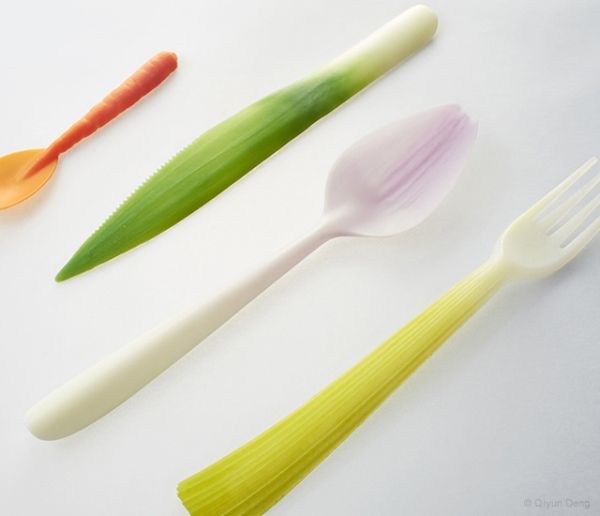 Michiko Shimada's project of fruit and twig mimicking tableware was a successful case of design replicating nature. And, now we have come across Graft tableware, which is also inspired by the fruits and vegetables we tend to consume on a daily basis. Conceived by Chinese Qiyun Deng (who actually studied and worked in Switzerland), the difference in the scope of Graft is that instead of fully replicating the subject, the tableware items capture the essence of these naturally available food stuff like celery, fennel, carrots and onions. As a result, we can see the spoons and forks exhibiting the same color and texture of the vegetables, while also having their very own distinct shapes and sizes (that are more related to convention, rather than nature).
In essence, Graft stands for the subtle visual representation of fruits and vegetables, where we can identify the source by our sense of familiarity with the subject (like the purple hue of onions). However, beyond aesthetics, the Graft collection does have a variety of tableware items including forks, spoons, knives, teaspoons, cups and bowls. The prevalent material used for crafting the designs is bioplastic PLA, which interestingly is a biodegradable form of plastic derived from vegetable raw materials.
So, at the end of the day, the project is all about the ambit of 'inspired by nature'. But this intrinsic level of inspiration is also complemented by the practical use of plastic derived from vegetables, thus endowing the Graft tableware with naturalistic quality.
All images are courtesy of Qiyun Deng.
Via: TheMag