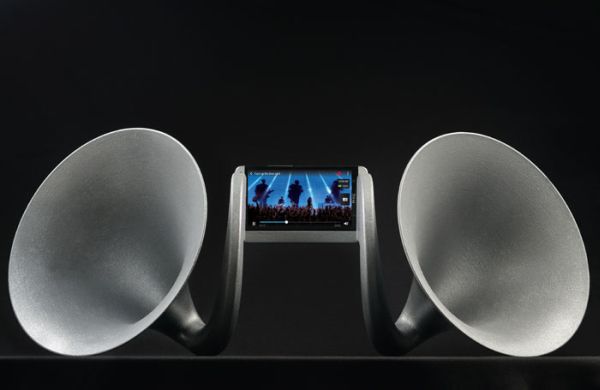 These days mobile phones are considered as a great source for listening to any kind of music. But, it has also been seen in most cases that the sound produced by the built in speakers of mobile phones is a bit below average. Therefore, speakers are recommended for those looking for a punch of volume. However, if you happen to be an HTC One owner and have a plenty of cash in your pocket, then the Gramohorn II is the perfect accessory for you that amplifies music from this smartphone without using any external power input.
The Gramohorn II is a part of HTC's "Here is to creativity" campaign designed by Justin Wolter, who will soon come up with HTC One version of his own Gramohorn. Hence we see a 'II' in the name. Interestingly this pair of speakers is designed by getting inspired by the gramophones. The design includes not one, but two gramophone shaped horns that amplify the music without needing any external power.
Because of the interchangeable cradle in the Gramohorn II, it is compatible with HTC One Mini and HTC One Max as well. This set is the latest accessory to be produced by making use of 3D printing. It is available in both plaster resin version in 22 color variants and metallic version in 5 metal finishes. When compared in terms of pricing, plaster based model is cheaper than the metal one. The cheaper version of this double horned beauty carries the price tag of $1,600 while the cost of the metallic version is even more eye watering i.e. $8,000.
Although, the Gramohorn II amplifies volume by up to 50 percent, but will certainly be a conversation point among your visitors.
Via: Gizmodo