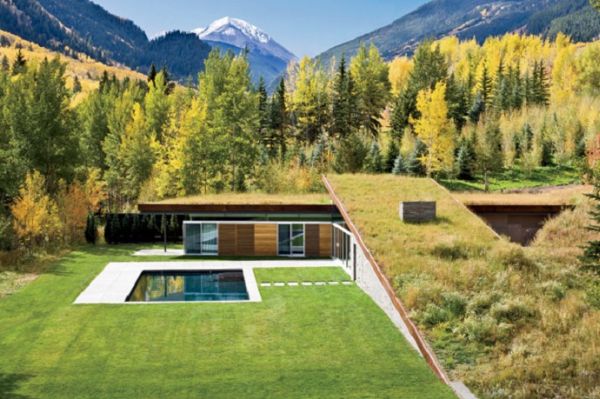 Every renowned architectural firm does have its own specialty in designing building. In this regard, Gluck+ firm's s 'claim to fame' is their eye catching residences embedded beneath the earth (which are ironically inconspicuous in nature). Their latest construction project attests to this distinguishing feature with loads of green attributes complementing the core design. The project is question is a structural addition to a 2,850-square-foot guesthouse nestled within the Colorado Rocky Mountains; a building which was originally designed by Gluck+ in 2004. This new triangular faceted addition runs between a creek and an access road, while one of its objectives entailed the structure's non-interference with the breathtaking mountain views offered by the original residence.
The architects worked out a solution by 'colliding' the augmented form with the main rectilinear building at an almost right angle. This unique arrangement resulted in a ramp like gradient that actually slides a bit over the roof of the original Modernist residence. However with some deft designing techniques, the spatial demarcations of the new 'seamless' building are actually unaffected by the seemingly avant-garde shape of its outer structure.
And, since we are talking about spatial demarcations, the zones of the guesthouse are divided into three proper bedrooms along with a garage. Solar panels are utilized on its southern wall for heating the house and the adjacent swimming pool. The additional structure on the other hand comprises of living rooms and dining area, all flanked by glass facades that provide access to utilities like swimming pools and courtyards on the sides of the building. It also consists of a 'conventional' fireplace which accentuates upon the rustic setting of the overall project.
Via: DesignRulz