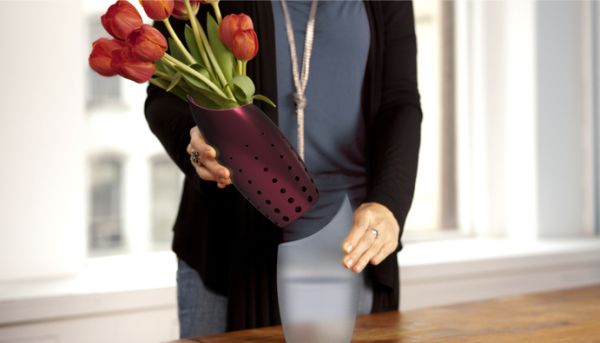 When it comes to the ever thriving realm of home decor, beautiful designs are fortunately galore. However, when this enticing scope gives way to the conscientious side of affairs, the design works on great many levels by relating functionality, form and user convenience. The 'Hana' flower vase according to us,  is one of such exclusive conceptions, and it does enchant us with its simplistic form and virtuous commercialism.
Design wise, the vase comprises of two separate decorative components. The first (internal) component is an exquisitely crafted ceramic container. However beyond the elegant visuals, this container is also perforated with holes for adequate draining of excess water. The second (external) component is a container cum cover made from frosted glass. This canister holds the excess water, effectively drained from the inner ceramic component.
Now, we did mention something about the 'virtuous' commercial scope of the Hana flower vase. This is because the very word Hana translates to 'flower' in Japanese. In this regard, Ouirky has decided to donate all the gross profit from this conception to help out the Japanese community from the reverses of last year's tsunami and nuclear plant explosion. In fact, this donation is to be made forth in appreciation of the Japanese contribution to the field of product design.
Via: Quirky