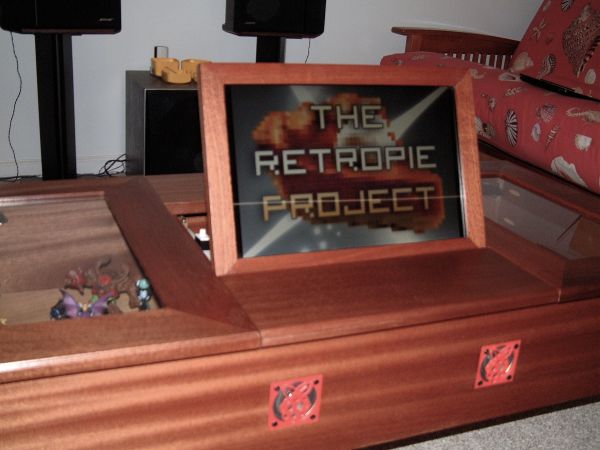 It's an all-in-one gaming table and it's dubbed the Retropie project. At times there is no limit to what a small idea can lead you to. This is the case with Jody's whimsical Raspi Coffee Table, handmade from wood, computer and gaming peripherals. Jody wanted a coffee table for his entertainment room. His eye fell on a new Raspberry Pi he had at home, and there the idea of a gaming coffee table for the entertainment room was born.
The Raspi Coffee Table is an African Mohagany (Sepele) wood table with an awesome (low performance) gaming system within. The table is fitted in with a LCD display from Dell XPS 17-inch laptop, which rests comfortably within a wooden frame. Raspi Coffee Table has a compartment on one side, which houses Xbox 360 controllers, Logitech K350 wireless keyboard and mouse, and features 3D printed grills fitted in with speakers. The monitor of the Raspi Coffee Table turns on and off when it is raised, thanks to pressure sensitive pantry bell installed inside.
Jody's gaming unit may not be the fastest computer but he and his son have already spent hours playing classics like Cave Story on the Respberry Pi powered gaming system.