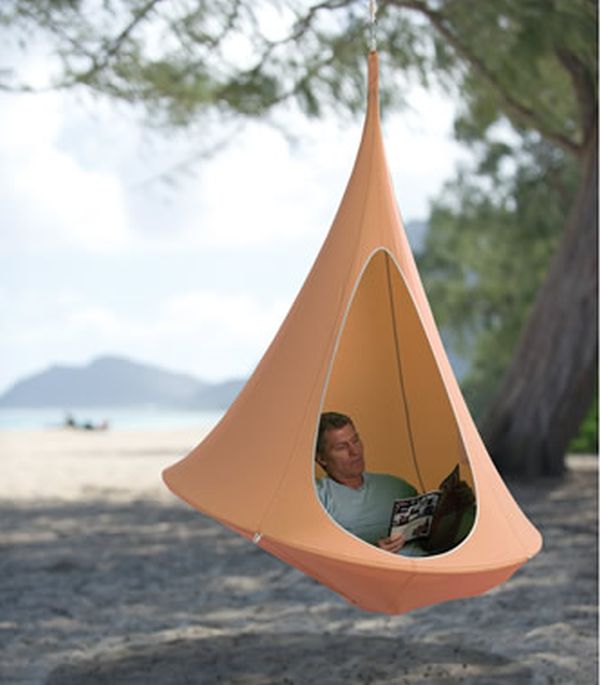 Seclusion is the new mantra when it comes to the realm of privacy oriented furniture items. The aptly christened 'Hanging Cocoon' is a definitive example of this trend. Basically an enclosed hammock like component that structurally mimics a hanging, tapering nest of weaver birds, the design is a perfect fusion of sturdiness and portability. Weighing just 11 pounds (or 5 kg), the unique form can be assembled manually within minutes, thus lending further credence to the modular essence of the whole conception.
With a capacity to support up to 440 pounds (around 200 kg), the flexible enclosure is crafted from 350-gram cotton/polyester blend, the very same hardy material used for sails in yachts. This shell is further given a 'solid' form by an eight-section aluminum ring, which forms the circular base of the hammock. From the angle of convenience, the ring helps the user to easily assemble the whole product and also fold it along the metallic base when required. And, since the cocoon is commercially aimed for outdoor purposes, the body is treated with polyurethane to be more water and sun resistant in nature (with UPF 50+ sun protection).
Finally, coming to the scope of safety, the sturdy fabric can be hanged via equally sturdy 15′ nylon rope and steel carabiner. Of course, all of these features come with a pretty higher-end price tag of $399.95.
Dimensions:  8′ 9″ (height) x 7′ 3″ (dia)
Via: Hammacher