Aarambh, a non-profit organization in New Bombay, India, has converted recycled cartons into useful classroom desks for children in rural regions of the country. The organization named these desks as 'Help Desk' because they are used for dual-functioning. Besides functioning as a desk in classrooms, this portable desk can also be turned effortlessly into a school bag for children to carry their books and belongings.
The organization collected the used cartons from corporate offices, retail outlets, and recycling centers. After that, they created a stencil design and pattern was cut in a way that it can easily be folded into a small desk for kids. The same desk after using in a classroom can be refolded to form a briefcase-like school bag.
It is a great solution for children to work comfortably while sitting in classrooms and carry their books easily instead of a plastic bag that they normally use for carrying books.
Aarambh came up with this idea when they noticed the problem that children in many rural areas sit on the dirty floors without proper desks inside classrooms. Sitting on floors with hunched backs whole day causes health issues like bad posture and poor eyesight.
To solve the problem, they decided to form ecological and economical dual-function help desks. The manufacturing cost of such a desk is less than ₹10 (approx. 20 cents) per piece.
The organization has already distributed these desk-cum-school bags to many children in Maharashtra, the western region of India. Now, they have noticed that children in rural areas are learning more happily and comfortably.
It goes without saying that these desks should be distributed to children in other rural areas and other developing countries for a more comfortable learning.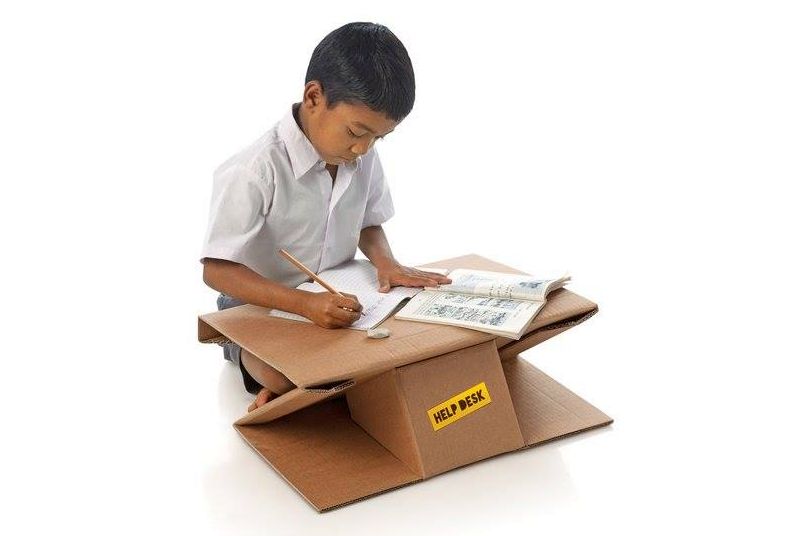 Via: DesignTaxi