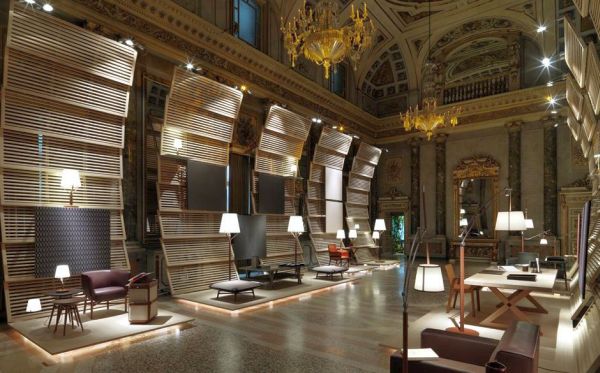 French luxury brand, Hermès,  participated in Milan International Furniture Fair 2014 with an installation entitled Hermès en lumière. The luxury brand opted the palatial environment of ostentatious late 18th-century Palazzo Serbelloni in Milan as an aura to launch the fourth edition of their 'home universe' collection, which included lighting for the first time. The  installation took 10 days to build. It showcased the first  lighting range collection designed in collaboration with Italian architect Michele De Lucchi and French visual artist and light scenographer Yann Kersale. The luxury maison also unveiled a collection of  Jordin D'Osier original silk fabric and wallpaper inspired by the Antient  Tea Route,  re-editions of a chair, console and bench by Jean-Michel Frank, and the bespoke pieces of furniture by Curiosités d' Hermès.
Hermès introduced three sets of LED lighting collections , each very special in its own way yet exhibiting the brand's hallmark, with finely crafted materials and frames artistically shrouded in their signature leather.
The Lanterne d' Hermès was designed by the French light scenographer Yann Kersalé, while the Pantographe and Harnais were designed by Michele de Lucchi. Lanterne d' Hermès is a modular light with a rechargeable battery that can be used indoors and outdoors. The designer was influenced by old sailing and carriage lamps to create this fantastic luxury light..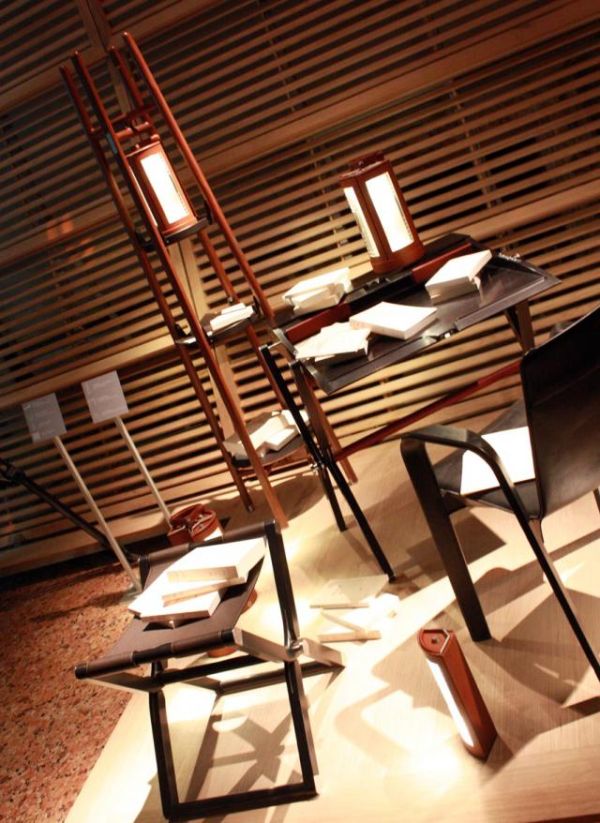 The other two ranges of light fixtures designed by Michele – Pantographes and Harnais, are paying homage to the company's equestrian heritage and are inspired by architect's drawings. The Pantographe collection features a large floor light Lampadaire Arche. This brilliantly fabricated light features a slender frame, double-dimmer system, silk shade and a leather-covered flex. For this Hélène Dubrule, the managing director of  Hermes, has aptly described Michele de Lucchi as a 'poet of lighting.' This six piece collection by him took three years to design. Commenting on this, Hélène said,
It's just a small collection, but it's very Hermès. It mingles innovation and the hi-tech with fine craftsmanship. The designers have really entered the world of Hermès.
The imagination behind Hermès' continues to impress us with their innovative designs .The exhibition also displayed a whole new version of furniture items, including a chair, console and bench by Jean Michel Frank, that was first designed with Hermes in 1926. This collection is just limited to 50-100 pieces and the products are made of wrought iron and hand-patinated brittle leather.
Furthermore, the brand's collaboration with French designer Philippe Nigro as  Curiosités d' Hermès, has introduced three  furniture pieces inspired by the 'cabinets of old.' They have been created from exquisite materials, such as ebony-finished pear wood, graphite Porosus crocodile and ebony Bosphore horsehair and each of these pieces can be customised to a customer's requirements. They are likely to be priced in the range of £300,000 (US $504060).
A stunning backlit panel of  new silk fabric by Jardin D'Osier Imprimé, the lush foliage of the design by Pierre Marie enriched by a verdant foreground of tropical plants and palms was an additional welcoming treat for the guests on their arrival.
Yet another intervention by Michele De Lucchi  was in the form of louvre-like timber panels, layered horizontally to arch up either side of the space. Inspired by the hull of a boat, these venetian blinds, provided an effective backdrop for the lighting, with the interplay of light and shade on the horizontal slats adding drama and warmth to the space.
The entire set up created by Hermes at Palazzo Serbelloni was enough to produce an atmosphere of awe mingled with delight amongst the visitors.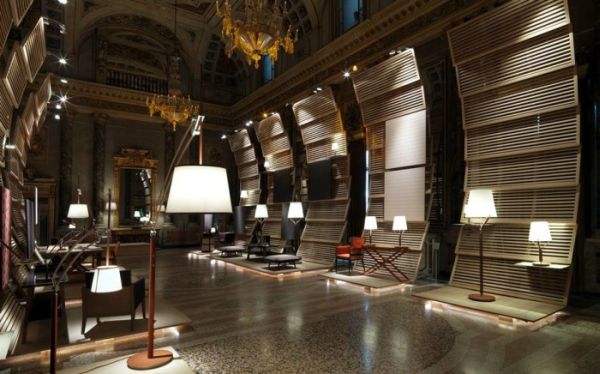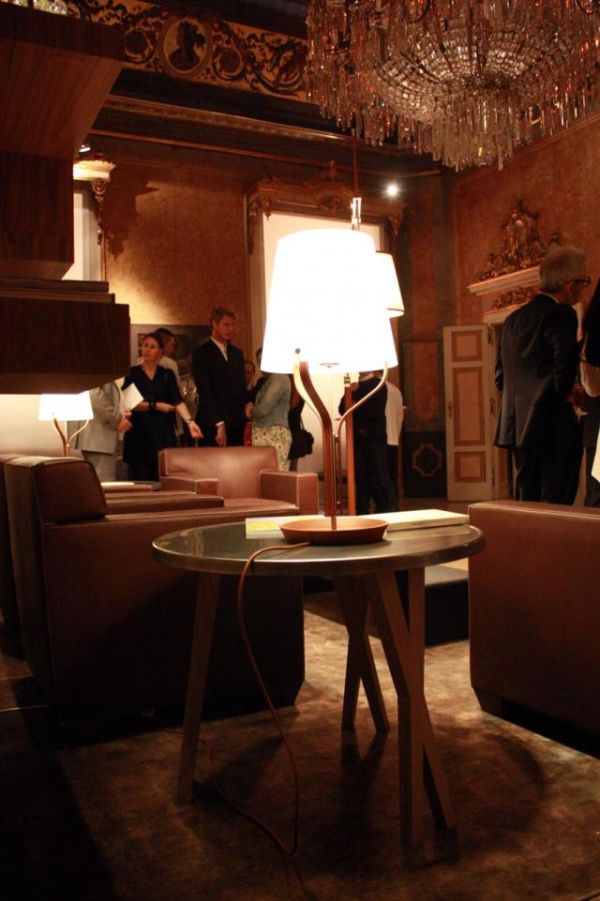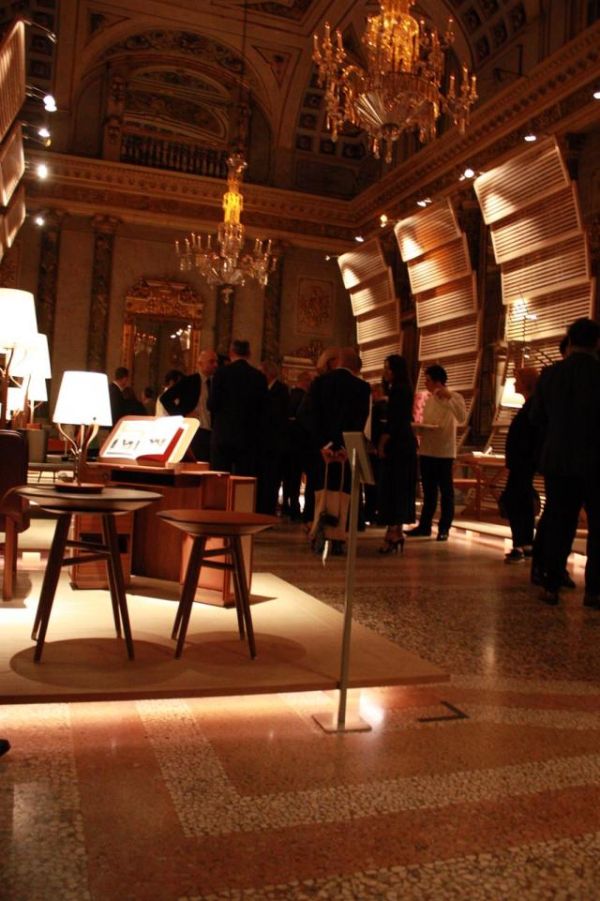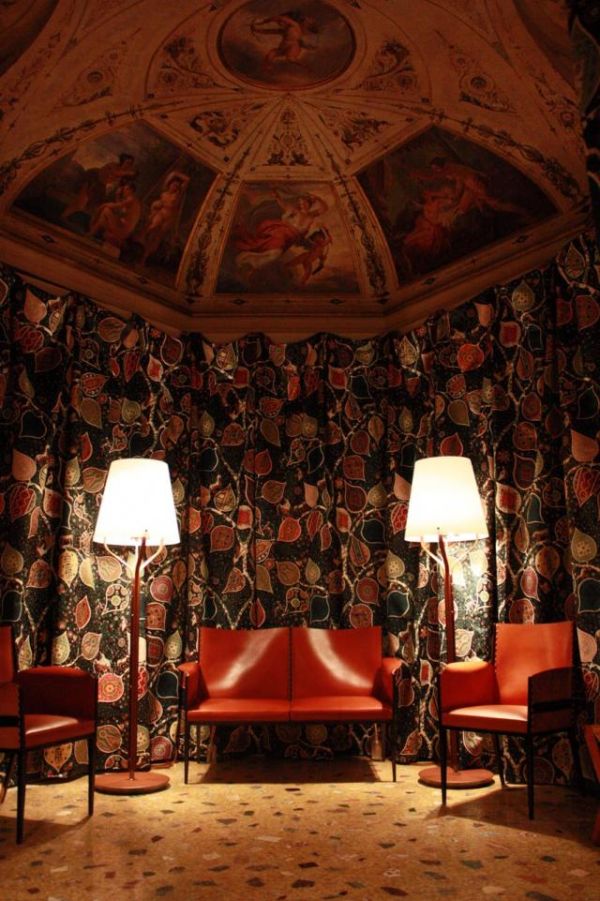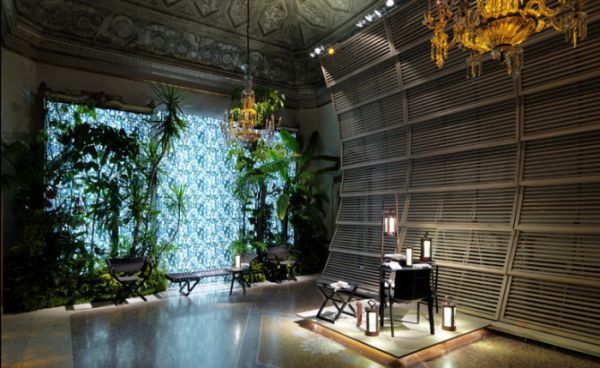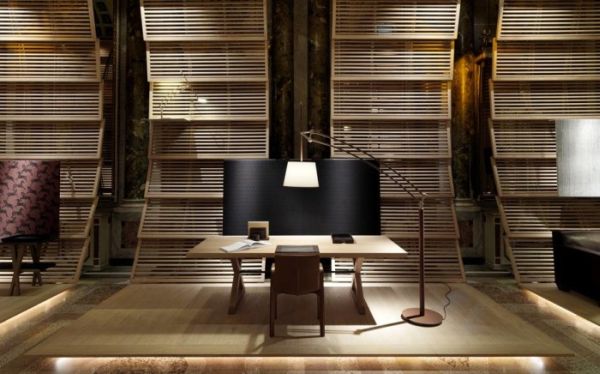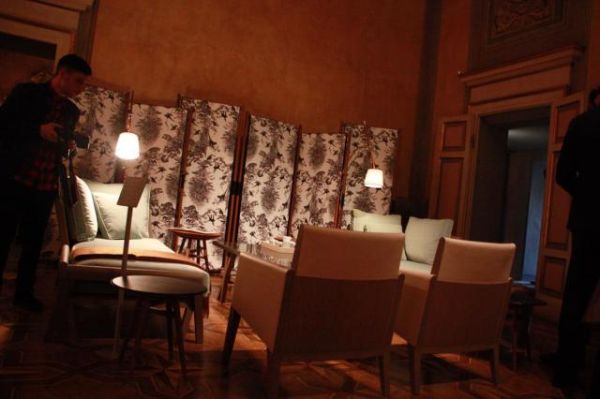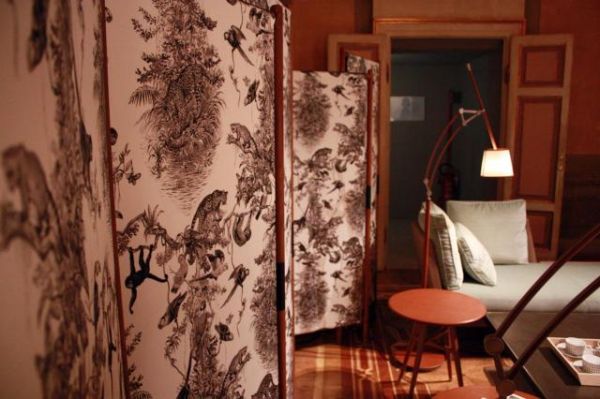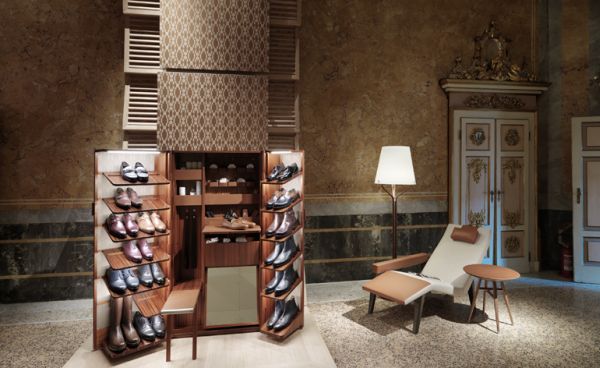 Via: Telegraph