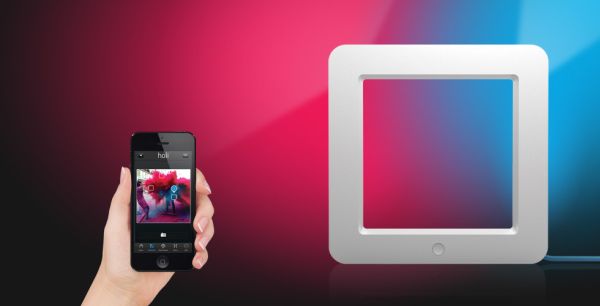 We had harped about how interaction between man and machine took an 'emotional' turn with Vittorio Cuculo's Arduino controlled Mood Lamp. And, this time around, we have come across another 'intuitive light installation' that caters to your mood changes. We are talking about Holi Mood Lamp, a bantam, hollow square shaped lamp mechanism conceived by the designer duo of Gregoire Gerard and Jerome Schonfeld. An array of 18 LEDs are actually placed on the rear side of this high grade aluminum crafted square bezel. This strategically hidden lighting gives us the illusion of an ambient glow from the hollow facade of the entire Holi Mood Lamp.
However, the definitive feature of the Holi Mood Lamp is not its vibrant visuals. It is rather the easy means that is required to achieve this level of vibrancy inside your living room. In this regard, the light and its assortment of hues can be controlled from your smartphone and other tablet devices (including iPad, iPod and iPhone). There is specialized and free Holi app available in the apps stores of both iOS and Android, which allows you to choose a range of over thousand shades from a color wheel. And the best part about the scope is that the navigation is pretty intuitive with you controlling the colors with just your finger on the wheel (on the mobile device screen).
The Holi Mood Lamp also comes in handy for those weekend parties and karaoke sessions. The contrivance can display a slew of shades that are synced up with the music beats (in designer's words – colors that dance to the beats), thus endowing your living room decor with a cool discotheque like ambiance.
Price – $270
Via: TouchofModern