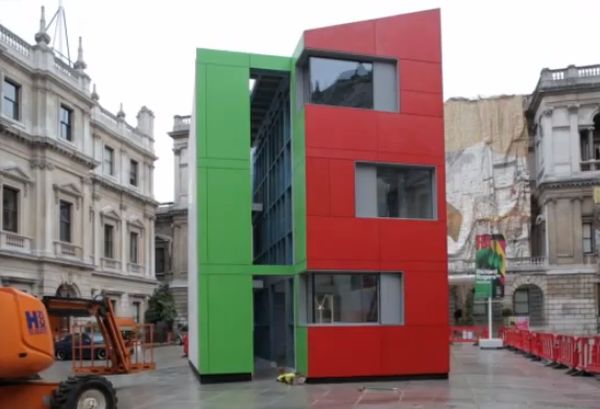 The mighty Rome wasn't built in a day. But the above pictured three-story pre-fab house was certainly built within a day, and that too 'with high levels of both acoustic and thermal insulation'! Showcased by Royal Academy of London as an interesting part of the Richard Rogers's Inside Out exhibition, the house christened as the Homeshell (and designed by Rogers Stirk Harbour + Partners) gloriously demonstrates the modular scope of construction. In fact, Pritzker laureate Richard Rogers is a noted British architect who had much to offer to the technological development of pre-fab structures. The house in part celebrates his immense contribution, while also showing a typical modernist bearing that accompanies its contemporary credentials.
As we have mentioned before, the entire Homeshell building is three floors high. This daunting height (for a pre-fab structure) was achieved by the utilization of lightweight panels and the firm's indigenous jointing system (which is actually a patented technology). The modular structural components of the house were transported by a truck, and then arranged on site. This whole process took less than a day, thus aptly proving the credibility of pre-fab technology.
The scope however is not just limited to the time and energy efficiency of the project. The light-weighted Homeshell also boasts of a wide range of other advantages that include – adaptability, fire and water retardant characteristics and even earthquake and hurricane proof capabilities. And, since we have brought up the subject of user-oriented efficiency, the designers tout the overall reduction in energy bills for the house to be more than 90 percent!
Via: TheGuardian