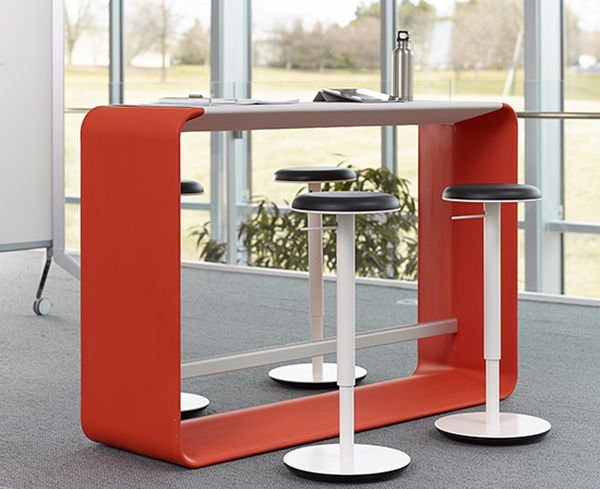 In the current scenario, there are no geographical boundaries or typical work hours. Mobility, collaboration and freedom courtesy evolving technology have given new dimensions to work environment. Today, a worker spends more time collaborating with others, than sitting on the desk individually; to honor this Haworth Design Studio has designed Hoop, a molded, standing-height table which is available in customizable option of fabric wraps. The Hoop is designed primarily for impromptu conversations between two or more persons (a maximum of four people can converse table comfortably).
Created in a very lightweight form factor, the Hoop can be easily moved around. Being really portable, the Hoop table can be used in almost any kind of setting, both indoors and outdoors. To make standing around the table comfortable, the Hoop is approachable from all sides, and it has been provided with a footrest, which is reminiscent of standing at the bar. For more comfort, Hoop table can be paired with Haworth's Tilt stools that rock side to side as the user moves about.
Hoop table can be used alone for small group collaboration and in case you have a large gathering, you can combine multiple tables. The unique molded table comes in four colors Graphite, Ember, Plaster smooth and Fog, whereas the optional fabric comes in three different colors – shadow, Misty and Frost. There is no word on the price of the table.
Via: Haworth