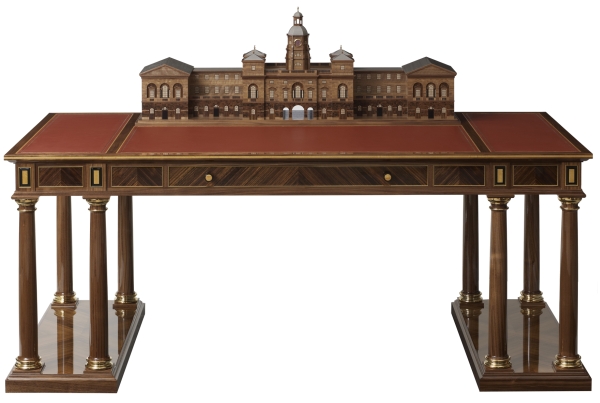 To commemorate Queen's Diamond Jubilee, Linley (a British design company) has created a monumental piece, the Horse Guard's Parade Desk which will be auctioned later this year for raising funds for The Foundation of Prince William and Prince Harry. Paying a special tribute to the iconic London building of the Horse Guards Parade which is the actual residence of Household Cavalry this desk is exemplary of the British craftsmanship.

Expected to raise around £120,000 in auction set for September 2012, the creator David Linley is extremely excited about this creation of his. The desk is made from walnut and Bombay rosewood with a miniature architectural of the Horse Guards Building designed originally by William Kent in 1975. The desk sits on eight Doric column legs and the gold plated beading with satinwood stringing and houses six drawers, two of them having mounted horse guard in marquetry inlay.
It has three secret cabins too which can only be opened by the owner and the Horse Guard's Parade box on top of the leather surface is made from walnut, burr walnut and sycamore. The desk Linley almost 1400 man hours to complete and that is very much evident from the attention to detail employed in its making.