When moving heavy furniture by yourself, you often face trouble figuring out how to handle the tedious task alone. Moreover, lifting large furniture items and heavy boxes is strenuous to your back and joints. You may even risk damage to your furniture when attempting to move it yourself.
But DIYing is the best way to save extra money on relocating your stuff during a house renovation or when moving into a new house/apartment. So, when you are jockeying around heavy items within or out of your home/office/apartment/garage, you don't want it to be labor-intensive than it needs to be.
Learn simple ways to move furniture the right way so that a heavy couch does not come crashing down your staircase, damaging everything in its path.
# Simple and Useful Tips to Move Heavy Furniture Items
1. Make a plan and take measurements first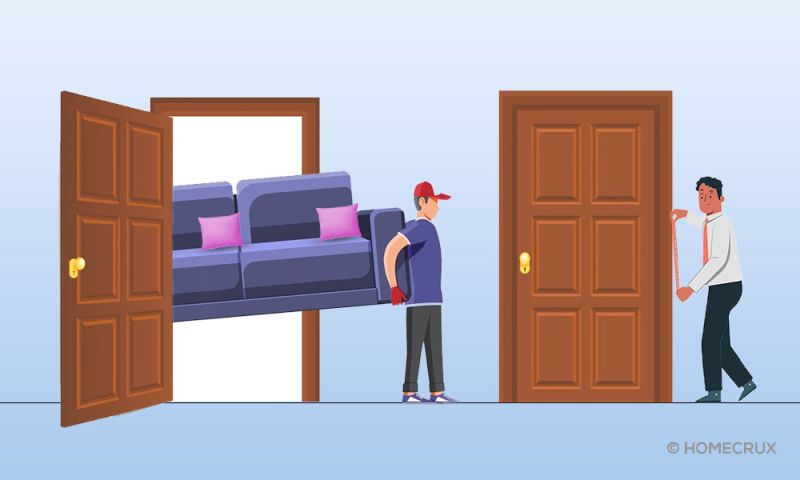 Before beginning the lifting process, make a thorough plan of which furniture will go where. Also, measure the hallways and doorways you have to pass through while moving the furniture. Trying to push an item through a hallway or doorway that's too small may result in damage to the item. It may even lead you to drop that item, causing potential injury to yourself or a moving partner.
2. Clear the pathway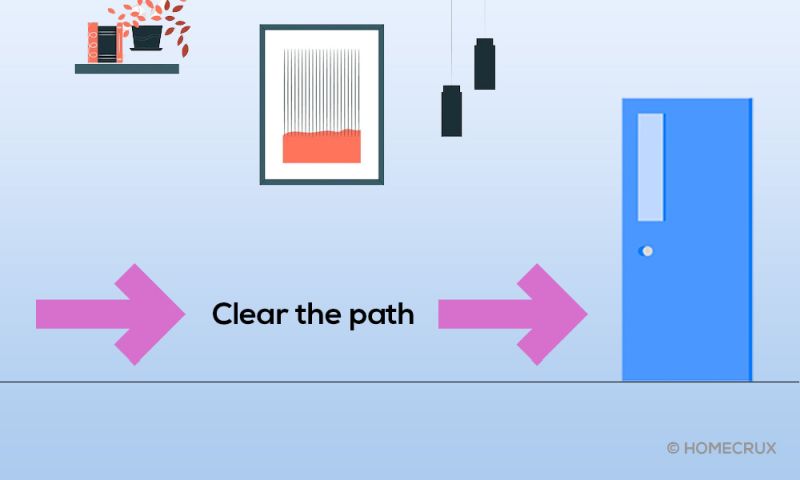 Make sure that the pathway is clear before moving the items. This will allow you to see the path clearly and also prevent any tripping hazards.
Also, lay down a liner on the floor to prevent it from scuffing or damaging. You may use a roll-out plastic liner or moving blankets. And, always wear closed-toed non-slip shoes to avoid accidents.
3. Remove loose items or items inside furniture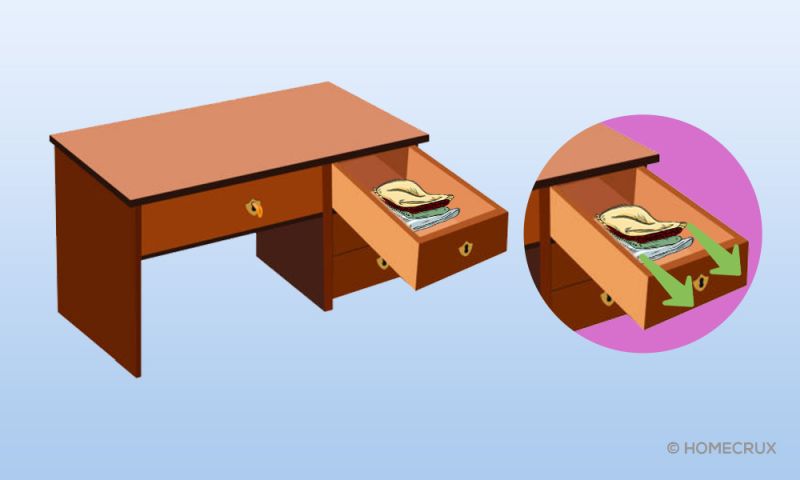 Always remove all loose items that may fall during lifting, like pillows, wall frames, etc. Keep these things in a safe place to easily set them again when the furniture is moved.
Don't forget to take drawers out of the cabinet and remove books from the shelves to reduce the weight. Removing items from furniture makes it lighter to some extent.
4. Disassemble large items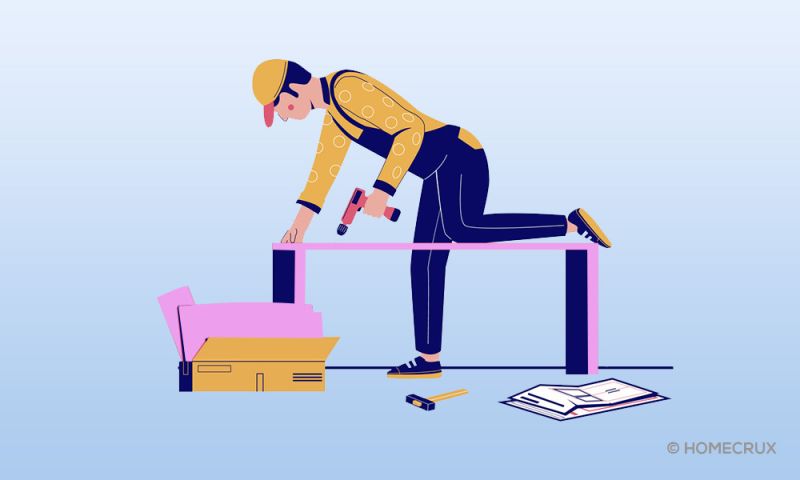 If you have a furniture piece that can be disassembled into smaller pieces, disassemble it first, and then begin the moving process. Put the screws, bolts, and nuts safely in a plastic bag so that you can easily re-assemble the furniture.
5. Turn and move chairs in an 'L' shape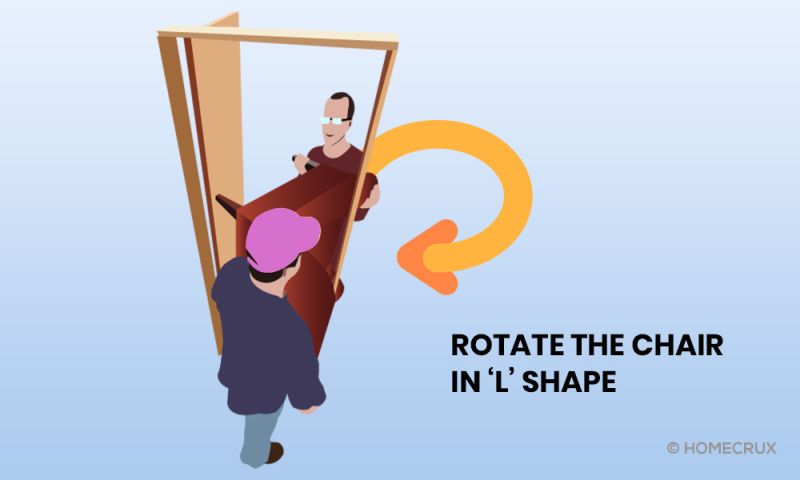 An average-looking chair (despite its name) might not be so easy to move after all. You should do what pro movers do, hook larger chairs around corners to make moving them easier. Just turn the chair on its side to make an L-shape and move its back-first through the doorway. Curl (hook) the chair around the doorway to allow it to slip through.
6. Carry tall furniture using a high-low technique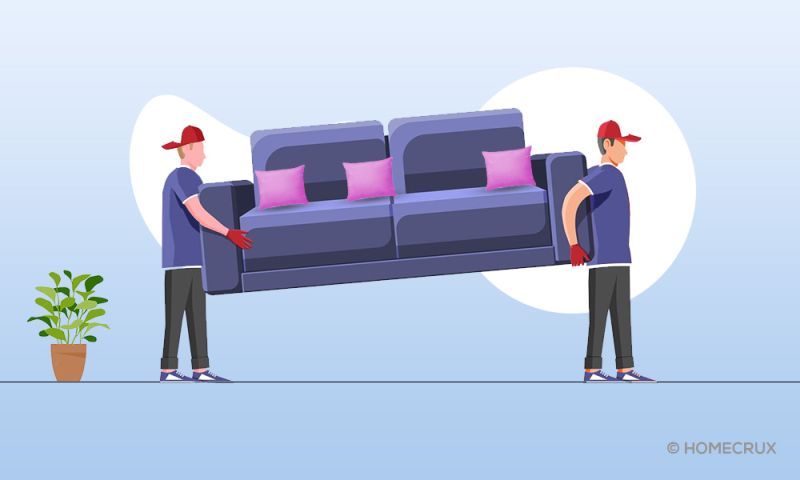 A tall shelving unit, couch or cabinet can be awkward to move. To prevent injuring your back, consider getting the help of your partner. Tip them backward at an angle and carry the top while the other person carries the bottom.
Doing so will center the weight of the piece, and keep it from swinging out of control and injuring you. This will also make it easier to carry the item down the stairs because the angle of carrying it will match the slope of the stairs. So, to make it easier to carry the item on an incline/decline, the angle of the furniture has to be adjusted by tipping one side higher than the other.
| Also Read: 6 Reasons To Hire a Furniture Moving Company
7. Use shoulder dollies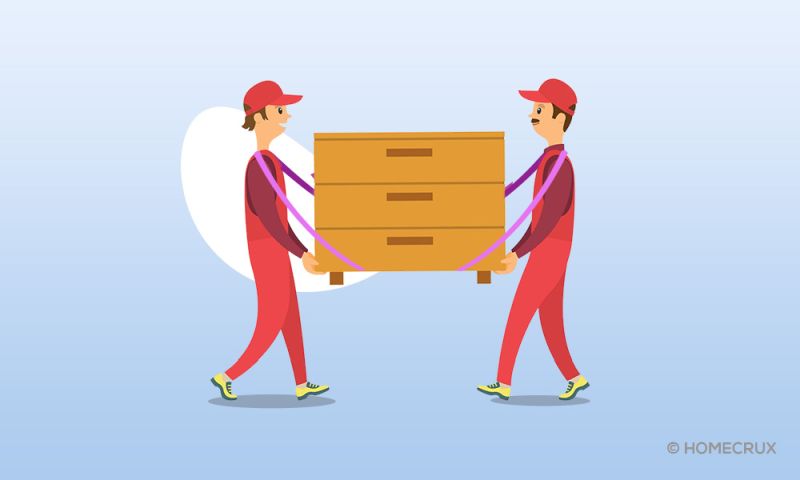 The lifting and moving straps make it easier to lift and move heavy furniture units without hurting your back. They force your body to rely on its large muscle groups. Moreover, they leave your hands free, allowing you to maneuver bigger items. However, they can be tricky while using the stairs because they shift the weight downwards for the mover.
8. Slide instead of dragging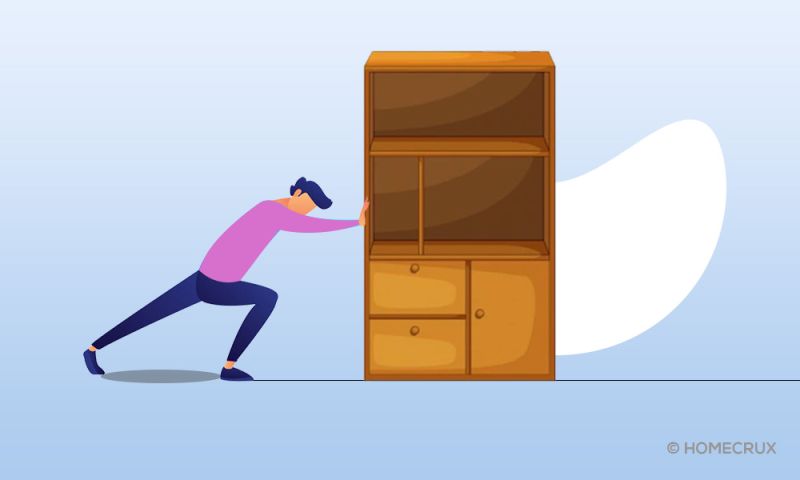 You can buy furniture sliders in different shapes and sizes. You can also make your own sliders using old rugs, bedspreads, plastic container covers, towels, etc. You can use them to avoid scratching the floors when dragging heavy furniture.
If you have a wooden floor, cut small pieces off your old sweater and place them under each leg of the furniture and slide. It will move frictionlessly without scratching the floor.
9. Stand couches on the end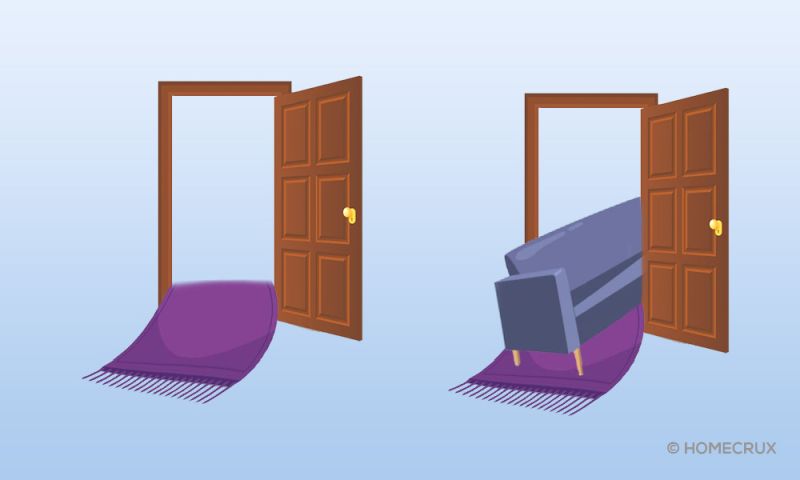 While moving a couch through a door or hallway, it is impossible to carry it horizontally. The easiest way to move it is to place the couch on its end while in the hallway and then slide it through the doorway. If the furniture is taller than the opening, ensure that the top end is a way to allow a few inches of clearance.
10. Wrap furniture in blanket and plastic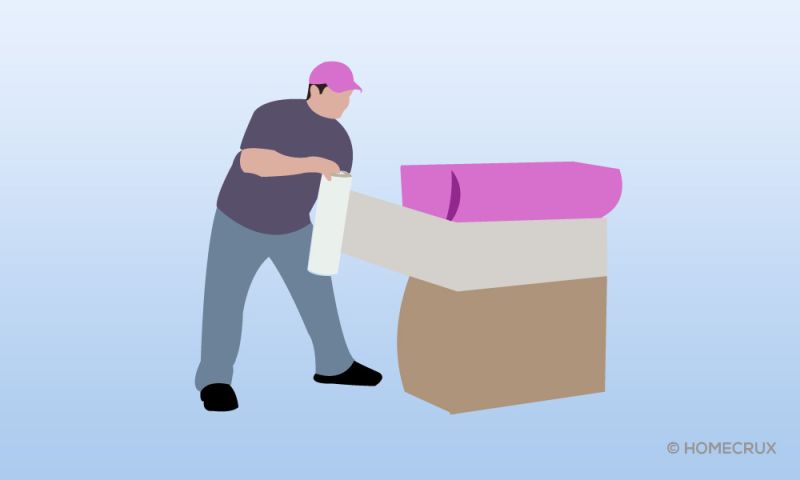 If you want to protect your house as well as your furniture, use blankets. You can either buy cheap ones online or rent them for a few dollars from your local store. To avoid ruining the fragile edges and finish, try to wrap them completely in moving blankets and use stretch film to secure the blanket.
11. Create a mattress sling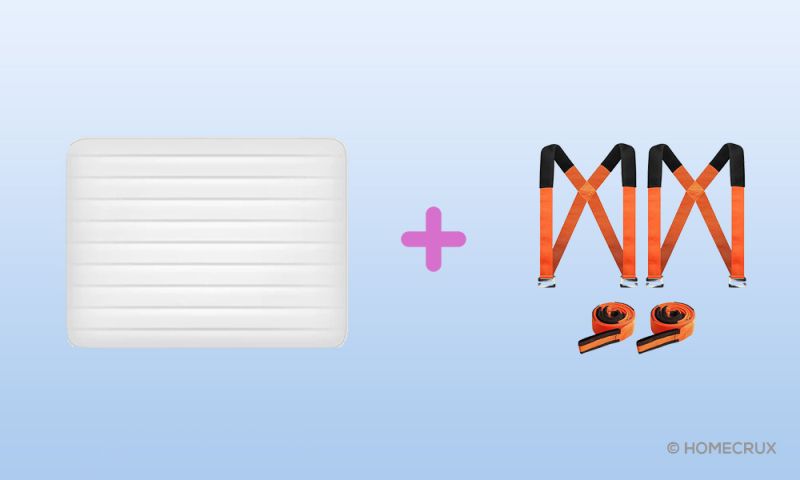 Carrying a heavy and floppy mattress is tough. Although most of them come with a handle, they are not meant for carrying. They are used for positioning the mattress, which means they are not very strong. To make the mattress easier to carry, you can use a simple rope string that gives you more freedom and control. Thread it through the handles and attach the rope to a PVC pipe for a more comfortable grip. Flip the mattress to ensure the sling is at the bottom, and start moving it.
12. Ask a friend to help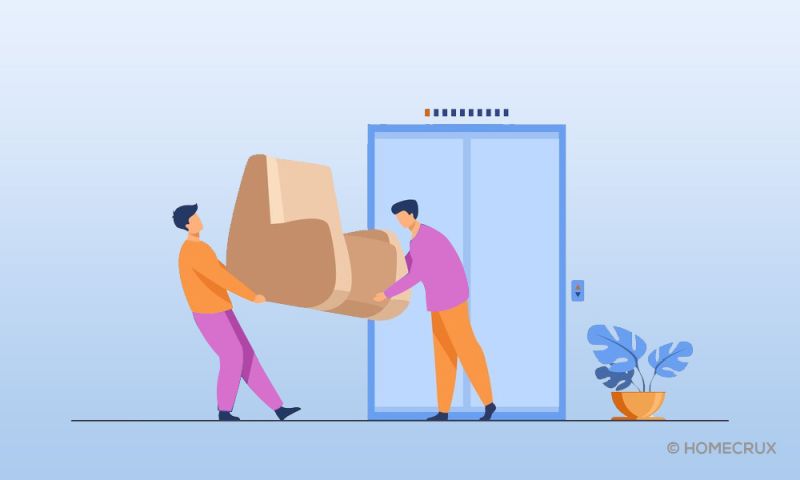 If you feel you cannot move furniture alone, don't hesitate to ask for help from your friend. If no one you know is available, you can consider hiring professional movers.
# Tools to Move Heavy Furniture Easily
Investing in the right equipment makes your task two times simpler. Here are some essential tools you need while moving large or heavy furniture.
1. Moving straps
Moving straps work by giving you more leverage while lifting heavy objects. They also reduce the strain on legs and back when lifting large furniture items.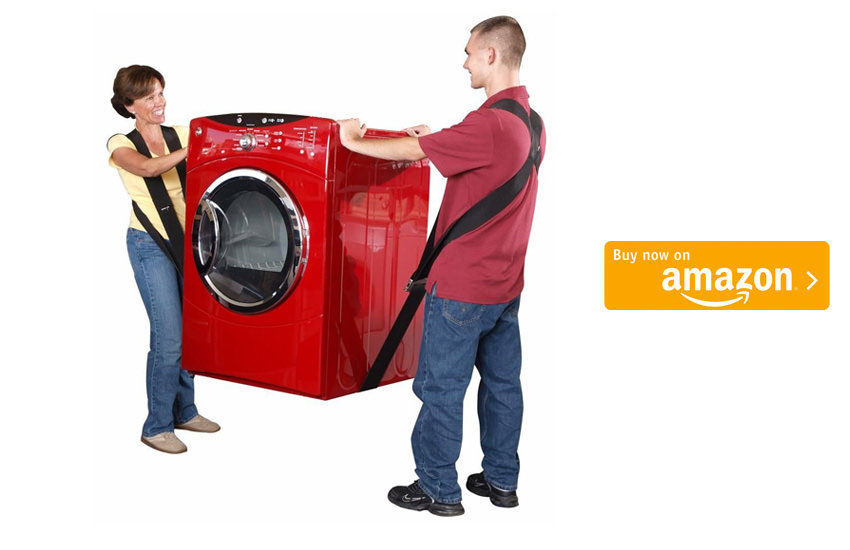 2. Plastic wrap
Plastic wrap enables you to secure your furniture blankets, secure annoying doors, drawers, cords, etc. – and protect the fabric of furniture from getting stained or dirty. A clear stretch wrap won't leave damage or residue on your furniture.
3. Bubble wrap
Bubble wrap is a transparent plastic material that's used for packing fragile items. It contains properly spaced, protruding air-filled hemispheres (bubbles) to provide cushioning to fragile items while moving or in transportation.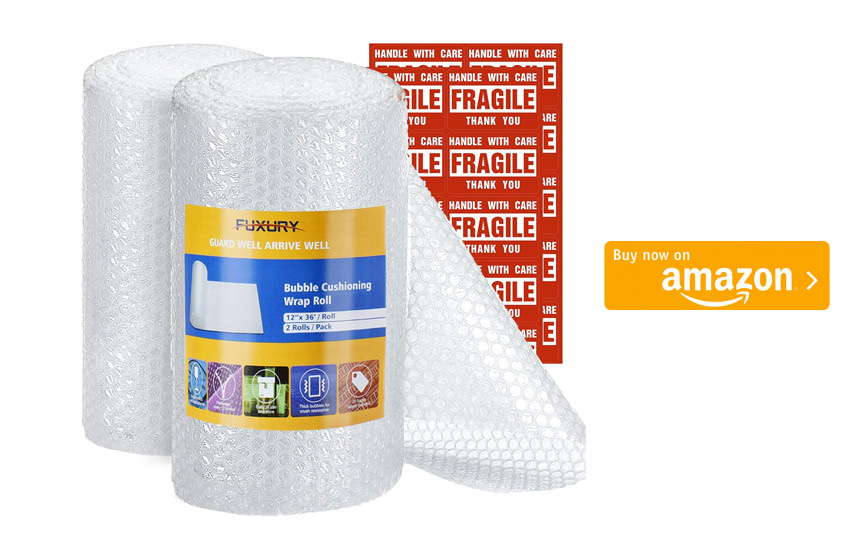 4. Moving and packing blanket
Moving and packing blanket helps wrap your furnishing and appliances, and protects them from damage during a move or storage. During a house remodeling, you may even use it to protect your flooring from falling tools, materials, or fixtures.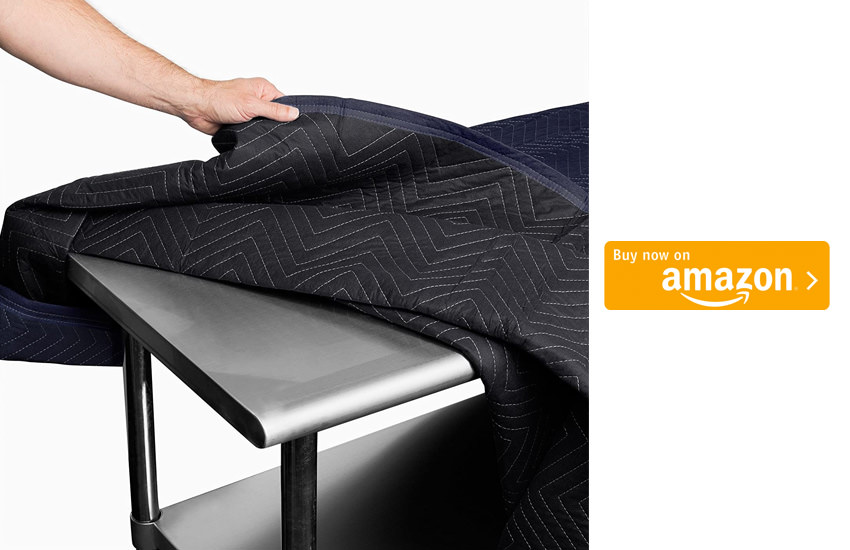 5. Furniture sliders
The superior quality furniture sliders offer long-lasting performance for all of your furniture moving and floor protection requirements. They let you move heavy furniture rapidly on the carpeted surface within your home.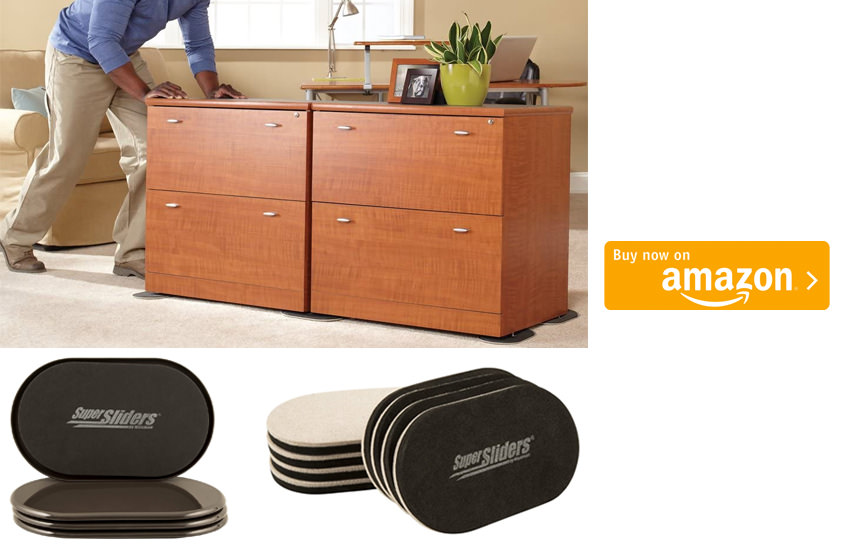 6. Heavy-duty furniture lifter
You can use a heavy-duty furniture lifter to move furniture and appliances from one room to the other for cleaning underneath them or rearranging them.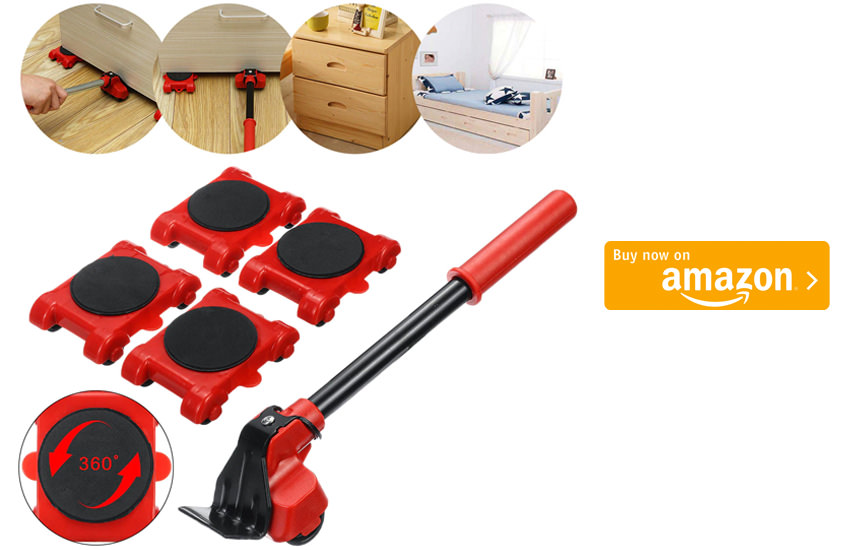 7. Adjustable furniture roller
An adjustable furniture dolly is a platform on wheels to easily move large, heavy items while steering them along the way.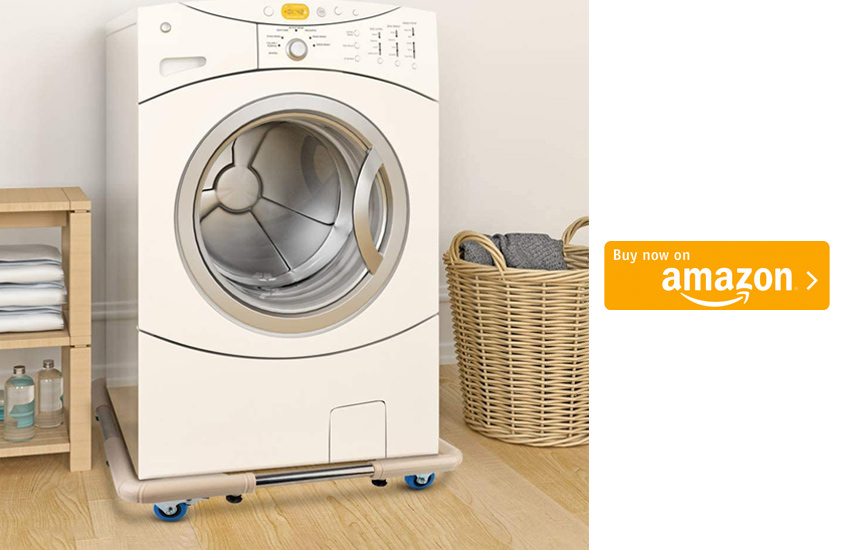 # Safety Tips to Move Heavy Furniture
Don't bend your waist while moving furniture or carry a heavy load on your back – rather try to move it with the weight in your legs. For settling the weight effectively, you must hunch at the knees for an underlying lift rather than bending. This will put more weight on your legs and arms when you rise, and not on the back.
Don't twist your body when moving or carrying furniture. Try to keep the body as still as possible, otherwise, a sudden twist may cause injury. For the times you want to twist or turn, enable hips to lead, and then follow the feel rather than the reverse.
Try to have a clear vision of where you want to go. It becomes troublesome when an armoire interrupts your view. You must not be blinded when moving furniture. So, keep your head looking ahead, not looking down, to ensure you're moving in the right direction.
Always slightly bend your knees and keep the furniture piece close to your body.
Do not twist your body whilst carrying the furniture.
Remove threshold (if wooden) to easily slide furniture through the door.
Always remember that moving heavy furniture in your home alone does not mean you're always without help. If there are some trustworthy movers in your vicinity, don't hesitate to take help to make the moving process faster and safer.
# How to move a wardrobe
Completely empty the wardrobe
Fasten a strap around the wardrobe to keep its doors closed while moving it
Carry it using the high-low technique with the help of another person
# How to move a fridge
Unplug the power cord
Empty the fridge
Remove any obstacles from the path
Tilt or push the shoulder dolly to place the refrigerator securely
Now you can carry it easily
 Let the fridge settle for 24-72 hours before plugging back into the power supply
# How to move a bed and mattress
Remove the bedding (sheets, duvets, pillows)
Cover the mattress in plastic wrap to keep it clean
Disassemble the bed using handy tools
Once everything is disassembled, ask a friend to help you carry out the mattress, bed frame, and other parts separately and safely
# How to move a sofa
Check if your sofa can be disassembled and then move it part by part
If your sofa is unibody, pivot and tilt it around the tight corners or doors
# How to move an oven range
Unplug the oven from the power supply or turn off the gas knob
Clean your oven thoroughly and dry it
Remove any burner pans and grates
Wrap all detachable parts in bubble wrap/newspaper and put them together
Place the oven on the moving dolly and move it to the safe place
# How to move a washing machine
Unplug the power cord
Turn off the water supply
Detach the hose screws and keep them upright
Pour excess standing water down the sink
Tie power cables and hoses to the washing machine
Wrap it in bubble wrap/plastic wrap to avoid any scratches
Slide an old blanket/carpet under the washing machine so you can move it to a more accessible position, without scratching the floor
Place it onto the moving dolly
Keep the washing machine upright at all times