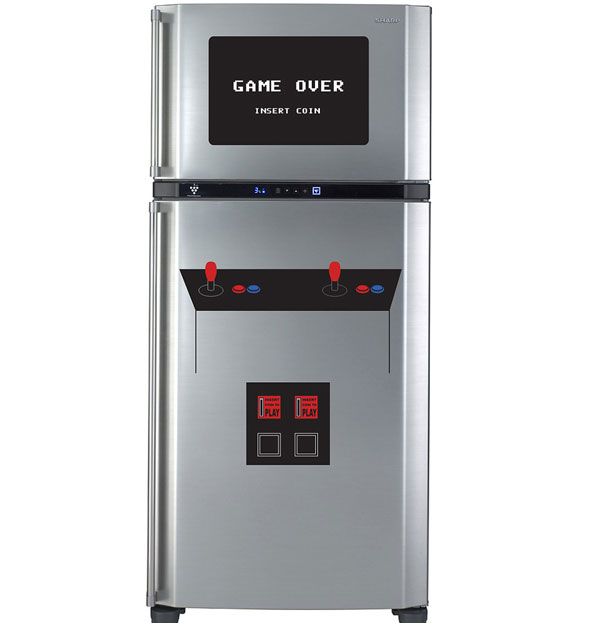 For most of us refrigerators are perhaps the ugliest thing in the kitchen. While built-in fridges have become a wiser norm of late, decorating refrigerators with wallpapers or vinyl decals is still a better way preferred, wherein that standard refrigerator is made too cute to resist, or awesome to gawk at. One of the simplest and geekiest upgrade of them all is to turn your fridge into a vintage arcade machine. All you need for it is a approximately 16″ x 11'' Game over screen, about 22″ by 4.5″ Control panel and approximately 8.5″ by 8.5″ Coin slot decals – each decal made of ace quality adhesive vinyl.
How to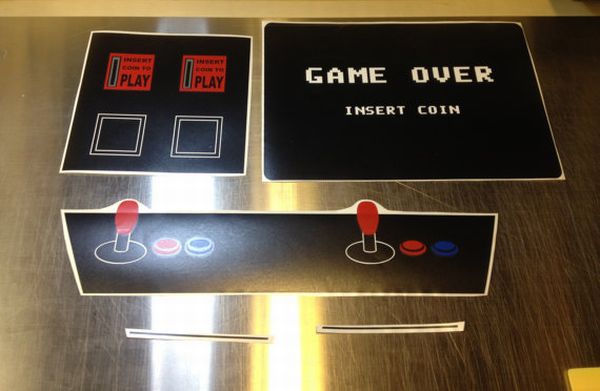 Stick the game over screen on the freezer cabinet of the double door refrigerator, with joystick enabled control panel on the top of the main door and the coin slot at the lower half of the door – and there your fridge arcade cabinet is ready.
The vinyl decals are easy to stick; even kids can try their hands on it. They are 100% waterproof and can be removed without damaging the surface or leaving any marks.
Adhesive vinyl decals can be tried on almost any smooth surface, so you can also transform your car windows, laptops, walls etc into arcade machine or anything of your liking.
Via: Etsy