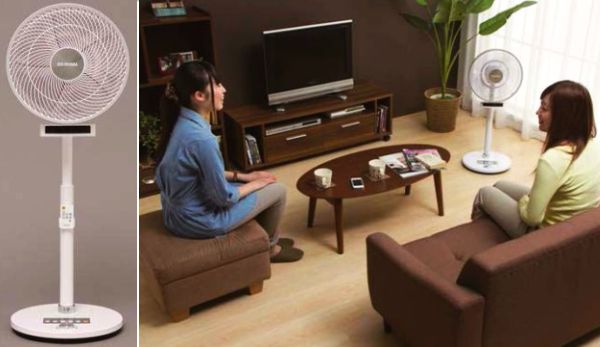 Standing fans that we use normally in our houses are not good enough to provide wind to every corner of a room. To improve that Irisohyama Inc, a Japanese household goods manufacturing company, has developed a human sensing oscillating fan that automatically adjusts horizontal angle of its head through a human presence sensor. The fan oscillates its head in a direction where it detects the presence of humans in a room with the help of an infrared sensor installed behind a black horizontal bar present right below the fan's head.
The infrared sensor senses human body temperature and sends cool breeze into the same location. The fan oscillates its head to widest angle of 85 degree for about a minute and sends cool wind to a particular area after detecting human presence in that area. If it does not sense any human presence in a room, then it automatically stops sending out the wind. Sensitivity of the sensor can be set to different levels: level 1 (high), level 2 (medium) and level 3 (low), which accordingly adjusts the amount of air flow.
Other features of the fan are energy saving mode and child lock. Energy saving mode, as we all know, makes it an energy-efficient appliance and through child lock you can prevent mishandling of the fan by children in a house. Human sensing oscillating fan is available in white color at retail price of ¥18,000 (Approx. $176). The fan is worth the price as it truly stands out from other normal fans which cannot provide you such comfort with ease.
Via: TechOn