Italian luxury bathware company Teuco has again come up with the hi-end technology for your luxury bathroom. This time the firm has launched an exceptional visible whirlpool dubbed Hyroline to enjoy the experience of spa at home. Hydroline is the first patented system where the classic nozzles are replaced by minimalist recordings, having trait of Joan Talocci. Thus, making it the world's first invisible hot tub incorporated with flush-mounted jet system.
It is not just a hot tub but comes with advance technologies installed into its classic jet nozzles to flush water in soothing manner. The vents flush with the hot tub offers possibility of being rotated and transmitted towards specific points of the body to maximize its massage effects to help you unwind yourself.
Not only that, but these flush vents also feature an advanced system called Cromoexperience which is to provide complete relaxation benefits along with colorful visual appearance for mind therapy. The colored light effects are due to the tub's backlit beams that come in eight different color options.
Furthermore, its Hydrosilence technology is to endeavor complete silence with no water flushing sound, just to relax you mind. This super-advance technology is available in all Duralight bathtubs as well as Teuco's acrylic bathtub collection. Have a look at the amazing design of the Hydroline Teuco bathtub in the images given below and do mention your views about the exclusive technology.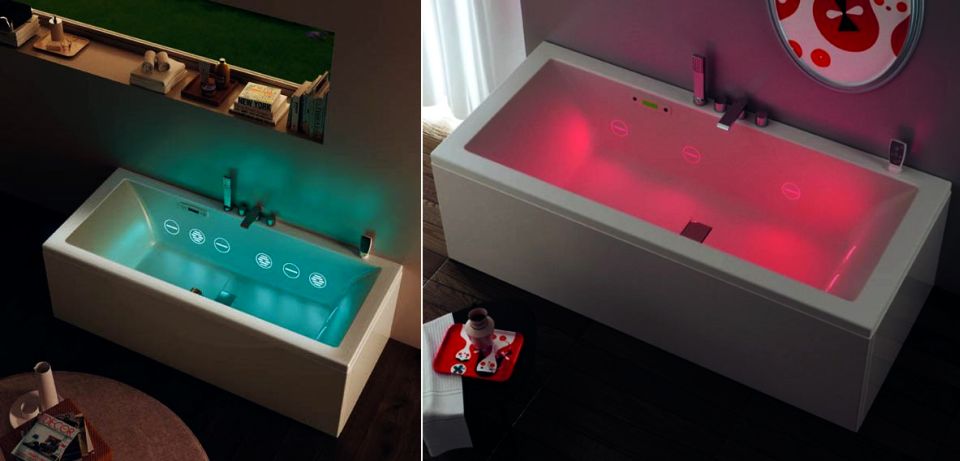 Source: Teuco