Its not even been a month when Amazon launched its Echo Look hands-free smart camera, and the company is already set to launch an smart Echo variant featuring a seven-inch touchscreen display. According to The Wall Street Journal the smart speaker, will be launched on May 9, with video calling capabilities, which is a new feature for Alexa-based speakers.
A few days ago, Microsoft and Harman Kardon collaborated to unveil Cortana-powered Invoke speaker with Skype integration, and this touchscreen version of Echo speaker may be Amazon's quick reaction to its competitors.
The renowned American blogger, editor, and phone leaker Evan Blass also leaked Images of the smart assistant through his Twitter account. These images provide a significant idea of what Amazon's touchscreen Echo speaker will look like.
On the basis of available information, we expect Alexa-powered smart speaker to be a convenient accessory to shop over at Amazon, as it will display different items on simple voice commands. Of course, this smart speaker will let you receive both phone and video calls, but initially, there may be limited capabilities.
Updates:
After official announcement, it is clear that this device will be called Echo Show. With this smart device, you will able to watch videos at YouTube, photos, stream music, and even see music lyrics. You can ask Alexa to show the area near front door or baby's room with compatible cameras from Ring and Arlo. Moreover, it can turn on/off lights, control thermostats and control other compatible smart home devices. You can also make hands-free video calls to people who have an Echo Show or the Alexa App, and even make voice calls to anyone having an Echo or Echo Dot.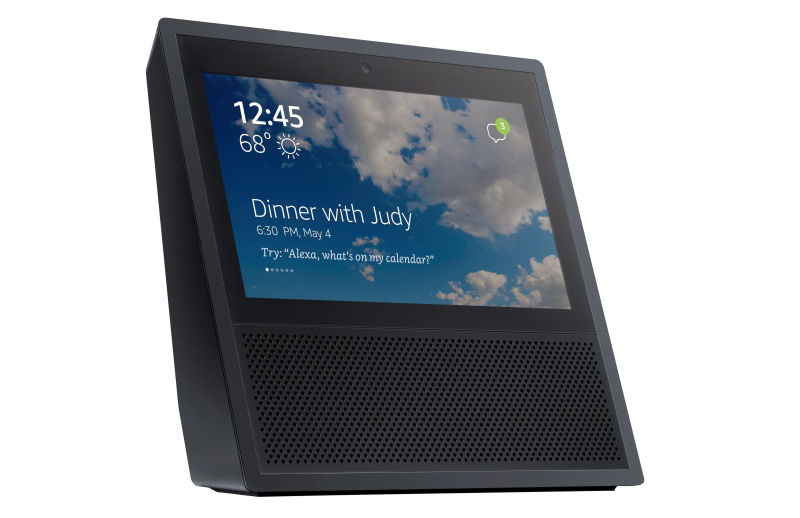 Via: MarketsInsider