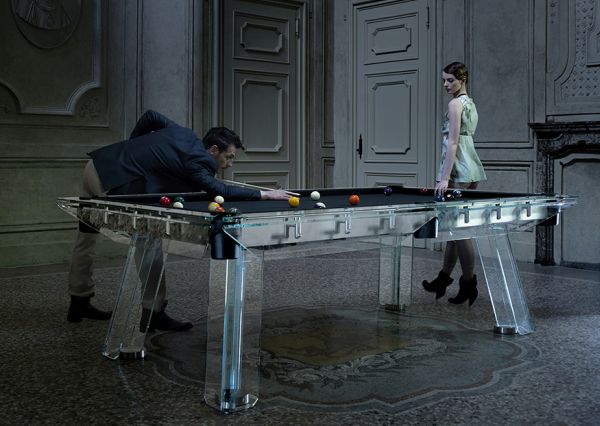 Billiards and pool tables have a design frozen in time. In spite of the game's long history, billiards tables have a very little to show for evolution. Now, Italian studio Adriano Design has given billiards table a new lease of life with its artistic Filotto Clarity On Cue billiards table. Keeping the strongest patterns of the design intact, Adriano Design has successful replaced figurative green wool and wooden structure with a crystal structure – giving birth to an awe-inspiring transparent billiards table.
The table is part of Adriano Design's Calma e Gesso collection and will be unveiled at the FuoriSalone 2014. The glass billiards table with its very feathery design eliminates the visual heaviness that is characterized with classic billiards/pool tables. Filotto, which is already installed at the Ralph Lauren headquarters in New York, has a very thin and adjustable steel frame, solid slate surface to play and a crystal structure for that transparent look.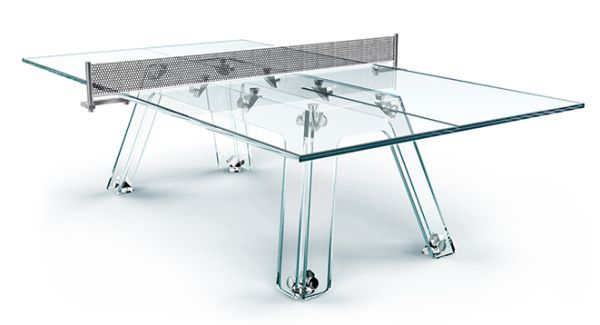 To complement the design and craftsmanship of the Filotto, Adriano Design will also unveil Lungolinea Ping Pong table at the FuoriSalone 2014. Also part of the Calma e Gesso collection, the attractive table is made of glass. Playing Ping Pong (table tennis) on a transparent table would seem impossible, but thanks to the ingenious of the designer, even professional can enjoy a game on this table made of glass, with the same ease and perfection as on the classic table.
Source:  Calma E Gesso