Yes, Batman aficionados: Rise! Because this is the ultimate Batman bookshelf you have been waiting for, given your home decor fueled cravings. The item in itself is inspired by the Nolan concocted Batman universe as opposed to the earlier Tim Burton's one. In this regard, we can certainly comprehend the underlining grittiness of the design, which aptly compliments the dark color scheme of the 'Dark Knight'.
The 22 x 32 inch (56 x 82 cm) shelf is the latest in the line of those superheroes (and villain) oriented designs, whose exclusive club also includes Iron Man's power heart and Bane's ominous mask. However, the Batman bookshelf might have a broader appeal, mainly due to its practical function as a wall mounted shelf that doubles up a decorative item.
But since we are talking about functionality, the bat-shaped structure of the shelf can cause some difficulties when storing your paperbacks, especially in alphabetical order. The price tag is also on the higher side with a substantial figure of $283.
Still, hardcore fanboys shouldn't be deterred from owning one of this beauties, given that collectible bookshelves in the form of the Batman symbol can always invite the envy of your less fortunate guests.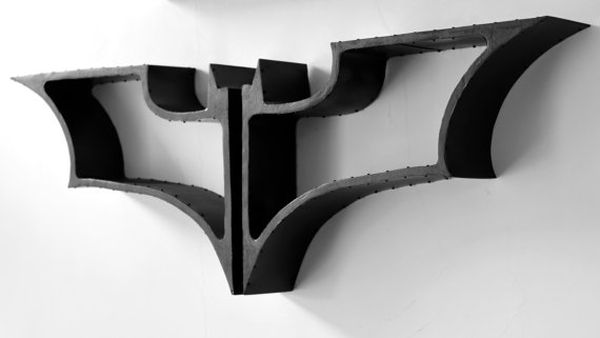 Via: OhGizmo