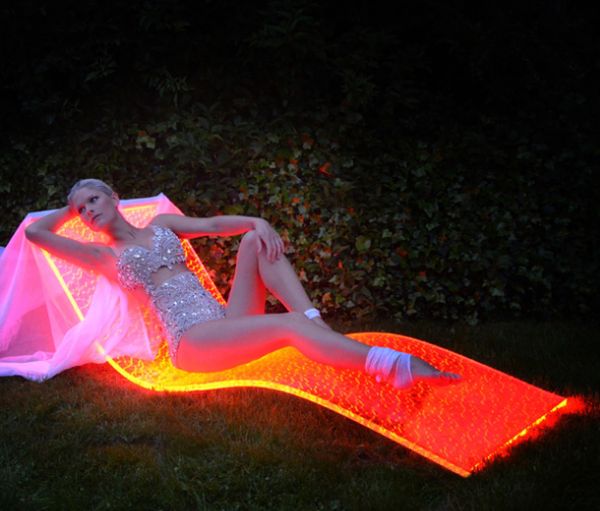 When we first stumbled upon the stylish LumiLuxE lounge chair by BeMOSS back in November, we were more than eager to get in touch with the developers of this ingenious chair. We wanted to know how they pulled off something so unique and appealing and whether we could own one, being placed out of Germany. It took us a while to get in touch with Sharon Brach co-developer and co-founder of LumiLuxE and Bemoss respectively. But, once we got the opportunity, we didn't let go of it and we were quick to put across all our queries to Sharon who has very amicably replied to all our questions. Hit the jump to read everything Sharon had to tell us about the LumiLuxE lounger.
HomeCrux: Tell us something about yourself and BeMOSS. Have you tried laser engraving prior to LumiluxE? How difficult and time consuming is custom-engraving the lounger?
Sharon Brach: The LUMILUXE LED Lounger was developed by my husband Oliver Brach and me. We are a well-travelled couple and own a luxury company called BeMOSS in Germany. We have decided to link the two product lines of BeMOSS´ outdoor furniture and acrylic glass LED panels for interior fittings. We started with a simple curve and step-by-step developed the extras that can be added to this modern chair.
Today we have partnered with companies in the fields of modern furniture, technology, interior design, spas, hotels, clubs and store fitting design companies. The Lumiluxe LED Lounge chair is the first to be launched and sold in the collection. BeMOSS have already expanded Lumiluxe´ design to a Single LED Chair and Buffet LED Table.
The company BeMOSS visualizes to revolutionize the stream of modern design and technology in furniture. We know that our clients understand the limitless possibilities of laser engraving and customization with the LUMILUXE LED furniture collection.
YES, we have been doing laser engraving with other acrylic glass solutions. Its very time consuming since every individual pattern needs to be checked prior to programming the laser. The bending process for the Acrylic glass takes (inside a kiln) which takes 2–3 days.
HomeCrux: How did you come about using acrylic glass as material for the LumiluxE lounge chair? Use of lights is wonderful; can users control its brightness?
Sharon Brach: We're doing custom build interior solutions with acrylic glass and also producing polyrattan outdoor furniture (stated on q. 1). We combined technology with functionality and ART creating an acrylic glass as a furniture.
With the remote control one can adjust the brightness and several programs like lightning effects.
HomeCrux: How are LEDs embedded in the lounger? You say it has a built-in battery, where is it actually placed, what is the battery capacity and where does it draw power from?
Sharon Brach: The LED's are inside a "light bar" (attached – and detachable, at the top end of the chair) that's actually "shooting" the light inside this special, light conducting acrylic glass. The rechargeable batteries (Eneloop) last fully charged around 12 hours. A chargercomes with the basic package.
HomeCrux: As the material used is rigid, how comfortable is the lounger?
Sharon Brach: The lounger is actually very comfortable, as a matter of fact we are developing right now a transparent gel cushion fitted for the Lounger. This can later be ordered separately as an extra option.
HomeCrux: How weatherproof is the LumiluxE? Can it be used at pool side or on the beach, where water could splash on it?
Sharon Brach: The light bar has IP64 (Dust tight and Splashing of water). The acrylic glass itself has a UV shield inside that's prevents discoloration by the sun.
HomeCrux: Smart furniture is a norm these days, any plans of connecting the lounger wirelessly to smartphones, allowing users to control the light to set the mood?
Sharon Brach: The controller inside the light bar has already a connection for iPhones and iPads. If the lounger is placed within a WLAN-Network and the App on your device (can be downloaded at Apple App Store) you can control the lounger with your iPhone.
HomeCrux: How is the LumiluxE priced? Do you ship to customers outside of Germany?
Sharon Brach: All materials are made in Germany (Acrylic glass, LED's etc.) and high end, the production process is very time and labor consuming and also done in Germany I would still say medium priced. We ship worldwide.
HomeCrux: Thanks for taking out time to answer our questions. Please spare a thought on HomeCrux and its coverage. What would you rate us on scale of 10?
Sharon Brach: HomeCrux looks very new and have quite a wide variety of luxury interior products. Organized paging and friendly (eyes) lay-out. If scaling is 10 to be the best- Scale would be 9. The 1 point I left is to motivate your team to be the BEST. Thank you so much for having interest featuring us.