The kind of passion Tom Spina carries for his niche creations is bound to result in artwork that is eye-popping. Each one of his designs is spell-bounding for superhero fans, sci-fi fanatics or movie buffs. With an affinity for conceiving designs that are materialized by a team of talented artists, Tom Spina Designs (TSD) has now become the talk of the town.
After going through TSD's numerous creations (like the TMNT desk), and featuring some of them here on our portal, we couldn't keep ourselves from going one-on-one with Tom Spina. We had a lot of queries in our mind, trying to fathom what all goes inside the head of this talented artist.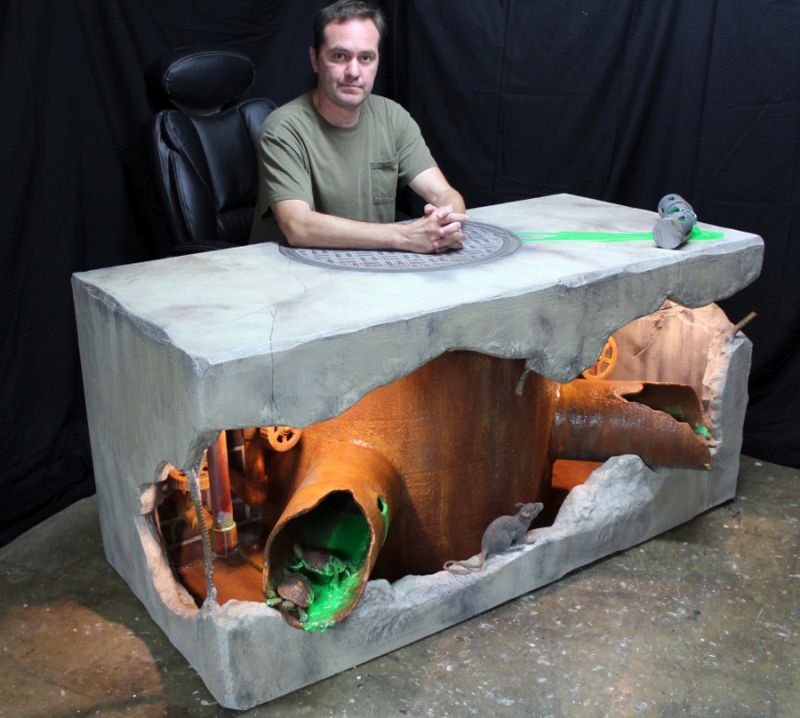 So, without further ado, let's jump straight over to the one-on-one interaction with Tom, which he was generous enough to answer. In fact, that doesn't come as a surprise, seeing the infatuation he and his team have for design.
Homecrux (HC): Can you start with the backgrounder? What aspect of your background has shaped your design philosophy?
Tom Spina (Tom): For me, everything traces back to movies, theming, and FX work. Even as a little kid, I always knew that people made everything that I was seeing in movies. The props, the sets, and the costumes all filled me with wonder. Oh, and especially the monsters!
HC: At heart, you have a deep love for movie and comic characters, how did that love turn into work of art?
Tom: That love drives everything. How could it not? There's nothing better than being able to draw inspiration from the things you love and bring that into your work. With Regal Robot, now we're able to create all these great officially licensed Star Wars™ creations and find new ways to take what inspired us to become artists and turn that into furniture and decor for fans everywhere.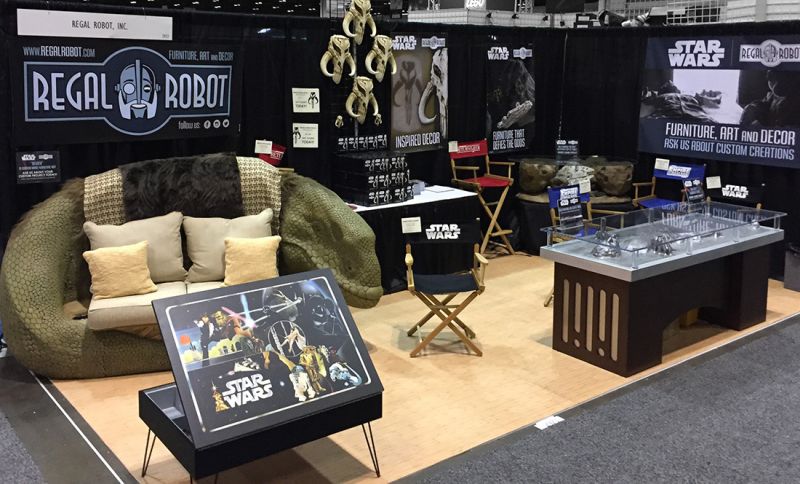 HC: How is your new brand, Regal Robot, different from Tom Spina Designs?
Tom: Regal gives us the gift of focus. Tom Spina Designs is a pretty broad business, and a bit unusual. With "TSD" we do everything from realistic sculpture, wax style figures and bronze work, to restoring original movie props and costumes, to creating giant theme props and characters for events, and even making creatures for commercials and videos. Regal Robot was created to give a unique identity to one niche which we explored, and that's the idea of highly themed furniture and art for the home (office, or man cave, etc.)
HC: Have you ever designed something which brings back nostalgic memories from when you were a kid?
Tom: Oh gosh, yes! So many of our designs are made with that goal. If we bring ourselves back like that, we hope the work will give other fans the same feeling. A lot of fans really liked our Classic Collector Case Storage Table, which takes the vintage style action figure cases that so many of us toted around our precious 3.75″ toys in and re-imagines it as functional furniture.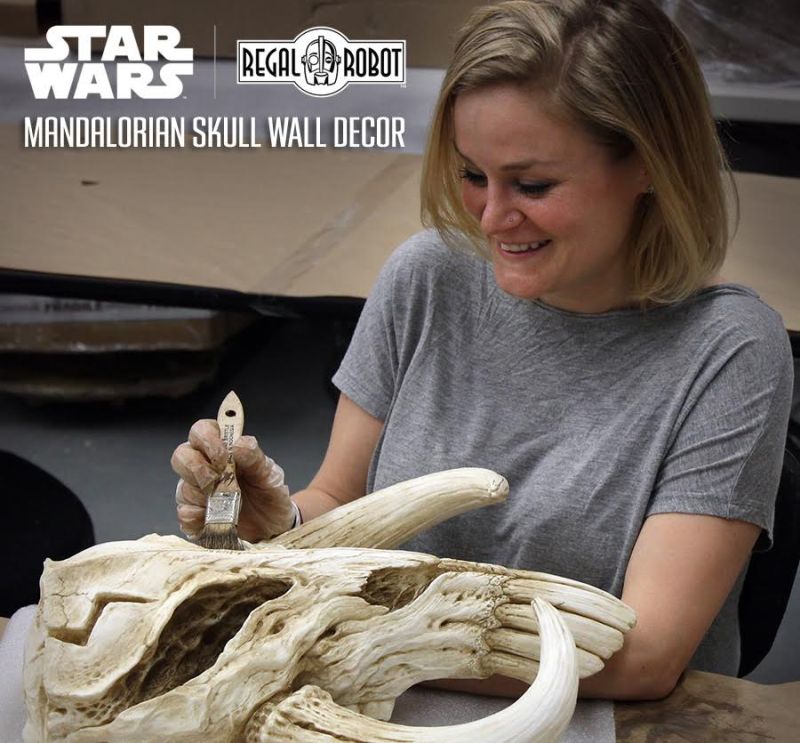 HC: You love restoring and displaying movie props. Which one is your all-time favorite movie?
Tom: Do I have to pick just one? If it's just one, I have to go with the first Star Wars from 1977. That cantina bar full of amazing aliens won me over. Raiders of the Lost Ark is a close second. Young Frankenstein rates highly too (as do the classic Universal Monster movies that inspired that one!). Ghostbusters, The Muppet Movie, Back to the Future, the Hammer Horror films. I could go on and on!
HC: Which client's idea struck you the most?
Tom: Hmmm… when it comes to custom work, it's always really cool to work with our clients to come up with ideas. Some have a real focus (we had one who specifically requested a custom statue of the American Werewolf in London as a puppy dog!) and others just say, "I'd love a Star Wars desk!" and then we generate concepts for them. I think the Werewolf Puppy probably struck me the most, but the request for the Han Carbonite Desk is up there as well!
HC: How do you work with clients to design the best art piece for them and how do you maintain and deliver that emotional connection?
Tom: Phone chats, emails and lots of sketching on napkins.
HC: How do you instill your client's thoughts and sentiments in your designs and creations?
Tom: We keep them involved throughout the process with updates and emails. We're always sending photos as we work to be sure our vision aligns well with theirs and trying to absorb feedback where we can.
HC: What kind of roadblocks have you encountered while conceptualizing the blueprints of client's designs?
Tom: Every piece is a challenge. Some are limited by space, some by budget. Some are just more challenging build styles or sculptural elements than others too. But getting through roadblocks is part of creation!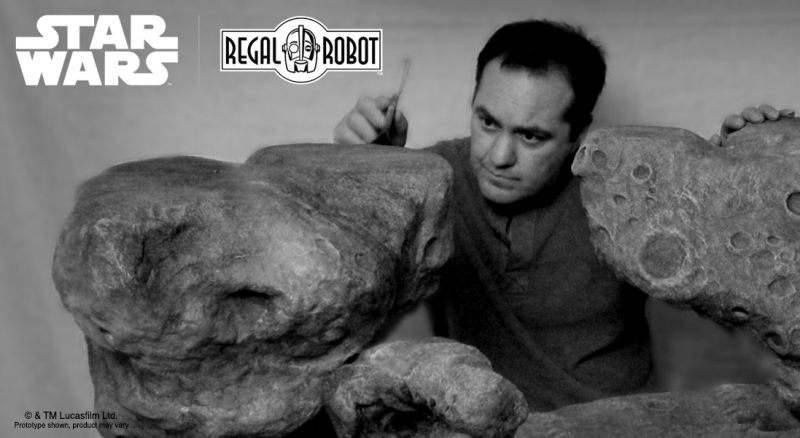 HC: You have worked with big names in the industry. Who gave you the most challenging task yet?
Tom: We recently did a large project with the Lucasfilm Archives (now the Lucas Museum of Narrative Art), conserving a number of original Star Wars props and costumes, and there were some incredible challenges there. We also did some original Jim Henson Company Labyrinth and Dark Crystal puppet conservation work with the Museum of the Moving Image that was a tremendous challenge as well.
HC: Name one creation which is very close to your heart?
Tom: Our Dewback Loveseat custom furniture project at Regal Robot is definitely close to my heart. As a child, I saw the classic image of a Stormtrooper riding his Dewback in the movie program and it captured my imagination! When brainstorming ideas for the first official Star Wars custom piece for Regal, Richard Riley suggested the Dewback as a sofa and that won me over instantly.
HC: Since you are always engrossed in designing unique stuff, how do you find time to do normal things in life?
Tom: To us, designing weird stuff is normal 🙂
HC: When you are not working on a project, how do you spend your day?
Tom: Wow, it's been a while since I had time off, but I love a day soaking up inspiration at Disneyland!
HC: We truly like the Teenage Mutant Ninja Turtles desk, would you like to make something similar in the future?
Tom: Thanks! That was a fun challenge. When they asked for something themed to TMNT, it took a bit of thinking. Ultimately, the idea of telling a "story" with the "ooze" really clicked. Fun project.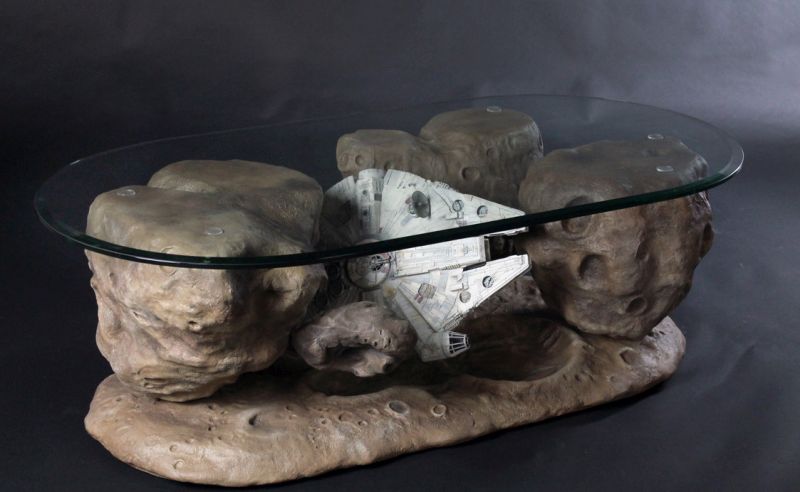 HC: What's the best compliment you've ever got for your designs?
Tom: We've been so lucky and received some wonderful feedback from clients. There's a Testimonials page on Tom Spina Designs that's full of lovely notes from clients that mean the world to us. I would say the best isn't on there though. Rick Baker, who's been my idol since I was a little kid, sent a very gracious note after we restored the original American Werewolf in London for our mutual, wonderful friends, Bob and Kathy Burns.
HC: Best advice to people who want an awesome home interior?
Tom: Find ways to bring what you love into your space. Look in the background, look at the details. Find fun elements and not just the big, overt stuff. Overt is fun, but "stealthgeek" can be even cooler!
HC: Your love for Star Wars is obvious through Star Wars coffee tables and throne. What is the next big Star Wars project that we will see in coming days?
Tom: We have a lot of Star Wars in the works at Regal Robot! We can't share just yet, but follow us at @RegalRobot on Instagram, Facebook and Twitter to keep up with everything we're doing and get a peek behind the scenes!