The modern furniture design world is dominated by big honchos like Frank Lloyd Wright and Hans Wegner. But, young budding designers, such as the Germany-based student designer Niklas Fiedler, are trying to establish themselves by diverting the flow of wind and securing their places among the legacy of legends. Though these are just baby steps in the making, the young German designer is on a voyage to expand his design horizons and is always trying to come up with uniquely ideal designs.
Homecrux, in its latest series of interviews with budding designers, drops in for a quick chat with Niklas Fiedler, the designer behind Switch2 chair. Without further ado, read on for the complete discussion with the designer, where he talks about the philosophy behind the design and sheds light on his future prospects.
Homecrux (HC): Hey Niklas. Thanks for sparing time to answer our questions. Please tell us a little about yourself.
Niklas Fiedler (NF): Thank you so much for inviting me to your magazine. Currently, you can catch me, during the lecture-free period. In my own creative output phase, I find time to design my own ideas inspired by everyday life and spend a lot of time in the workshop. On the road, taking all my creative drive with me, I come up with many new ideas far away from the university with their exciting projects. Sounds like it's not really a vacation – but it's a lot of fun to be able to express myself creatively. Just like in my bachelor project, the Switch2 work and live in good harmony.
HC: You have just finished your Bachelors in Fine Arts and Design. How did you get into the design field?
NF: Even in my youth, I spent a lot of time in the workshop, very much enjoyed designing, developing, and building objects. My parents, both architects, gave me creative freedom and always supported my drive. I knew from an early age that I wanted to pursue a career in design, and product design seemed like just the thing for me. I don't regret this decision at all and look forward to the future with all its creative challenges.
HC: How do you plan to contribute to the world through your designs? What plans do you have in mind to make a name in the industry?
NF: My concern is to make our everyday life easier with my design and the resulting products, to give enrichment and joy to the user with smart ideas. I attach great importance to traditional manufacturing techniques, sustainable materials and above all to create added value for us with my products.
HC: Recently, Switch 2 – a functional chair you designed for your thesis work – gained a lot of traction on the internet. Tell us a little more about the design?
NF: My desire was to create a situational change in our work and home merging everyday life. To raise our awareness on the here and now – with a smart change. The final decision for a chair, the switch from a relaxed to an upright posture actually came while experimenting in the workshop: when I fell over on my back playing with the movement on a spontaneously stretched roll between chair surface and frame. A situational change that is very impressive, but I can hardly offer the user a fall over backward every time to raise awareness. In the following weeks, I developed a simple design and a compatible mechanic for my Switch2.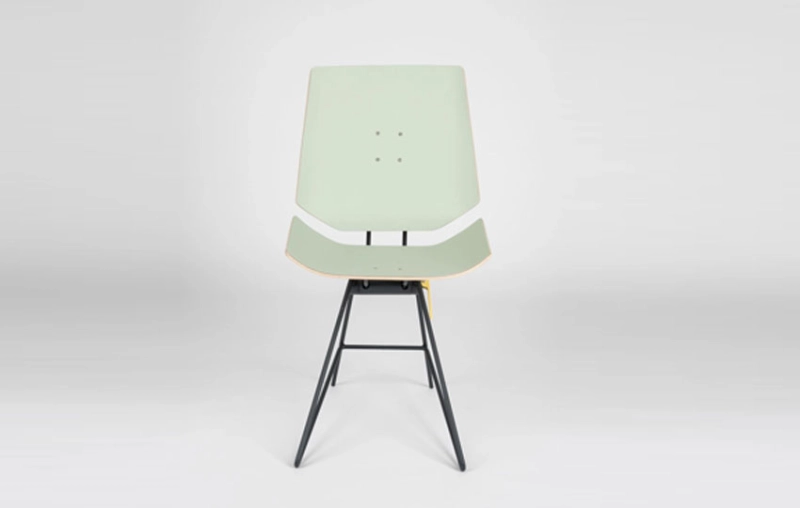 HC: Most of your designs are simple yet intriguing. What's your principal philosophy behind designing? Do you have any role model in the industry?
NF: Thank you for the appreciative words! Looking back at my last designs, I guess it is the simplicity that makes a design inspiration. Great ideas and plans should not be complicated; it is rather about finding smart solutions. I'm always inspired by the classic designers and architects from the Bauhaus period, who designed classic furniture that still looks modern today.
HC: We have seen your works – chair, bricks, and a fish smoker. Do you intend to be this versatile or focus on one prospect for your future projects?
NF: Yes, as part of my studies I tried myself out in different directions to see which one is exactly right for me. With which I can identify best and have the greatest pleasure in designing. I always come back to the design of furniture, especially chairs that particularly inspire me. In the future, I want to get more into the field of interior design and take my products there.
HC: What has been the most challenging project so far?
NF: Difficult to answer. Probably no concrete project – much more the step after the bachelor, where should I go, where would I like to follow my master, in which specialization and how do I arrange the time in between?! In the end, I decided to do an internship in Scandinavia and then complete my master's degree at Burg Giebichenstein.
HC: Did you get any offer(s) to work with a big design studio/project? Do you wish to work independently or you are up for collaborations?
NF: I have already received the first inquiries and opportunities for cooperation and can well imagine such collaborations. However, I would like to keep the freedom to realize my own ideas and not be restricted in my creative drive.
HC: Are your product designs available for purchase or they are just working prototypes?
NF: At the moment, in my new project, a dynamically interpreted modern wooden chair (not yet to be seen in the portfolio) I am about to offer it as well. I will keep you posted! Shovel and broom will also be available soon and are already in production.
HC: Your future projects pipelined for 2022?
NF: I am excited about what's coming up this year. I want to continue to develop my own design with my further studies and bring my ideas into the design world. The last few years have shown us not to plan so much concrete. In this sense: keep an open mind and get excited about everything that is coming.
HC: What's your message to the young designers and entrepreneurs out there?
NF: I am still a student myself – at the beginning of a creative career, but one piece of advice I can give is to have fun designing and try out your ideas early enough. Doing is where the best designs come from, stay open and enthusiastic, and don't let it slow you down in your creative drive.
We would like to thank Niklas Fiedler for taking out time for the interview.