"There's nothing as good as seeing your design, whether it's on somebody, under somebody, or somebody living in it," Thomas Abraham, the famous Indian architect, fashion guru, furniture designer, author, and the founder of IDeA World College in Bengaluru, tells me in an exclusive Interview.
Thomas shares his experience of collaborating for a design event with the A' Design Award and Competition in Bengaluru recently and also opens up about his journey as a designer and architect.
He leads us through the challenges he encountered en route to becoming one of the most prominent names in both the furniture and fashion design industries. Thomas, who is also a member of the American Architecture Society, reflects on the design and architecture landscape in India and how it differs from the West.
He shares the fond memories of his mentor Sanjay Mohe and a hilarious meeting with the Pritzker Prize Winner, BV Doshi. Thomas also speaks about his design college, which he touts is the 'oldest privately run design institution in the country.'
Homecrux (HC): Tell us a little about yourself.
Thomas Abraham (TA): I finished my studies in architecture at IIT Kharagpur, and I also run a design college (IDeA World Design College, Bengaluru), which is in fact, the oldest privately run design institution in the country. We have an experienced faculty, and we run programs in interior design, fashion design, and furniture design. I also work in architecture and furniture design as well. I have also authored 14 books, both fiction and non-fiction, and I have exhibited some serious artwork in Art Basel Miami.

HC: Recently, you collaborated with A' Design for an event in Bengaluru. What was the outcome from the Indian design perspective?
TA: For the record, the event received a footfall of approximately 400 people with 70 design students who ensured their participation. I thought it was a fabulous exposure for everyone. We all got to know each other, networked with each other, and made contacts.
During the event, we spoke with the leading Indian architects and designers. The whole event was mostly about exposure and knowing what's happening in the design world. Because sometimes what happens is we get very insular. We only know what's happening in our city, our town, our network, our group of friends, and our geography. It's very important to benchmark yourself with the rest of the world so that your work measures up.
HC: You have graduated from IIT Kharagpur. What role do such institutions play in a person's career?
TA: I studied a five-year BArch Hons at IIT Kharagpur, which I believe comes across as a top architecture school in the country. This is not only because of the faculty or infrastructure but also because they have probably the toughest entrance to get into architecture. One advantage of studying at IIT is you get to network or be exposed to some of the finest minds in the country and around the world. The people who studied with me include the likes of Sundar Pichai who runs Google.
IIT Kharagpur and the campus environment train you in a way that you learn to think not just as a scientist, but also learn to think as an artist. And I believe any design, including architecture, is nothing but the confluence of art and science.

HC: How did you arrive at the IDeA Design House, what's the major focus?

TA: After leaving college, I worked with Sanjay Mohe, who I consider to be my 'guru' and mentor. He is probably the most reputed architect in India, currently. I worked with him for two years and then I had two paths. Either I had to work with professionals my entire life or I had to start something by myself.
So one day I just decided to choose the latter option. After working for Mohe for some time, I realized there was no better person I could work with especially when I've worked with the best in the country. So the only other option that worked for me was to quit.
But when I quit, I didn't have a single project. I just quit and thought that hunger is the best driver. I don't have money, but maybe this is the best way to figure things out. So I decided to look and go around hunting for projects. Now I grew up abroad, so I didn't have any contacts in India. I had no parent who could give me contacts, no friends, nothing.
By some fluke, I suddenly got a project after some time, and I remember I had sleepless nights because I was worried that tomorrow the client is going to make this change, shift this window here, and it gave me nightmares.
An architect is paid so low that I was working part-time as an Indian design teacher, I was earning probably more than what I was earning as a full-time architect. I was earning Rs 5,000 ($80) a month in those days. Not much, but seemed like principally something. So, I worked as a design teacher and I realized I just loved it. I worked for just a year and then very next year decided to start my own practice. The result was 'IDeA' which is an acronym that stands for 'interiors design architecture.'
HC: It is very rare for a designer to focus on both fashion and furniture. How do you maintain an equilibrium between the two fields that require separate skill sets?
TA: I believe the difference is only in the material and the scale. If you can design a building, designing a dress for a page 3 celebrity or a movie star is really not that complicated. In architecture, you might use concrete and steel; in fashion, you may use silk. So, the core principles always remain the same.
Trust me, 'there's nothing as good as seeing your design, whether it's on somebody, somebody sitting on it or somebody living in it.' So I think it's very possible for us to encourage a lot of architects to start doing cross-domain work. I firmly believe it will be very rewarding and they will learn a lot.
HC: Crystal Hall is your most acclaimed design, is it sustainable? How did this glass house shape you as an architect?
TA: I won multiple awards for Crystal Hall. It is very rare for a building to bag 15 international awards in architecture. As the word crystal implies we use a lot of glass. Most people think that glass is one of those things that is not environmentally friendly, but glass is probably among the most sustainable material because it's endlessly recyclable which means even if it breaks, you can recycle it again and again. The glass we use is 15 to 30 percent colored glass, which is glass that is often wasted.
Most people use double glazing, whereby you have a few millimeters gap between the two layers of glass. Here we used two layers of glass, with a seven to 10 feet gap between each one. If you look carefully at the pictures of Crystal Hall, you can see the green layer in the elevation. There are plants growing between the two layers.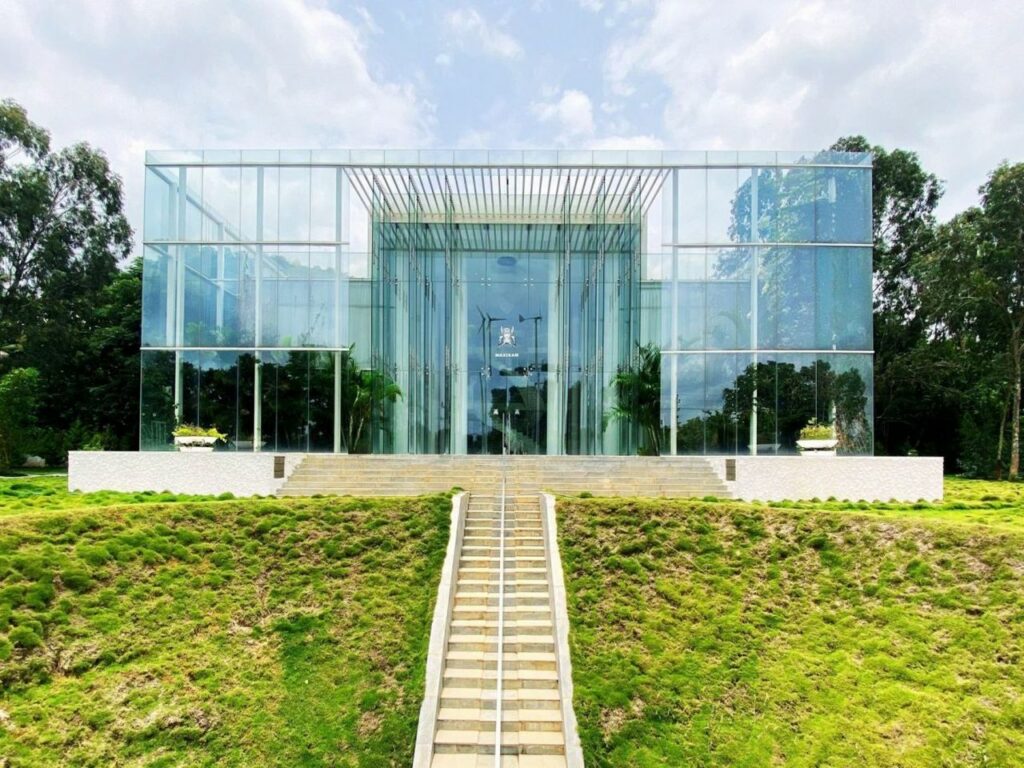 Heat, which usually is a problem in India, is not a problem here because you have one layer of glass that takes away 30 percent of heat. Then we have the plants, which are like almost a rainforest here that absorb heat. Insulation is provided by the trees and high-performance glass walls. So even on a hot summer day, you rarely need an air conditioner inside the house. In fact, it's actually cold inside.
The labor that we've used is indigenous people which is, of course, cheaper for us. But we feel that we are contributing back to society, rather than just contributing to the bottom line of big companies. So, that we do it consciously.
HC: Is Crystal Hall the biggest architectural achievement of your career?

TA: The building took five and a half years, which is incredible for a 30-foot-tall two-story home. It should not take more than nine months or a year but it took me five and a half years. But it was a tremendous learning, which I could not even compare to all the other projects I had done prior. I am not bragging but it has also become a teaching tool to other people, to other architects.
We used a lot of things innovatively, which to my knowledge have not been used anywhere else in the world. So I wanted it to be an inspiration for other architects to be able to learn from this.
HC: What challenges did you encounter building the Crystal Hall?
TA: The primary challenge of making the Crystal Hall was trying to break new ground. Initially, you have no clue how much it would cost or how it would work. We had the world's first residential windmill towers, which was another challenge. The same is true for two-layer glass. Same thing with the pinhole camera, which has never been used in India. The same can be said for the underground, recessed pool.
Whenever we try something new, the challenges are incredible. So that was the primary thing: when you're trying to break new ground, when you're trying to invent stuff, you don't have any video tutorials on YouTube or even a knowledge base available with any of your contractors or vendors; you're all learning on the job. But it's also exciting because you're never supposed to be ready. You're always supposed to be potentially ready. You're always becoming, never being.

HC: As a member of the American Institute of Architecture, what difference do you see between the modern Indian architecture philosophy and that of the West?
TA: The primary difference between architects in America and architects in India, even among the top-notch architects, is that while American architects have a world vision or a world view, in India, we have a very local view.
We don't really think much beyond our city, our state, and our country. One of the reasons why I was keen on the A' Design collaboration, is so that people in India can not only be exposed to what's happening worldwide but also benchmark themselves. I wanted it to be the kind of standard they aspire to be – be it in architecture, interior design, fashion design, product design, graphic design, and everything else.
HC: We recently lost the pioneer of Indian architecture, B.V. Doshi. Do you have any fond memories of him?
TA: When I was in college, I went to his place. In fact, one of my classmates even got blasted by Sir B.V. Doshi because he by mistake wore shoes and entered the house. And Mr. Doshi said, "What the hell are you doing? People in India, we don't enter our houses with shoes on."
So that is something I remember and never forget. He and Charles Correa came out from different generations but they put Indian architecture on the world map. Sanjay Mohe is the only other guy who comes close. Maybe we don't have another architect who's world-famous and even close to that stature.