The recent 7.8-magniture earthquake in Nepal triggered terrible avalanche that killed at least 10 climbers and guides. Moreover, countless people were trapped in some or the other way. So to provide relief and better solution to trekkers for dealing with such natural disasters in the future, Homemade Dessert (HMMD) called for Himalayan Mountain Hut competition soon after the drastic calamity.
For this competition, architects and designers from all across the globe were invited to construct portable and disaster-prone shelters to be sited along the trekking trails of Himalayan ranges of Nepal. As a result, several designers came up with unique concepts to provide safe, comfortable and proper lodging solutions for active Himalayan mountaineers.
However, only three winners were announced in the competition for their innovative shelter designs. Over here we have more about the three winning submissions. Penthouse: House on the top of the world (winner), Shelter bag (won second place) and Angled ellipse-shaped building (won third place).
# Penthouse: House on the top of the world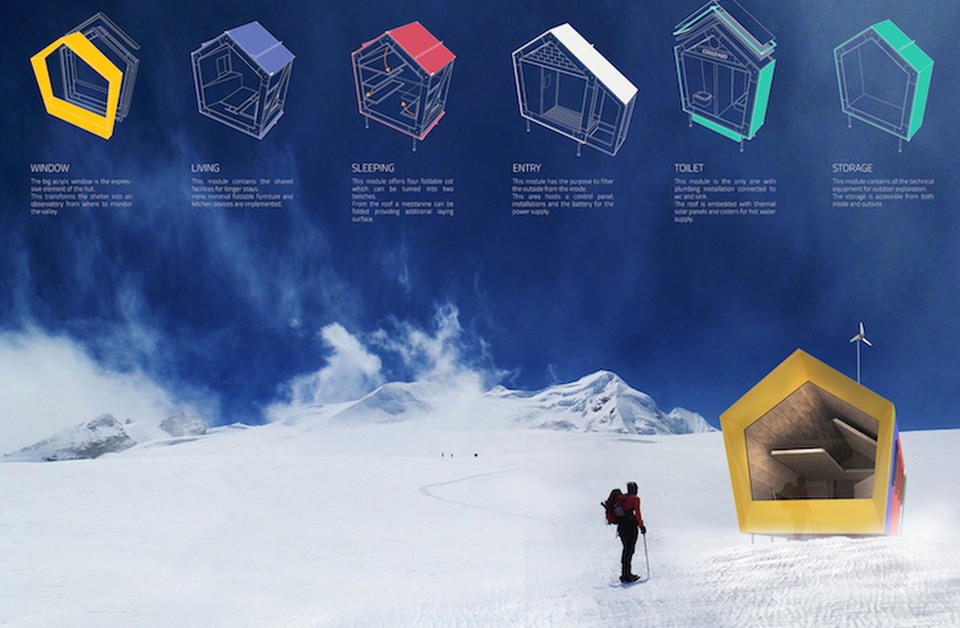 This stunning penthouse design is for Himalayan ranges and has bagged the first prize in the architecture competition. The design team behind this amazing concept includes Davide Prioli, Dennj Avanzi and Andrea Mancini. Together the team has created a hut with a colorful modular framework, which can easily adapt to different sites, altitudes and as per the occupants.
It consists of different prefabricated module types such as window module, toilet module, etc. Moreover, these modules can also be snapped together to form a continuous layout. This sustainable hut is also incorporated by solar panels and a rainwater harvesting system.
# Shelter bag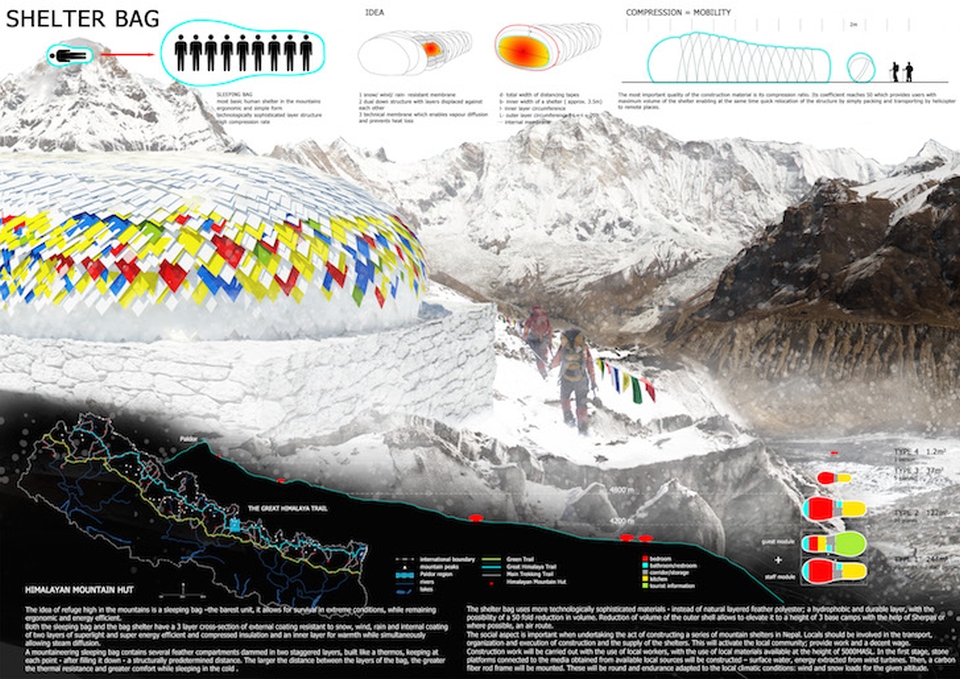 Created by Dorota Szlachcic, Mariusz Szlachcic, Julia Kisielewska and Wojciech Klapcia, the Shelter Bag is a combination of a sleeping bag and tent. Its avalanche-resistant design can be trailed on offsites using local labor and local materials.
This portable shelter mainly consists of a frame made from lightweight and insulated carbon beams. Apart from that, it includes colorful Himalayan flag-inspired framework outside its cocoon-shaped shelter. These waving flags not only help in retaining heat but also offer proper ventilation.
# Ellipse-shaped building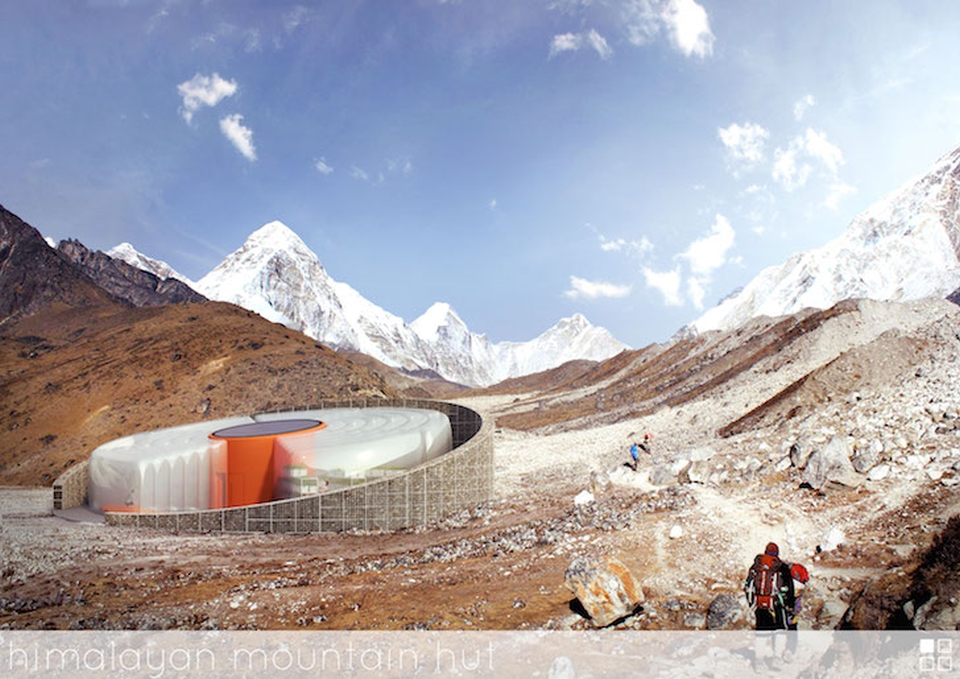 Designed by Agata Dziemianczyk, Jedrzej Pawlaczyk and Miroslaw Wojcieszak, the third place holder Himalayan house is not only attractive to look at, but also has several sustainable features to provide a better off-grid living experience. The angled ellipse-shaped building comprises of three main sections- a central service unit covered with solar panels, the living spaces and a gabion wall that wraps around the perimeter.
It can be easily transported to any Himalayan range via helicopter and is also very easy to assemble. Besides being a solar-powered shelter, this unique hut is also installed with greenhouse, rainwater collection system, heat recovery ventilation, heating system, air collection, and lightweight ETFE pillows. Thus, provides complete facilities to trekkers for staying comfortably.
So, these were the top three winners of this innovative and sustainable design competition for Himalayan shelters. These housing solutions on Himalayan ranges will certainly help mountaineers to combat disastrous situations without risking their lives.
Check out more images of these exquisite winning designs.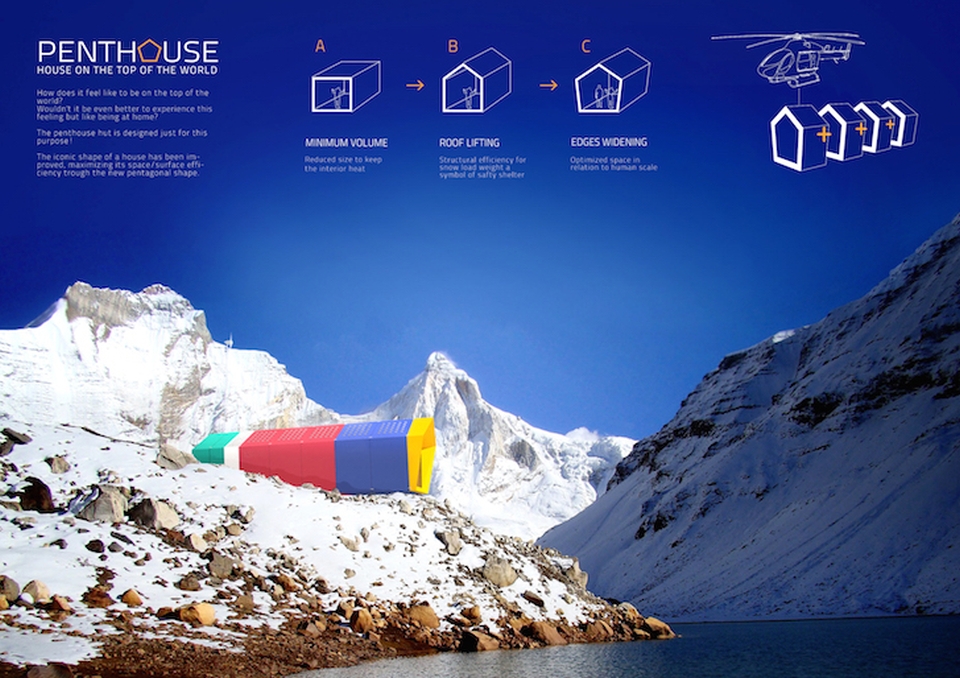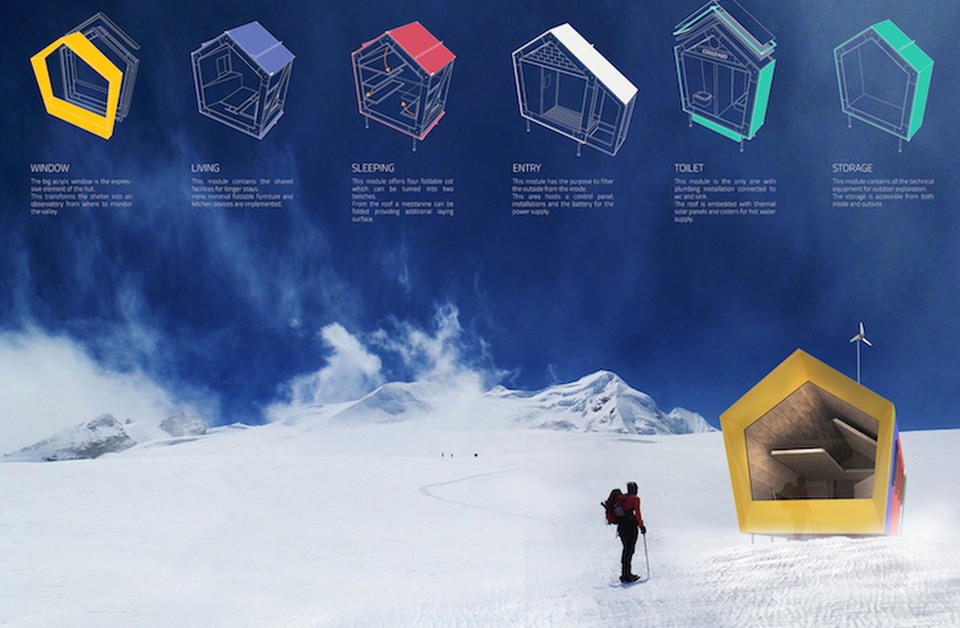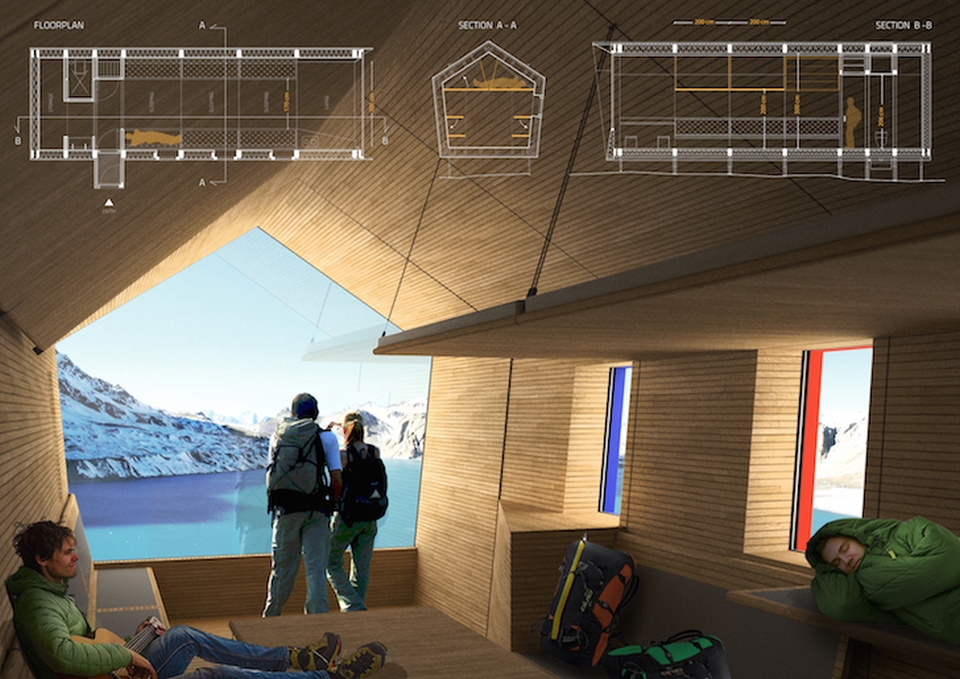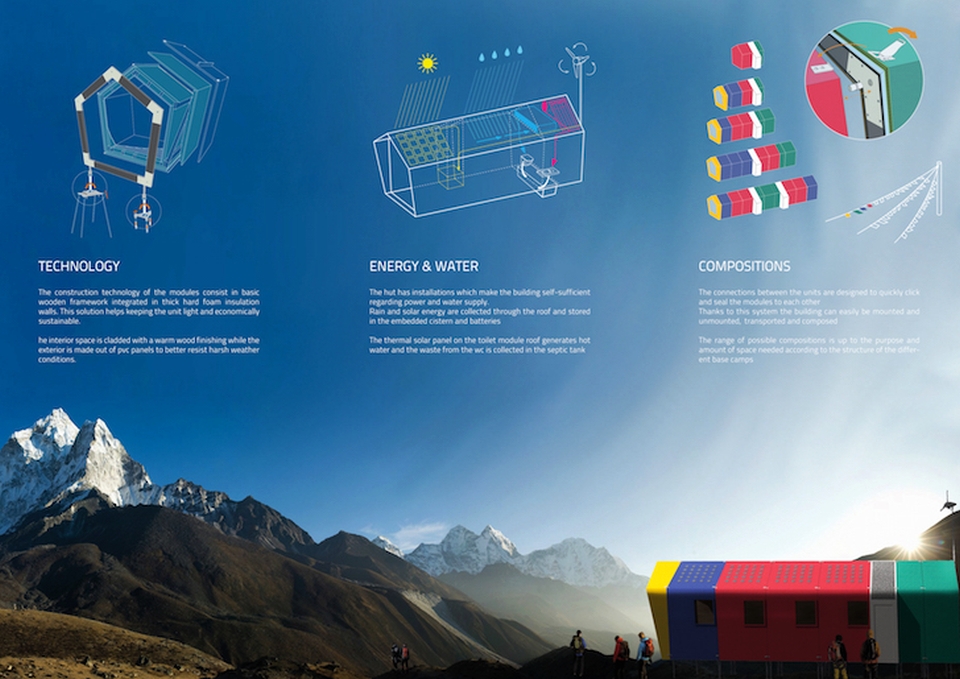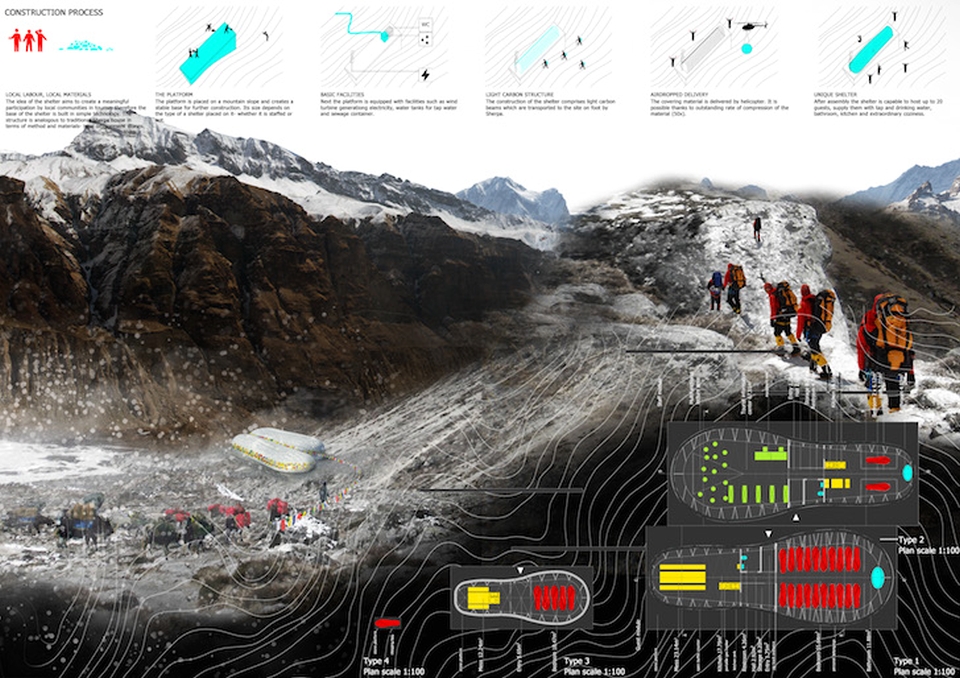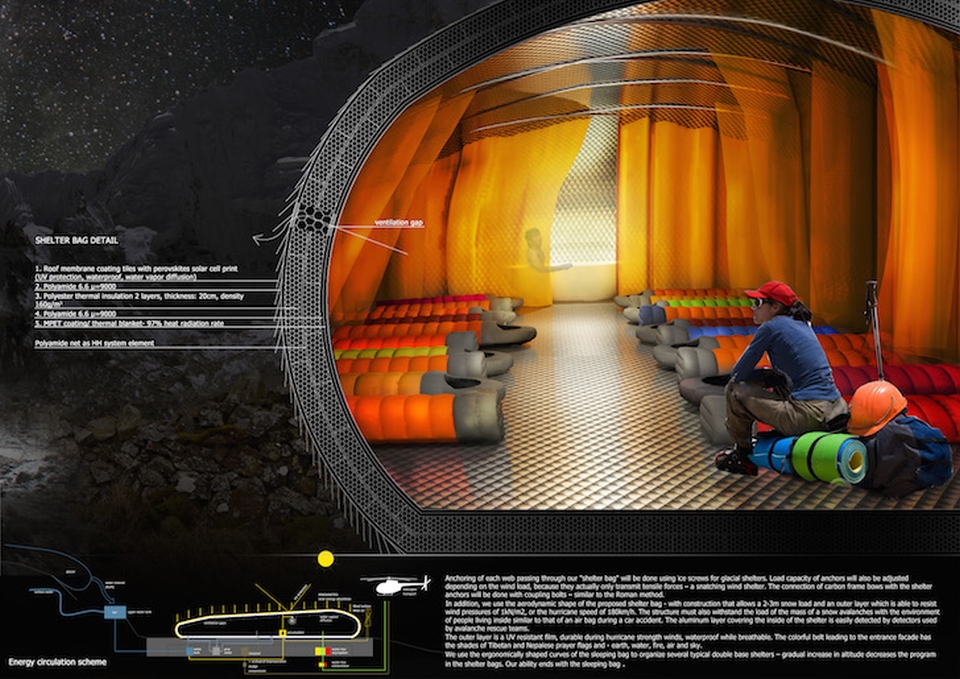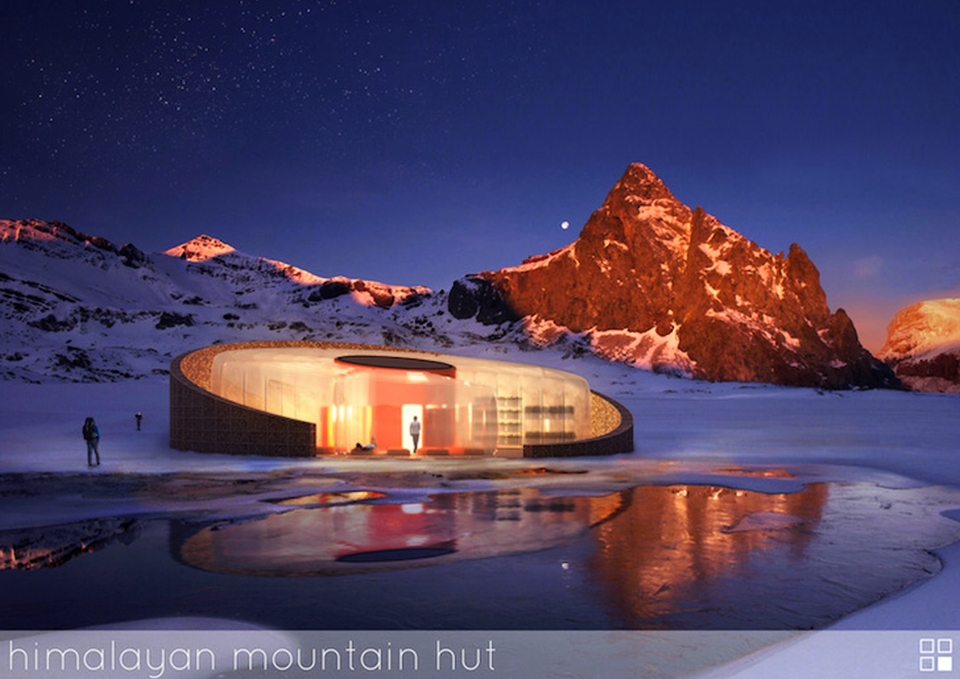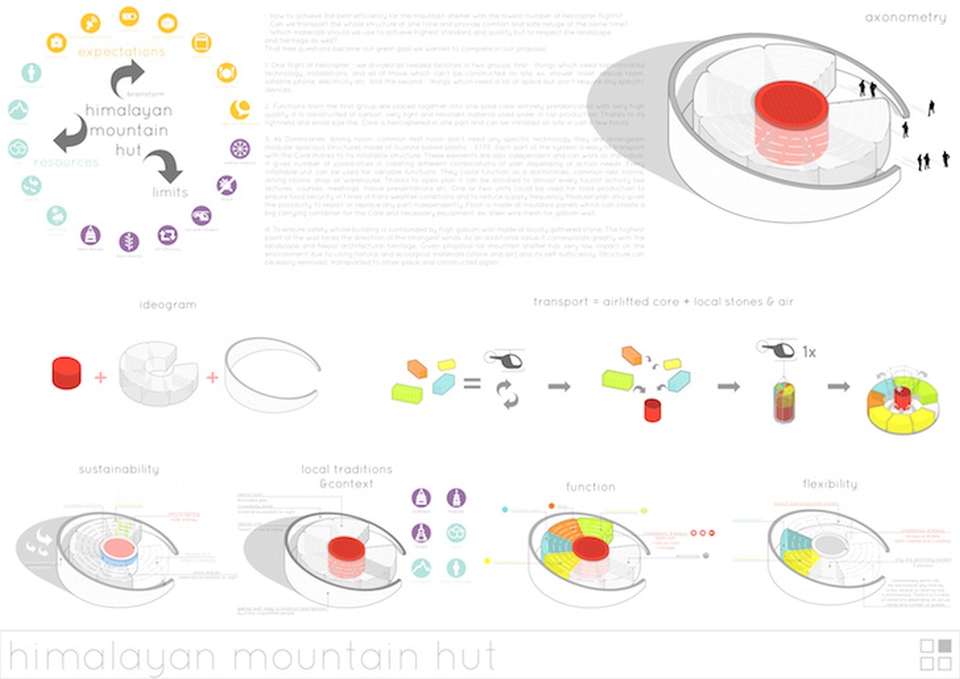 Via: PlanetCustodian