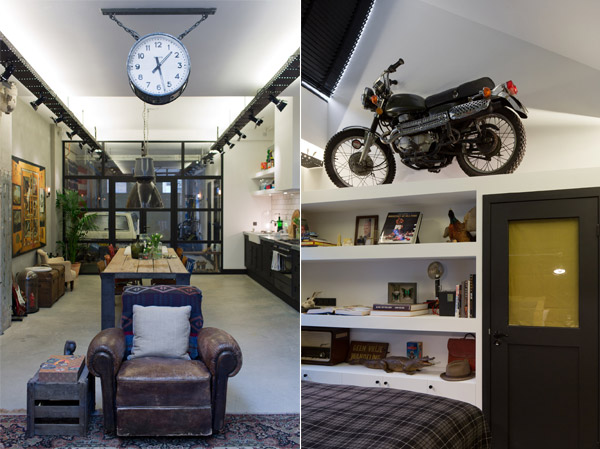 What does a designer do when he wishes to showcase his collection, but not in an ordinary museum style? He transforms an abandoned garage into a modern apartment for himself. Amsterdam-based designer James van der Velden bought an old auto repair shop and transformed it into one-of-a-kind residential space, where he now spends most of his time. Velden bought the 135 sqm (1,453 square feet) space for $600,000 and after a year with renovations worth $200,000, he converted the begotten space into a house worth moving in.
James van der Velden of design firm Bricks Amsterdam, has very amicably mixed different textures for that modern look with vintage appeal. Comprising of 2 bedrooms, 2 bathrooms, living space and a kitchen, the house looks almost as it did as a repair shop from outside, but the interiors are beyond words to express. Everything from appliances to furniture indoors is bought at Parisian flea markets or online stores.
The entrance is marked by a roll-down garage door, and up front is a small parking space. Almost all the wall indoors are covered from floor to ceiling in glass and steel, except the kitchen which is black and white. The kitchen has a rustic wooden table running through the center, and two large industrial lights suspend over it which make it perfect for grand dining. The living space has a glass entrance, allowing light into the area. A courtyard next to the living space features a garden with planters.
Most exciting thing about the wonderful home is the roof, which features a garden and enhances the openness indoors. On the opposite side of the roof garden are the 2 bedrooms and a guest room. The master bedroom has a vintage motorcycle perched on top of the shelves opposite the bed.