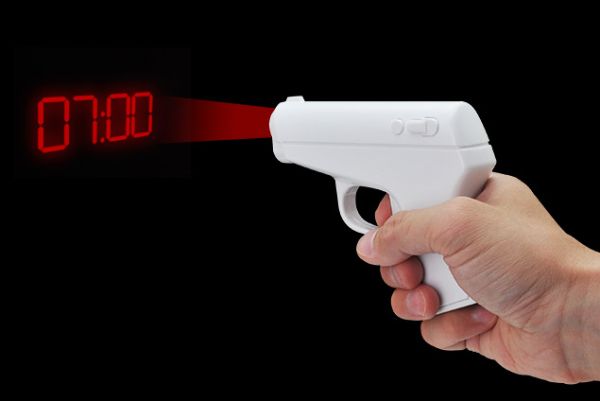 Now Q from James Bond will surely be envious of the above pictured Japanese contrivance. What looks like a pistol (albeit in 'innocent' white), the gun shaped contraption is actually an alarm clock that 'shoots' the correct time onto the wall straight from its barrel. In other words, the alarm clock follows a projection mechanism via which the time is forecast in its digital avatar. Of course, there is also the 'alarm' part to the alarm clock, which comprises of snooze and vibrations function that only stops if you literally pull the trigger. The alarm timer can also be set by the help of some buttons by the side of the gun's chamber.
Made from sturdy ABS, the overall weight of the plastic device is conveniently on the lighter side with only 70 g in mass. And, as for its working scope, the pistol alarm clock runs on two AA batteries. Instead of bullets, these batteries actually load up the magazine, thus deftly fulfilling a space saving criteria, while also providing the irradiation power for the time projection (at a range of about 20 cm). So, at the end of the day, the pistol alarm clock not only poses as one of those secret service inspired toys, but also comes in handy for daily regular activities – like waking up from sleep!
Dimensions – H 110 × W 130 × 30 mm (excluding the battery)
Price – 2,980 yen or around $31. Unfortunately, as far as we know, the product is only available in Japan. For more buying details, please refer to this link.