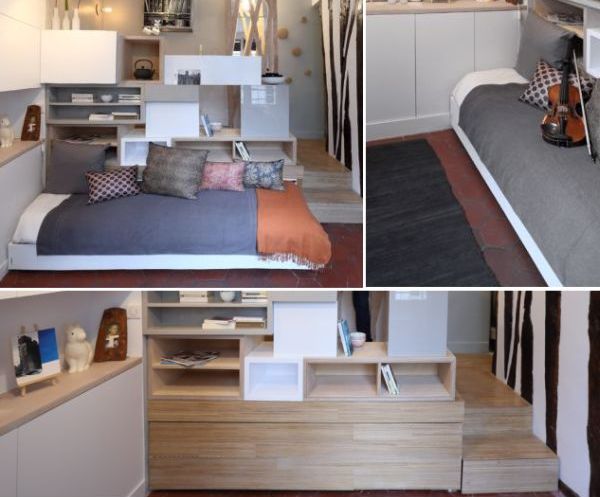 French architect Julie Nabucet has fully transformed a tiny space of 12-square meter (129 sq ft) into a mini-apartment with all necessary facilities in Montorgueil, Paris. On entrance, there is a living room with a comfortable couch. The couch can easily be pulled out to form a cozy bed when one feels sleepy. The sofa bed can completely disappear on smoothly pushing it inside the wall to create an open space. On right side of the area where the sofa bed retracts is a drawer to keep pillows and cushions. The drawer doubles as a step into the room.
Nabucet has cleverly separated the living room and the kitchen with a pile of plywood boxes that act as a wall. The boxes facing living room are used as small bookshelves whereas, the boxes facing towards the kitchen are loaded with cutlery and a microwave. The kitchen has small drawers and also has a small refrigerator, which is perfectly fitted below the kitchen shelf. There are some other small drawers in the living area for storage.
The designer has managed to form a tiny bathroom in two-square meter space including an Italian shower. She placed the wash basin outside the bathroom as it is too small to accommodate a basin, shower and toilet together. The wash basin is separated from the kitchen area with a beautiful netted wooden framework allowing light to pass through.
Previously, we have seen Nabucet create buzz with her 16-square meter apartment featuring a similar retractable bed. Now, she has managed to transform even smaller space into a beautiful tiny apartment. The 12-square meter mini-apartment is designed for people looking for a space saving home with all facilities like a normal house.
Via: FairCompanies