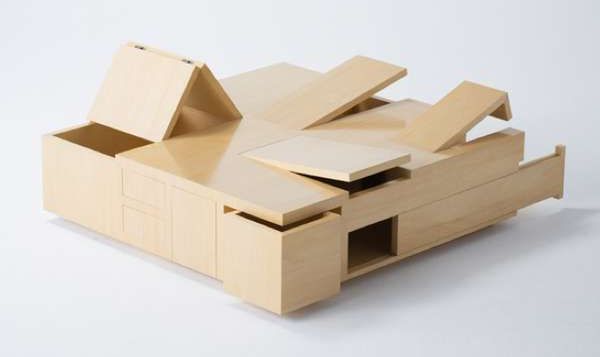 If you are looking for some functional furniture that provides a fantastic décor without having to take up too much space, then the Kai Table that you see above is a perfectly functional furniture piece for you. This table, although appears like a simple wooden slab, but it flips open about a dozen of doors, providing access to a series of storage areas. This clever mini-table can be used as a regular, Japanese coffee table while hiding enough of your things inside its hollow interior.
Naoki Hirakoso and Takamitsu Kitahara of Japan custom designed, the stylish Kai Table by taking inspiration from the 'himitsubako', which is a traditional Japanese puzzle box.  Soft and light plywood with coated Tilia Japonica is made used to create this sleek and magnificent design measuring 900 x 900 x 270mm. The wood has been neatly and precisely cut that makes the unit appear seamless and extraordinary. But, when the hidden hinged cupboards, pull out cubby-holes, drawers and sliding panels are revealed, the table looks more like a big three dimensional jigsaw puzzle.
One can properly organize the clutter of the books, DVDs, electronics and various other things in this incredibly crafted Kai Table. This aesthetically pleasing furniture piece fits appropriately in the provided space, providing a chic décor to the room where it is placed.
Via: Japantrendshop