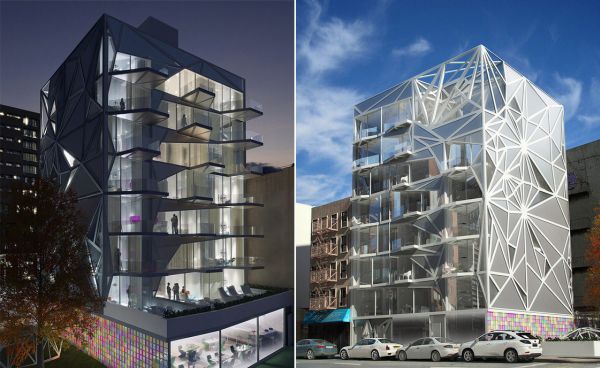 Well acclaimed industrial and interior designer Karim Rashid, who has a strange affinity for neon, has been creating eco-friendly designs and candy-land like fascinating interiors. The multiple award-winning talented designer was convinced by HAP Investments to show out his creativity in creating an eight (8) story apartment building in East Harlem. The building is called as the Diamond Signature Building  since off-the-wall renderings for the building reveal a unique "diamond signature" design.
This Diamond Signature Building is a 19 unit space out of which 17 are single bedrooms and 2 two bedrooms covering an area of 495 to 765-square feet and the ground floor is used as commercial space. Although, there seems to be futuristic functionality in the living room, but being an environment supporter, Karim has made an extensive use of the natural light that enters within the exclusive wall to floor windows. These windows are meshed with minimalist designs and ultramodern shapes, and the same is characterized in the furniture.
The same contemporary spec can be seen in the bedroom too. The couch as well as dining furniture is replaced by a trendy bed that extends on either side to hold things. A corner chair is also added to the room for the person to comfortably relax. The aqua blue carpeting in the bedroom  and living room is the same that perfectly matches with the artistic walls. The bathroom too is designed in a revolutionary way. Fashionable fittings are integrated along the length which ends into a shower stall. The elegant color and the overall décor syncs with modern concept of the home.
This spectacular Diamond Signature Building is located at 1655 Madison Avenue between 110th and 111th Streets. The website of the building is in Hebrew and therefore it cannot be known whether these apartments are rentals or condos. However, the property's listed price  starts at $430,000.

Via: Curbed