World-renowned industrial designer Karim Rashid is one of the successful design specialists of our time. This time he has come up with a striking kitchen concept, dubbed Karma. In collaboration with Marya, the leader in the production of kitchen furniture in Russia, Rashid has created a unique design that's likely to change your idea of the modern day kitchen.
The name of the project, 'Karma,' is derived from the first syllables of the names of its creators – 'Kar'im and 'Ma'rya. Blending art and technology, this unique kitchen design boasts a combination of different textures and contrasting colors. The intricate shapes and design throughout the kitchen make it seem like a work of art. However, it's designed to function like a conventional kitchen unit, but with a style twist.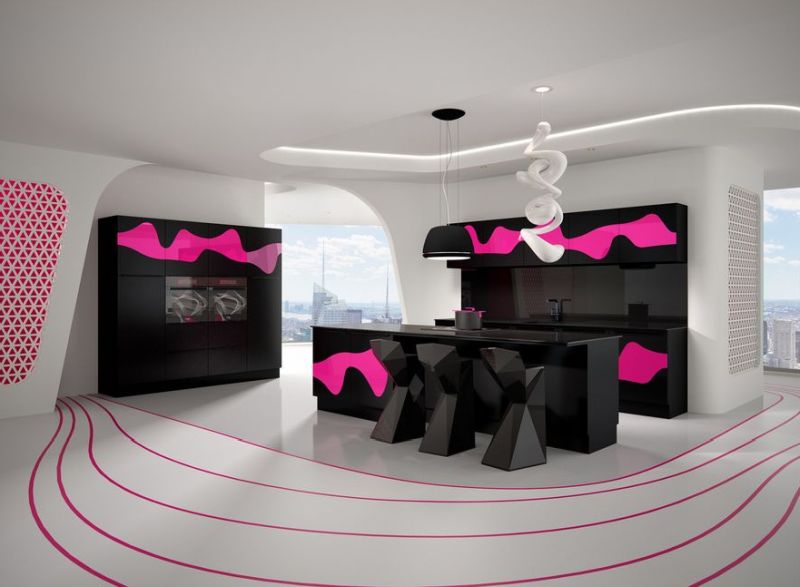 The facades of this model are matte but feature certain glossy elements, such as a tabletop, an apron of the kitchen, and glass inserts that come in the designer's signature wave pattern. It is available in five color variants – black facades with glass inserts of pink, black or white colors, white facades with sky-blue or solar, bright yellow. Moreover, the cabinets are integrated with built-in illumination for appropriate lighting.
Besides Karma, the designer team has also created two more stylish kitchen models: Klutch and Volna. All these models will be available from September 1, 2017.
# Klutch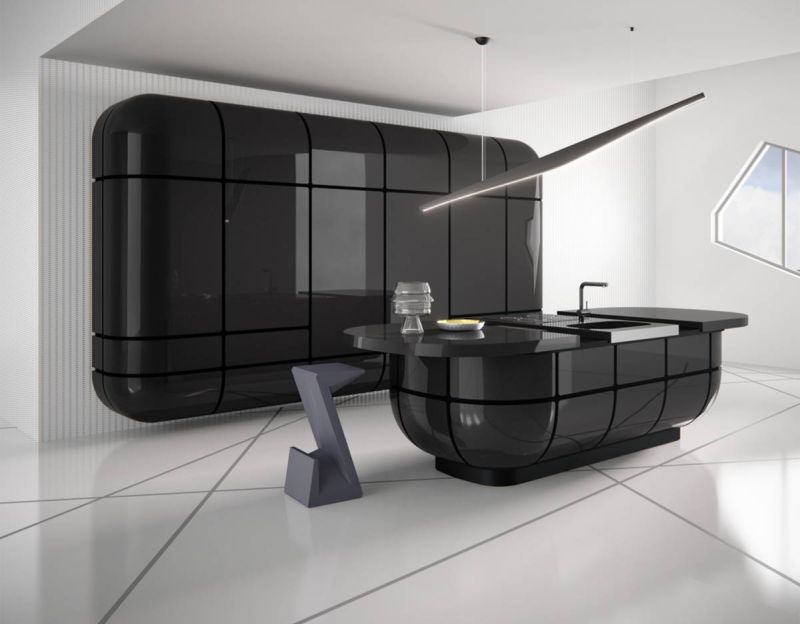 The name of this model is so because it actually reminds us of women's handbag, 'clutch.' Just like a handbag holds all necessary things, this kitchen model also stores a lot of mysteries. The hinged sections of the kitchen include an impressive set of appliances, including a coffee machine, refrigerator, microwave, wine cellar, and cupboard for heating utensils. Most technical parts and smart mechanisms of the kitchen remain hidden to make it seamlessly blend into any modern home interior.
# Volna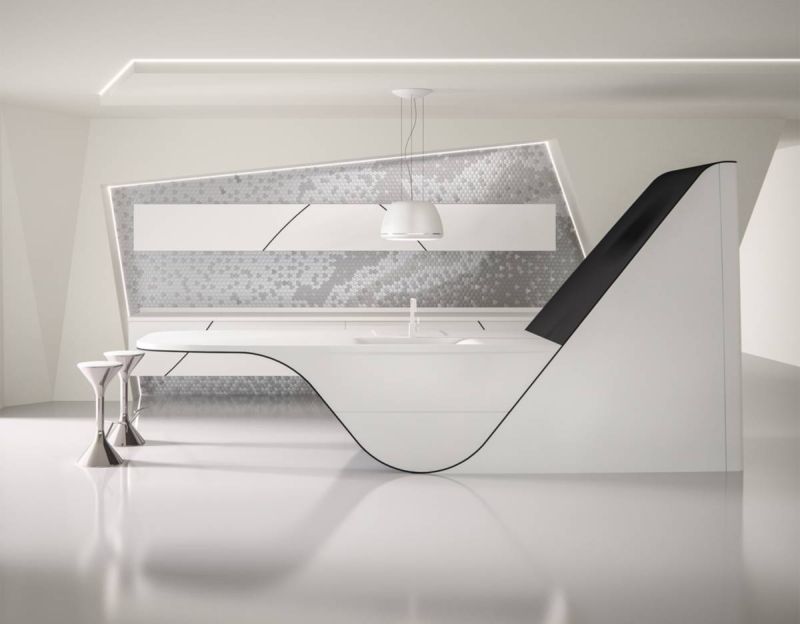 The snow-white kitchen model in a wavy form seems to be floating in the air. It is an epitome of beauty and practicality that appears to be flowing effortlessly through its design, as well as, functionality. It is a real work of art that has been made with an unexpected combination of materials. The facades, countertop, and island are made of snow-white matte artificial stone and mirror steel. Furthermore, to enhance the look, gorgeous lighting fixtures have been integrated into the kitchen design.
The refrigerator is hidden from prying eyes inside the mirror wave of the island. Within the hinged sections, and the voluminous monolithic island, there are various for storage modules equipped with smart mechanisms. Hence, the functionality of the kitchen has not been sacrificed to maintain its beauty.
Source: MaryaKarma