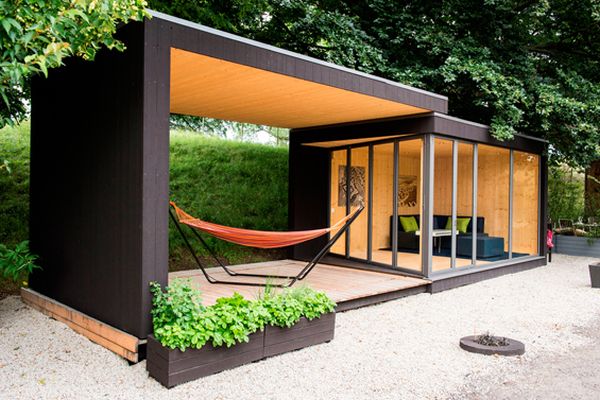 Swedish prefab cabin builder Kenjo had already impressed us with their solar powered floating structure. And now the designers are back with their trademark innovation, this time for the realm of lands. Combining the functions of a garden shed, a semi-private lounge and a storage area, the entire cabin is based upon a modular system that has several mounting options. In this regard, the users can actually opt of different foundation sizes (ranging from  5 sq m to 20 sq m) that determine the overall area of the cabin.
Coming to its spatial features, the cabin is defined by the notion of 'openness'. This open plan is complemented by a set of expansive windows that help in dissolving the boundary between the outdoor garden and the indoor area. Even in terms of practicality, these window systems take up minimal space, while their mechanism is pretty easy to control (so that they can be opened without any fuss).
Now, as for the utilization of the flexible space, the cabin showcases its true potential. In fact, Kenjo has went on to list the numerous possibilities with the cabin, which includes – 'accommodations, relaxation and sauna, studio, office, hobby room, storage room, garden room and student housing.'
This inherent flexibility of circulation is further demonstrated by the modular system that accompanies the scope. These modules come in prefab units of floors, walls, windows and roofing; with various types catering to the preference and the site of the owner.
For more details, please take a gander at Kenjo's home site.