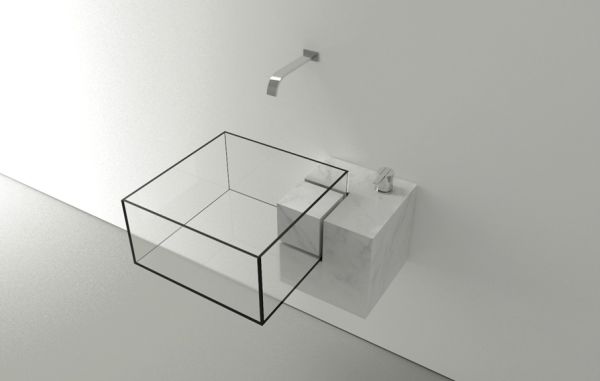 Are you looking to refurbish your bathroom? Although the looks of the bathroom fitting are vitally important but, it's about practicalities too. The washbasin is one of the most essential features in a bathroom. The Kub basin is crafted not only what basins are commonly used for but also to add a touch of sophistication and a dash of glamour to your bathing spaces.
The Milan based, renowned Bulgarian architect and designer Victor Vasilev has designed this awesome Kub basin. If you are a great admirer of minimalist designs then you'll surely fall in love with this sink. The designer has made a very clean use of Carrara marble, glass, faucet and fittings. The clean graphic lines of this piece challenge the traditional solid styling of bathroom vanity systems.
This marvelous bathroom fitting was designed in 2010 for the Antonio Lupi Dressed Stone Contest that year. The aim of this contest was to look out for new methods of using Carrara marble glass and water altogether. Vasilev created the Kub basin, highlighting the peculiarities of the components used in his design. The famous architect and designer counts Kub basin among many of his excellent works including interior designs and other architectural stuff.
Via: Neatorama