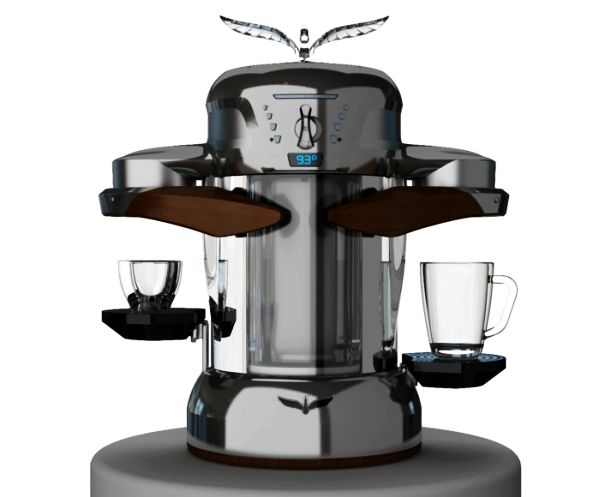 Recently, we came across the world's first disposable coffee brewer that allows the user to make a fresh cup of brewed coffee instantly just about anywhere. But, if you happen to be someone who is satisfied only if a cup of joe comes from coffeemaker, then we have another coffee machine for you which is the first of its kind to use electromagnetic induction heating. Dubbed La Fenice, it is the world's first induction coffee maker that, unlike other coffee makers, utilizes an electromagnetic induction heater.
This innovation has been devised by a team of coffee lovers from Italy. With their functional prototype, one can enjoy both traditional Italian espresso and American filter coffee while saving up to 80% of energy. La Fenice includes a patented electromagnetic induction heater that heats the water inside immediately after it is turned on, allowing the user to turn it off when not in use. Most of the coffee makers need a minimum of 10 minutes to brew a perfect cup of coffee, while there are others that need to be kept on all day long, resulting in high energy consumption.
This machine features a specialized pressure flow rate and temperature control (PCP) that constantly keep a check on temperature of water allowing for a high precision coffee making. It also includes a sensor that is designed specifically to measure water temperature and keep it constant at 93° C (199° F).
La Fenice looks like retro coffee machines as its design is inspired by those used in the 1900s. Two separate coffee making nozzles are also featured in the design – one for espresso coffee while the other one for filter coffee. Furthermore, this coffee machine is compatible with both ground coffee and coffee capsules.
Currently, the La Fenice is in prototype stage now and the developers are seeking funding at Kickstarter to bring it to store shelves near you. So, pledge today and be the first in your friends to own this coffee maker with a retro element. Check out the video below to see how it works:

PP: La Fenice