You may like your cocktails blended, mixed or served straight up. However, Chicago-based drink-ware company Oak Bottle literally wants to lift up your spirits with its all-new Levitating Cocktail Glass. Forget those old boring coasters, now your glass will never touch the surface of a table – all thanks to this whimsical system. It consists of two main parts, the cup and the base. The cup and base set uses quantum locking technology to keep your drinks floating in mid-air.
The levitating cup is made from plastic and its bottom consists of a big metal base that's integrated with a magnet. On the other hand there is another magnetic metal base for the surface of the table. Together these magnets create an electric field that helps in moving and locking the glass at certain place, without falling.
However to stay floating, the system needs constant electric power from nearby wall outlet. All you need to do is plug it into a power outlet, pour your drink, and set it carefully above the magnetic coaster. When you set the glass above the magnetic coaster, four LED lights will turn on indicating that the glass is locked in its position and will stay floating and rotating in mid-air.
The complete set includes one cocktail glass, one magnetic coaster as base, and A/C wall adapter. It will be a fun addition to your home bar, adding magical flair to your party time or regular drinking routine. You can preorder this floating cup from the company's official website for $170.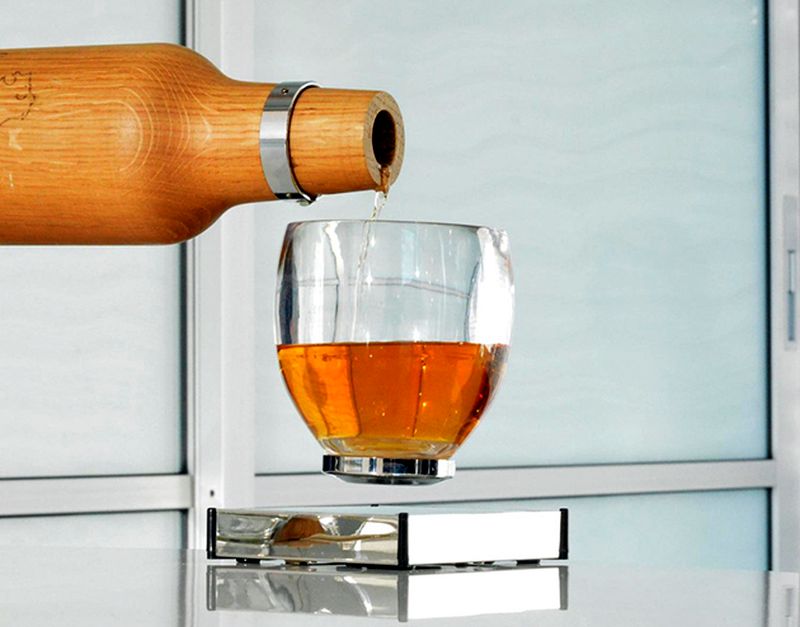 Via: OddityMall