Anything that adds visual appeal to your home décor is good for the interiors. Especially when it is something which is unique and eye-popping. I'm talking about the uber cool levitating items for your interiors. Just like the levitating speakers, you definitely need to check out some of the coolest home accessories that float in mid-air. Here is a collection of some of the best levitating accessories which will flock-in visitors to your place.
# Crealev Levitating Base
This is a levitating magnetic base which turns your ordinary household objects weighing up to 20 pounds into a floating one. Just place it on the levitating base, and it seems to defy gravity. Place books, Lamps, décor items, glasses, chess set or anything that would look cool floating in the air. Crealev has a collection of different sized levitating bases, and you can book one for yourself through email inquiry.
# Floating Cake
Crealev is the expert in magnetic levitation bases and showcasing their capability in making fancy things is their forte. Back in the summer of 2015 in Eindhoven, Netherlands at the Dutch Design Week, they showed-off a floating cake which looked absolutely stunning. Obviously, you can't buy one from the local bakery shop, but you can get the Crealev base and put a cake on top of it. However, don't forget to hide the base with some props or decoration.
# Levitating Nixie Clock
For a geek, this levitating clock is a dream come true. Just look at it floating in mid-air, and the fact that it is a Nixie clock, adds to the charm further. Created by Tony Adam from Scotland, this eye-catchy clock is made from Nixie tubes which show time actuated by the infrared signal from the magnetic base. No surprise that this levitating nixie clock has managed to achieve the funding goal on Kickstarter. For those who pledged a minimum of $463. However, the retail version will come for a tad higher amount.
# Floating Smart Orb
Although this levitating base serves as a wireless charger for smartwatches, it also doubles as a smart floating orb light. The lighting solution comes in the form of an orb which dances around while spreading ambient light in your room. With the push of a button on the top of this orb, your room lightens up with brightness. As for the on-lookers, this is going to be a thing of envy.
# Lyfe Magnetic Planter
Nothing is better than decorating your outdoors as well as indoors with plants in well-complimenting planters. Here we are talking about a floating planter which adds a definitive touch of style to your interiors. This is Lyfe Planter which is created by Flyte, a Swedish company to drape your living space with a touch of magic. The 12-sided geodesic silicone levitating planter holds any indoor plant (particularly air plants) in its shell and makes it float in mid-air. It rotates above a wooden base, providing sufficient sunlight to plants throughout the day. The $199 pot even hides a small drainage system to prevent over-watering.
# Levitating Lamp
Designed by Angela Jensen and engineer Ger Jansen, this levitating lamp seems like any other conventional table lamp, but a closer look reveals the difference. It has a floating upper section which is absolutely rocking when we talk about modern home décor. All this style comes with a steep price tag of $1,300.
# Spaco Levitating Speakers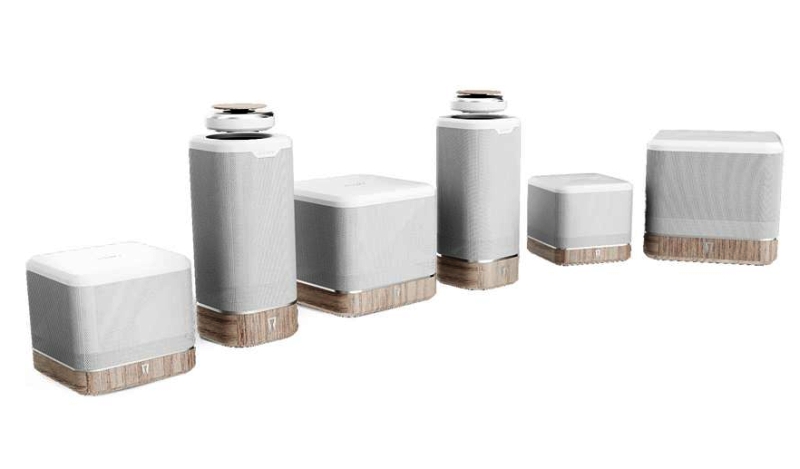 What can be better than floating speakers delivering ear-pleasing music? Yes, that is exactly what the Spaco 5.1 sound system does. It consists of two omnidirectional levitating speakers, one subwoofer and three satellite speakers to deliver encapsulating sound in your living room. The talking point here is the pair of levitating speakers which float over the levitating base, all thanks to the incorporated electromagnets. Just watching these speakers float in mid-air while playing crystal clear music is bliss. ASWY showcased the levitating speakers at IFA 2016 in Berlin and soon the company is going to launch a crowdfunding campaign to bring the audio system to the masses.
# Flyte Floating Lightbulb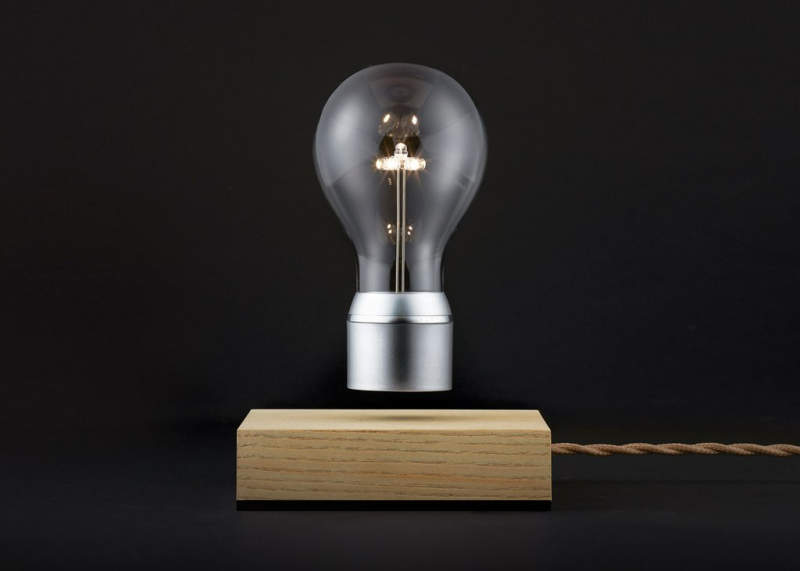 If you are tired of the boring lighting fixtures and the messy wires to fix them, then you can add refreshing and glowing touch to your interior with the wireless Flyte lightbulb designed by Simon Morris. This levitating lightbulb floats in mid-air on its wooden base, using Tesla laws of magnetic induction powered by air. It basically comprises of LED bulb with wireless power receiver and electromagnet at its bottom. The wooden base is available in different materials such as sourced ash, oak or walnut; you can choose any one as per your preference. Flyte is highly energy-efficient lightbulb and can work continuously for approximately 50,000 hours. You can get the Magnus Lightbulb for $349 right away.
# Levitating CUP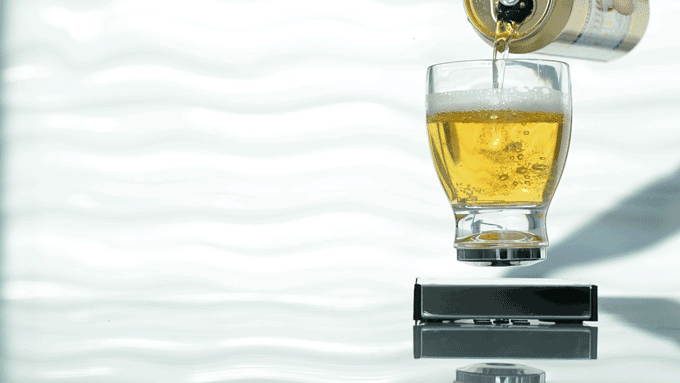 Of all the levitating objects we have seen above, this one has to be the classiest. Levitating CUP by Joel Paglione is perfect for a lavish home bar, and you'll know why I'm saying so. The levitation comes courtesy electromagnetic field between the base and magnets on the bottom of glassware. Even if the base is covered with a cloth, the field is strong enough to hold the glass in the air. The idea has been already funded on Indiegogo and you can get you levitating glass for as little as $179.
Of all the above levitating objects for a geeky home, the floating lightbulb is my favorite. It defies gravity, lights up your room and for those who will see it for the first time it is nothing less than magic.