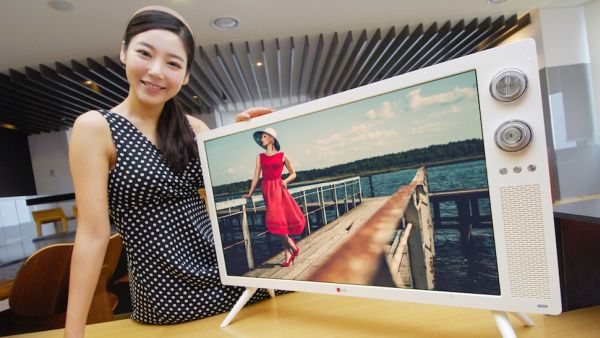 Over the last few years, the trend in electronic products have always been to ditch all the paraphernalia of switches and knobs for touch-friendly and remote controlled mechanisms. However, as a side effect of this otherwise useful trend is loss of uniqueness in design due to the prevalent usage of the same technologies. Well, as a 'solution' electronic giant LG has come forth to unveil their retro styled 'Classic TV' set with classy wooden panels and evocative knobs and buttons. Of course, like any well done DIY mod, it is only the external facade that tricks us into believing that the television is a work of some antediluvian era. The technology infused inside the 32-inch contraption speaks of contemporary credentials like LED, Full HD (1080p) and 178-degree viewing angle IPS (In-Plane Switching) pane.
According to the Korean company, the Classic TV epitomizes the Scandanavian-style of design where simplicity and modernity play their crucial roles. In that regard, the conception exhibits its clean lines and minimalist essence with some practical features like usable ports and advanced attributes including high color accuracy. Quite interestingly, the Classic TV set also comes with a free coffee machine, which is of course presented as a 'cherry on the top' of the wonderful package.
Coming to the commercial side of affairs, the Classic TV is unfortunately only available (till now) in South Korea. The price is set at 840,000 won, which comes to around $754. For more details on the product, please do check out this link.
Via: LGNewsRoom