Do you always fight with your beau over who'll get to watch their favorite television show? Well, to end the century old household conflict, LG has unveiled one-of-its kind OLED TV that flaunts double-sided display that allows you and your partner to watch different content at the same time.
Introduced at IFA 2015 in Berlin, the 111-inch double-sided TV is comprised of three 65-inch UHD OLED displays that show content on both sides of the television simultaneously. Isn't it the coolest television set ever introduced to mankind? We are sure your answer will be a silent 'Yes.'
The best thing about this unusual TV set is that its wavy structure is designed to show different content on either sides, but don't let distinct contents interfere with each other. This means any two individuals can enjoy their favorite show while sitting on opposite sides of the television with headphones on. That way, you'll be able to see any of your favorite channels without troubling your partner.
However, if your family has more than two individuals with different TV show choices, then only pray to God as this one is for only two individuals. Jokes apart, LG has also unveiled its smaller version i.e. 55-inch double-sided television that measures just 5.3mm thick. So if you don't have space to accommodate a huge TV screen in your apartment, you can opt the smaller screen.
Already decided to purchase one for your home? Don't count on buying one of these just yet, as the new double-sided TVs are still in a prototype phase. For now, we're not sure when these will hit the market. But these will be better screens for both residential and commercial use. Commercially, these screens can be used in shopping malls to display different ads from all angles.
Check out the video given below to find out more about LG's double-sided TV.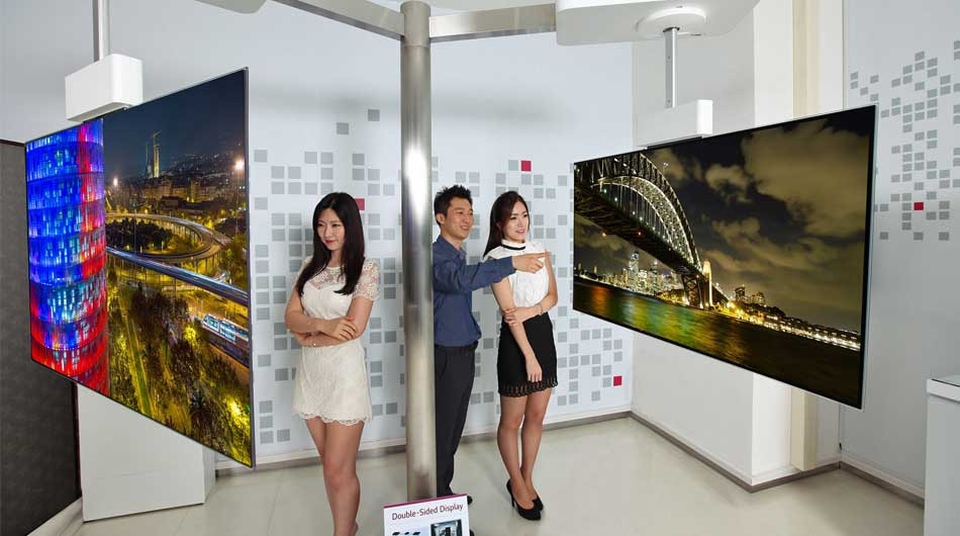 Via: Techradar