Floating speakers have been around for quite a few time now in the electronics industry. Over time, various designers around the world are making new kind of levitating speakers. The international company of premium home appliances and electronic products, LG Electronics has also jumped into the sector. As per LG Newroom, the company is going to unveil its portable levitating speaker PJ9 at CES 2017. This wireless speaker hovers over the included roundish levitation station.
In addition to the high-quality output, the portable levitating speaker makes an impression with its streaky – sophisticating design. One can use it for playing music, podcasts and other audio content in homes as well as outdoors. When playing music with this 360-degree omni-directional speaker, the levitation station produces powerful electromagnetic waves for floating it in mid-air. The PJ9 is equipped with dual passive radiator technology, and a subwoofer with deep bass has been integrated into the levitation station for enhancing the crisp audio experience.
The rechargeable battery can make it work for up to 10 hours. Once its battery drains, the tiny floating speaker falls over the levitation station and gets charged-up wirelessly. It is an IPX7 compliant device that can endure adverse weather conditions. The Multi-point technology enables one for connecting two Bluetooth devices simultaneously to the device.
Brian Kwon, president and CEO of LG's Home Entertainment Company said;
Our latest addition to our growing lineup of premium wireless audio devices is not only eye-catching but also communicates the message that LG is serious about bringing something different to the table.
From the various levitating speakers available in the market, the built-in battery and simplified look are some unique features of the LG's PJ9 wireless speaker. Its pricing details are not clear till date, but surely the company is going to reveal out more information next month.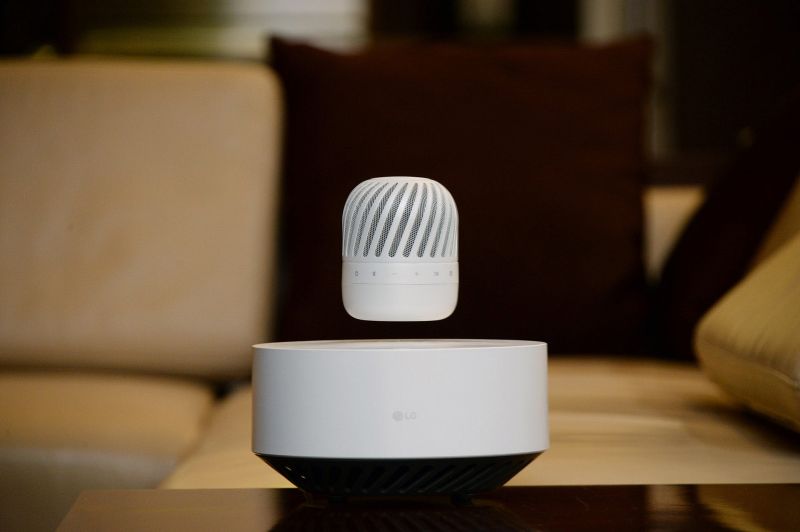 Via: Engadget