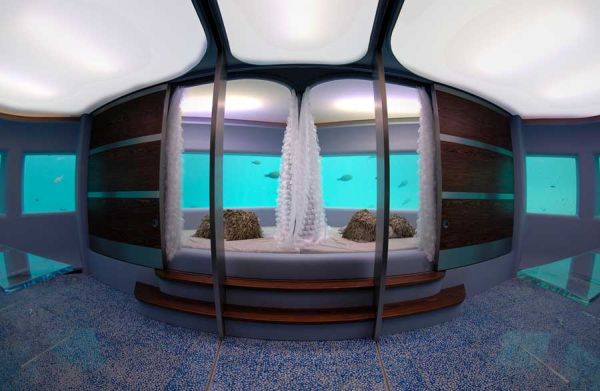 We have seen innumerable posters and advertisements showing seaside spas and resorts. But how about a full fledged spa underneath the sea? Well, that is exactly what the luxury Huvafen Fushi resort of Maldives offers, as one of their attractive packages. Comprising of two double treatment rooms and a separate relaxing area for the patrons, the plush spa is christened as the 'Lime'. The resort's management is touting this package as a more of a 'sensory' experience with color changing lights that lead up to the spa, and of course complemented by the breathtaking view of the Indian Ocean marine life from the main area.
The designers obviously thought that surrounded by ocean was not enough, as the decor of the spa itself relates to this 'sub-aqua' ambiance. In this regard, the interior walls of the spa can reconfigure themselves to open up transparent windows for the much needed visual connection with the ocean bed. The walls then pose in their double curvature organic form, while a stretch Barisol ceiling is incorporated at the top and blue resin bonded pebble tiles are 'pushed' along the flooring. According to sources, all of these redesigning paraphernalia set the hotel back by 12 months and around $180,000 in greenbacks.
The resort also continues at the top of the ocean, along side a beach. There are 43 modern, sea-facing rooms which are all spatially connected to additional above-sea treatment facilities (for people who prefer to be pampered in conventional areas).
Via: E-Architect