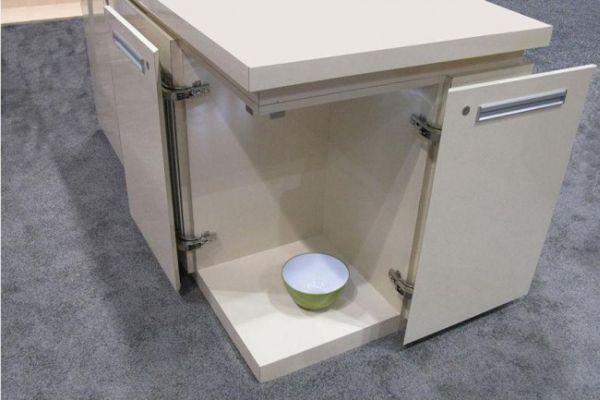 We have all had our sweet reveries of those sleek Lambo door systems nonchalantly flaunted by the renowned sports cars. Well, Japanese company Sugatsune has tried their best to bring the same level of flair to our kitchens. The end result is the Lin-X system that comprises of lateral opening hinges that open with a ridiculously low radius. This allows your kitchen cabinets to open up with a refined flourish, which is surely in stark contrast with the whimsical nature of conventional cupboard doors known for their knack of coming in the way.
In terms of the working scope, the special hinges allows the door to automatically stop in its opened position, while the damper function of the Lin-X 'generates' a slow, self-closing movement. The hardware also eschews the need for tracks or rails on the floor and ceiling parts of the cabinets.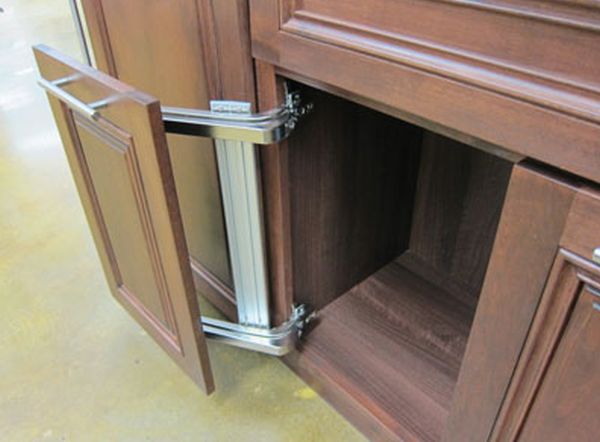 The other good (and somewhat eccentric) thing about the whole ambit is that Sugatsune is only specializes in crafting novelty hinges and other door closing mechanisms. So, we can only assume their expertise will translate into a great quality product. Moreover, there is a bit of conscientiousness to the whole affair, with the Lin-X having the capacity to effectively cater to differently enabled people. This is because the door opens in a lateral manner with a very low angle of radius, which offers more kitchen space to maneuver wheelchairs and other accessories.
Finally, in terms of usability, Lin-X hinges according to the company, have been designed for standard 32 mm system mounting for easy installation. The hinges are also compatible with both single and double door configurations, thus improving their application in various home oriented utility spaces including – kitchens, pantries, laundry rooms and hallways. For a more clear understanding of the smooth hinge system, do have a gander at the YouTube video below.
Via: Sugatsune