If you want to add character to your lavatory, look no further than the gorgeous rustic vanities by the Nashville-based furniture store, Littlebranch Farm. What makes their vanities unique is the fact that these are crafted out of natural wood harvested from the forest bed. Be it dead standing trees, roots or logs, the craftsmen know how to reshape natural wood into decorative and practical bathroom vanities.
The team at the furniture store uses cedar, twisted juniper, driftwood and roots as a base to style up these beautiful vanities. They have been making custom rustic vanities since 2002 to meet the size specifications of different customers. A mecca for elegant bathroom vanities that are dramatic with the minimalist modern vibe.
Here is a list of various environmentally-friendly rustic vanities offered by Littlebranch Farm. Have a look:
This is a table-shaped vanity for lavatory, living room or a patio. It's crafted out of reclaimed barn wood and further accented with hammered metal straps forged by the company's local blacksmith. It comes in custom sizes with standard depth sizes 36-inch, 48-inch, 60-inch, 72-inch, 84-inch, 96-inch; standard size 24-inch, and height 36-inch.
Buy: Price on Request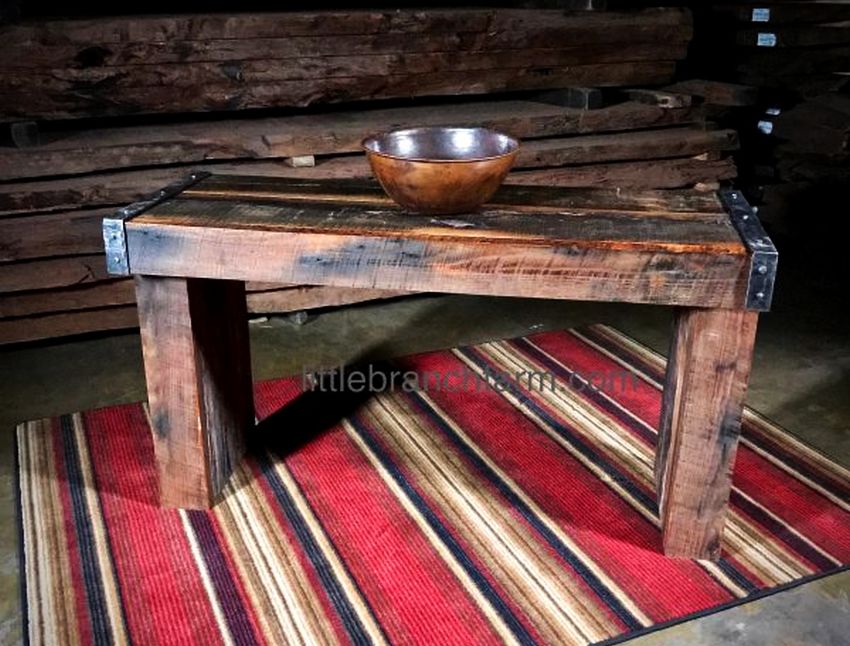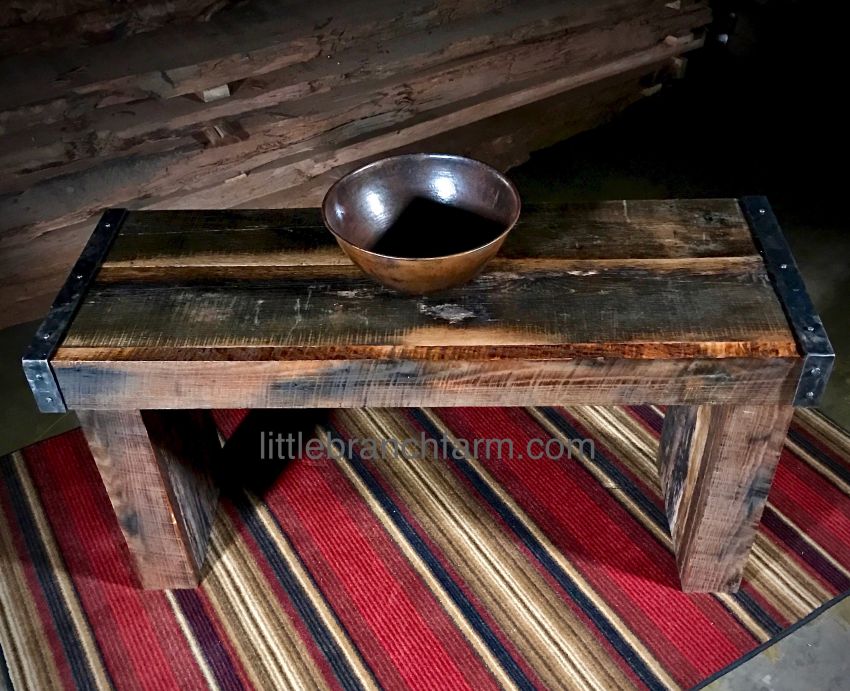 It is a simple bathroom vanity with the eastern red cedar base and top, and it comes integrated with standard faucet and hammered copper sink. However, you will need to purchase a faucet separately. Size: 24-inch wide x 24-inch deep and 34.75-inch tall.
Buy: $1,895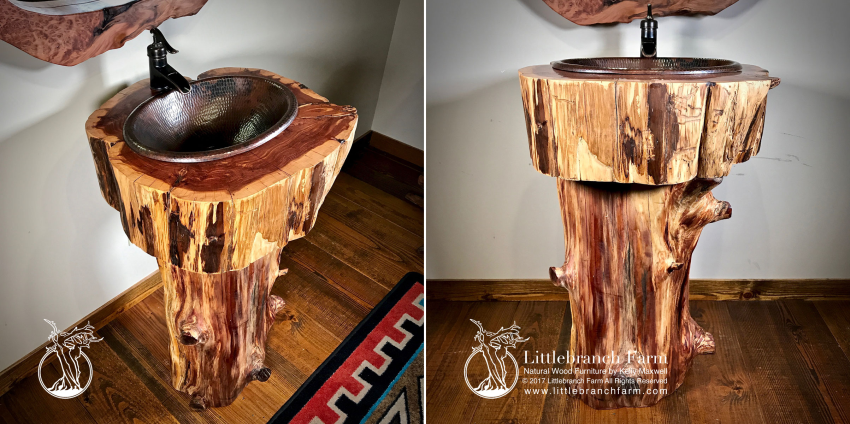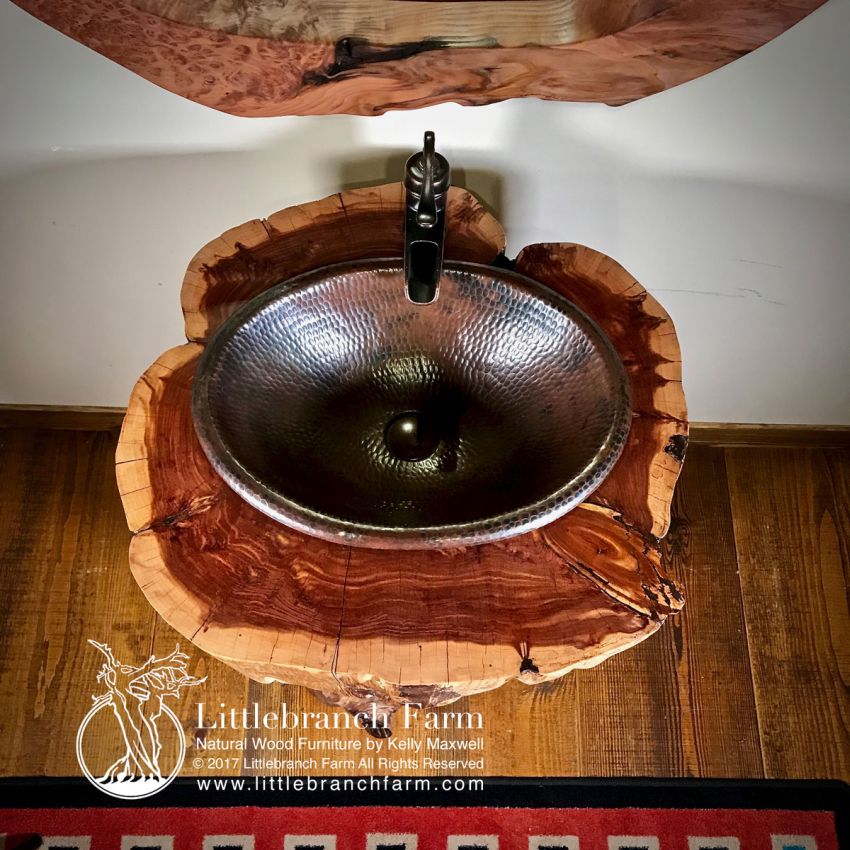 It boasts a dramatic twisted juniper base, which further supports a live edge wood slab countertop and a hammered copper sink. In nature no two things grow the same, so be assured that your vanity will be absolutely unique. Size: 36-inch wide x 24-inch deep x 35-inch tall.
Buy: Price on Request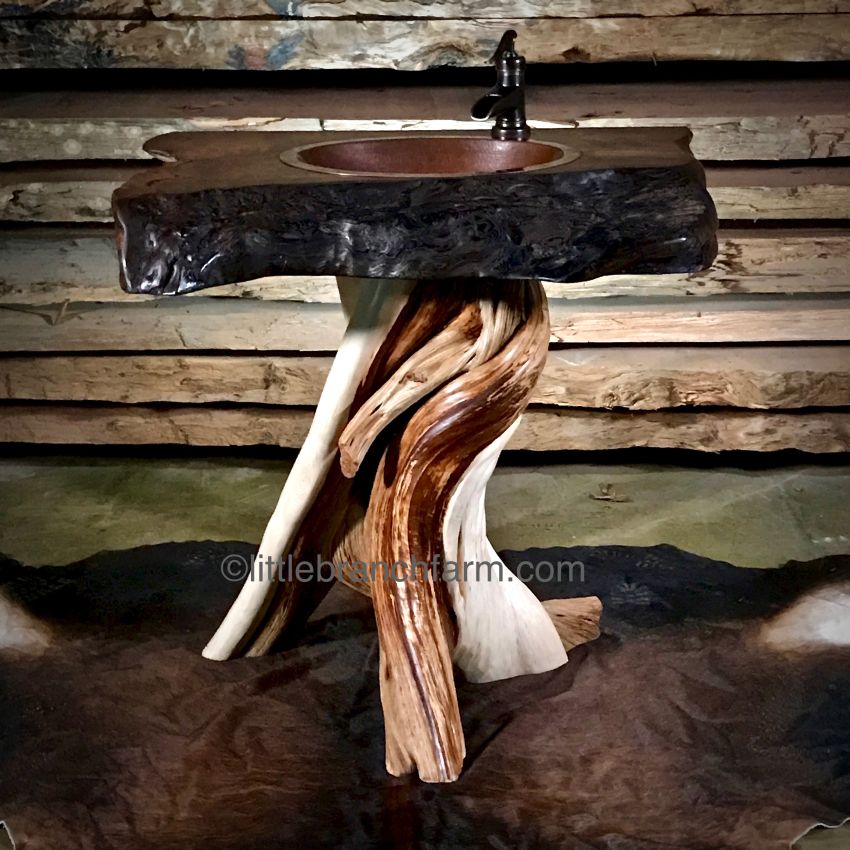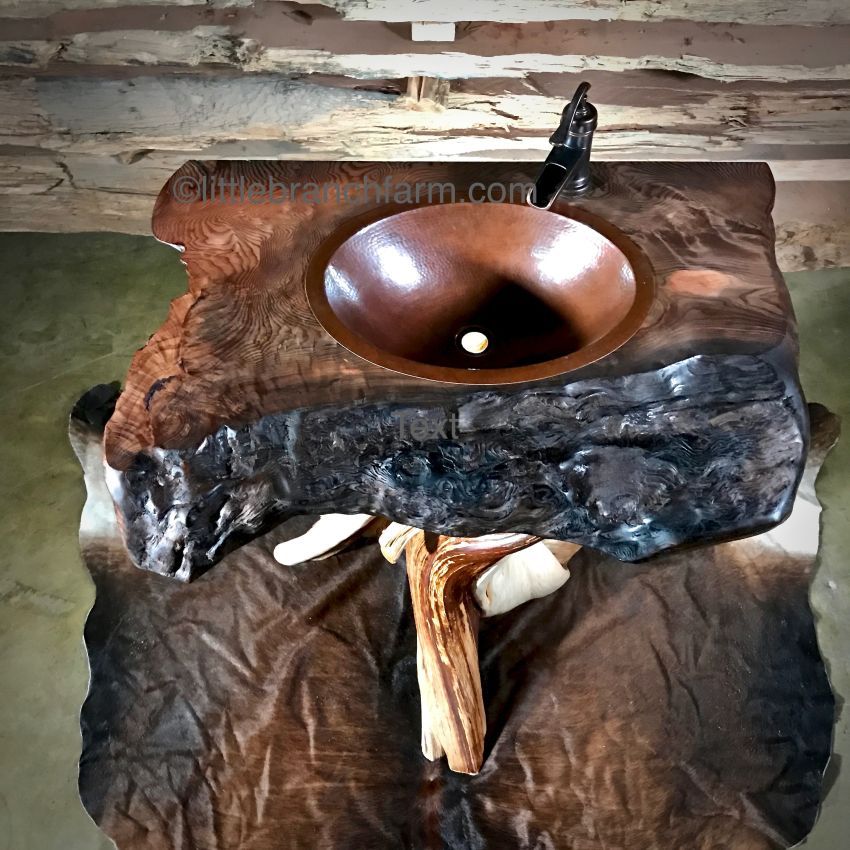 The custom rustic bathroom vanity is made out of driftwood root base supporting edge wood countertop, which is made from old growth redwood slab. It is integrated with a vessel copper sink, and other authentic detailing to add rustic charm to any bathroom space. Size: 39-inch wide x 24-inch deep x 36-inch high.
Buy: Price on Request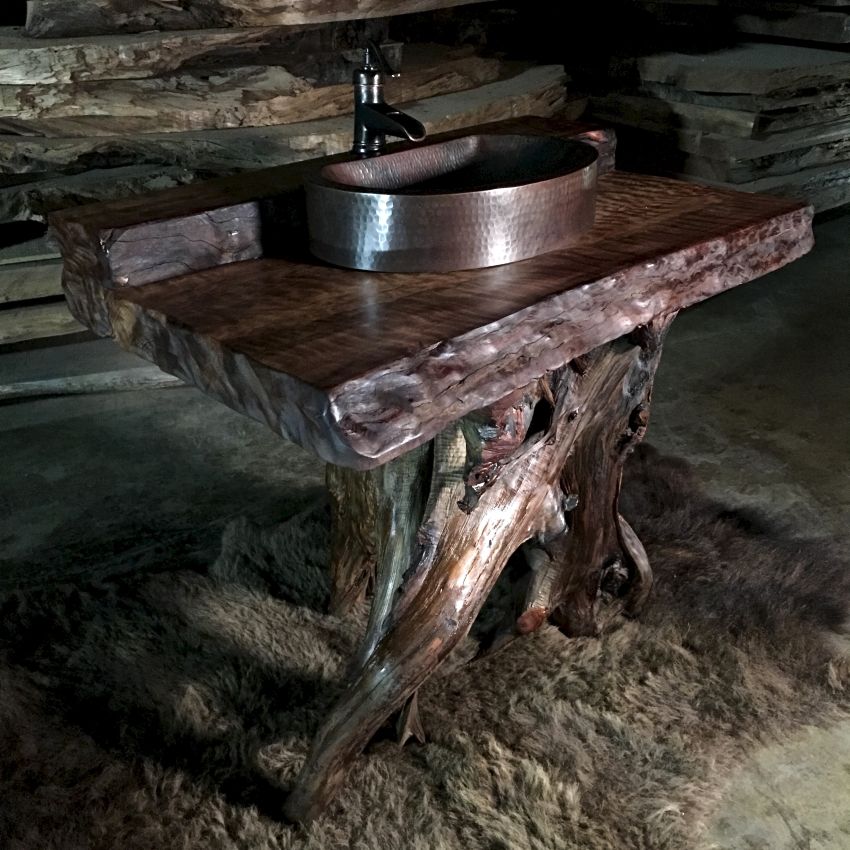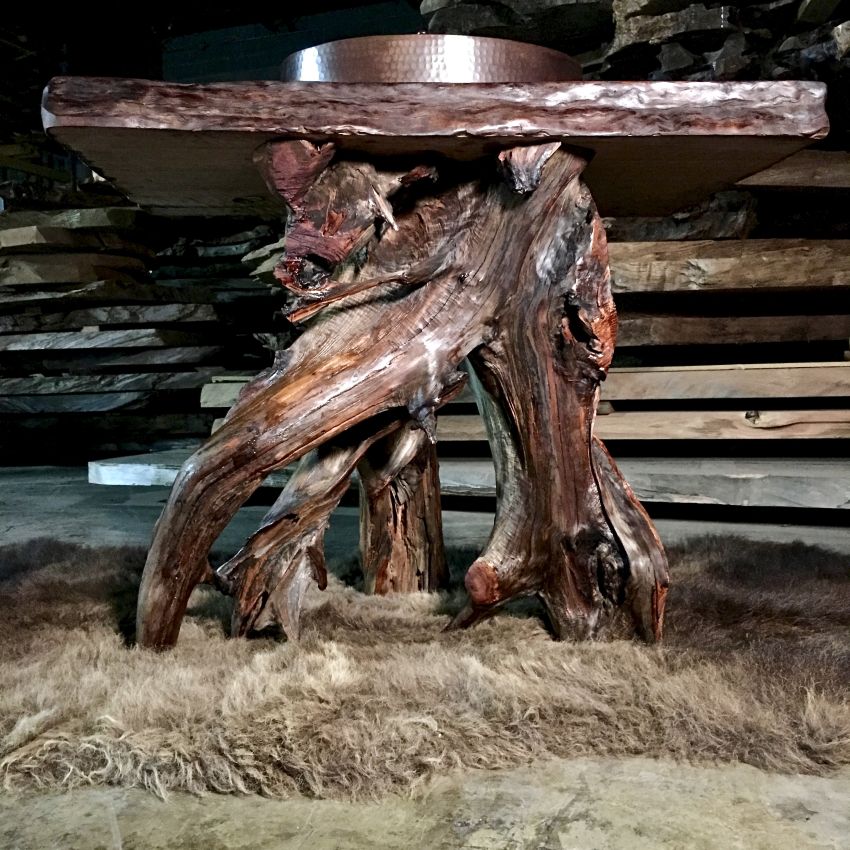 Made from a live edge wood slab, this vanity's wooden slab has been sourced from logs and stumps left on the forest floor per 1960. This stylish vanity comes with sturdy metal chain system and a copper sink. It has a standard oval copper sink, firm mounting brackets, and a waterproof finish. Size: 50-inch long x 24-inch deep x 5-inch thick.
Buy: Price on Request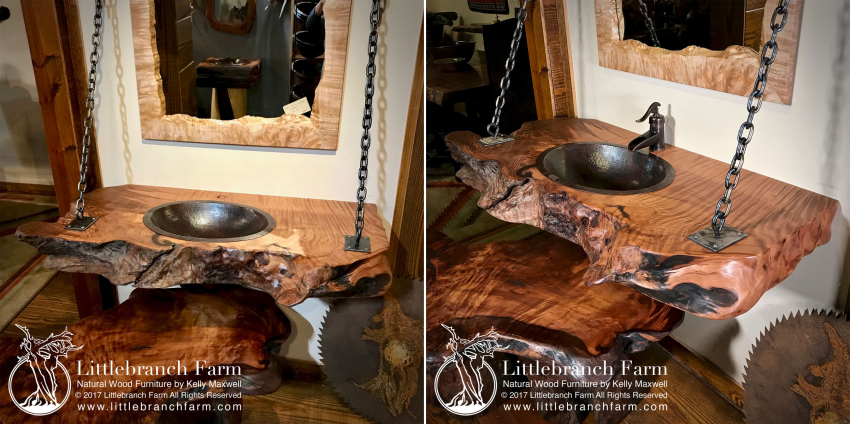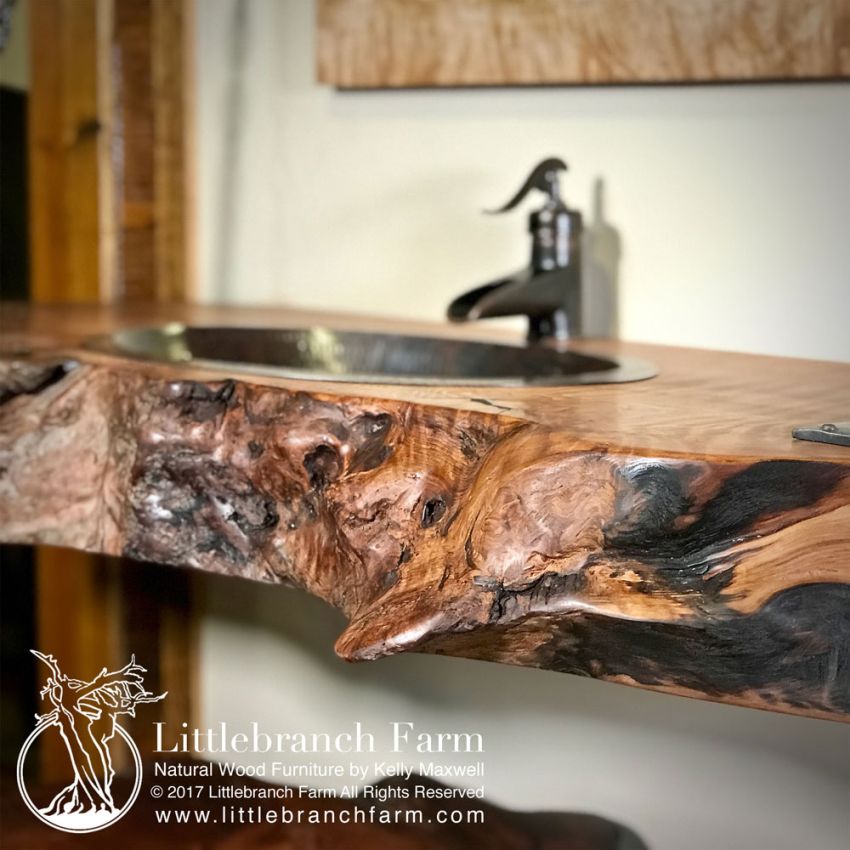 It is another rustic hanging wood slab vanity, which is built from old growth redwood slab. This rustic vanity boasts live edge wood slab and hammered copper sink supported by chain bracket system. Each floating wood vanity is one-of-a-kind and also available in custom sizes. Standard size: 40-inch long x 23-inch deep x 5-inch thick.
Buy: Price on Request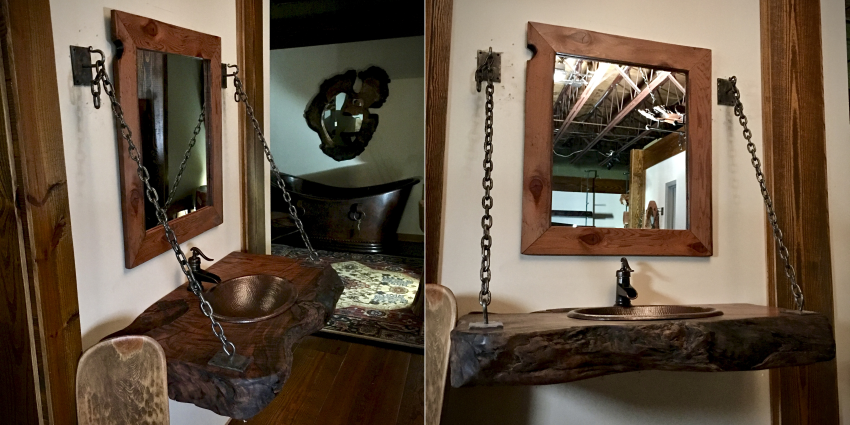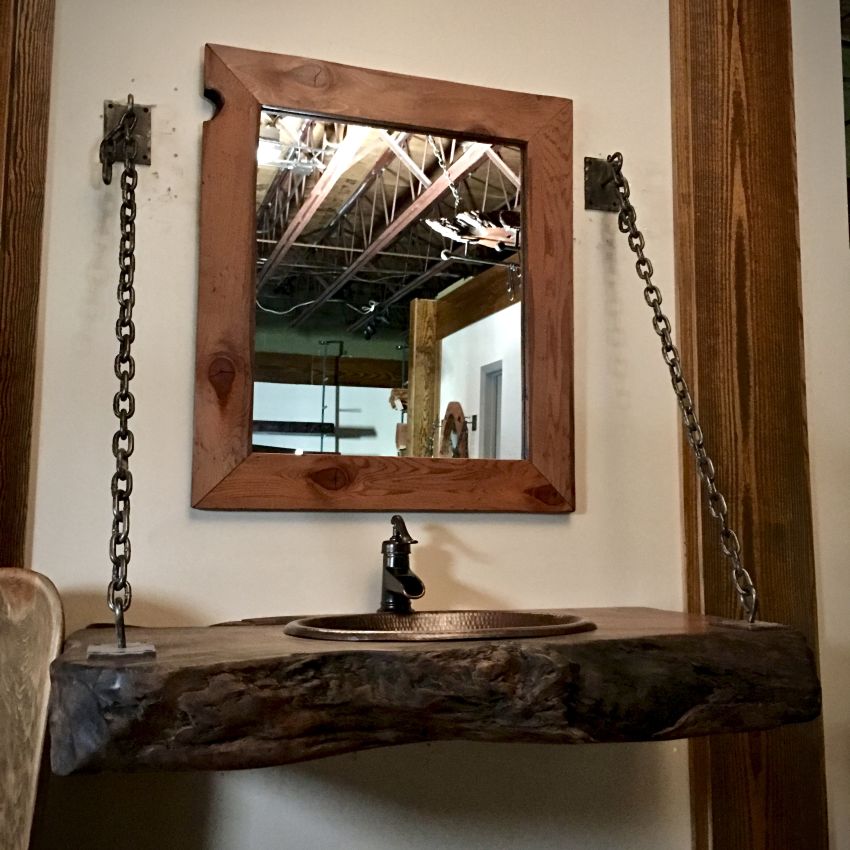 Made from salvaged wood native to Pacific Northwest, this large rustic log vanity has a strong western cedar stump base. It boasts a thick live edge wood countertop made out of reclaimed old growth redwood. Size: 41-inch wide x 24-inch deep 38.5-inch high.
Buy: $3,895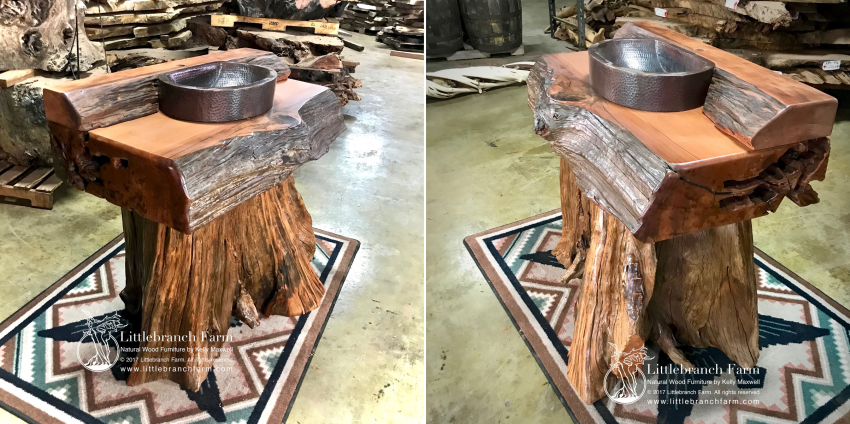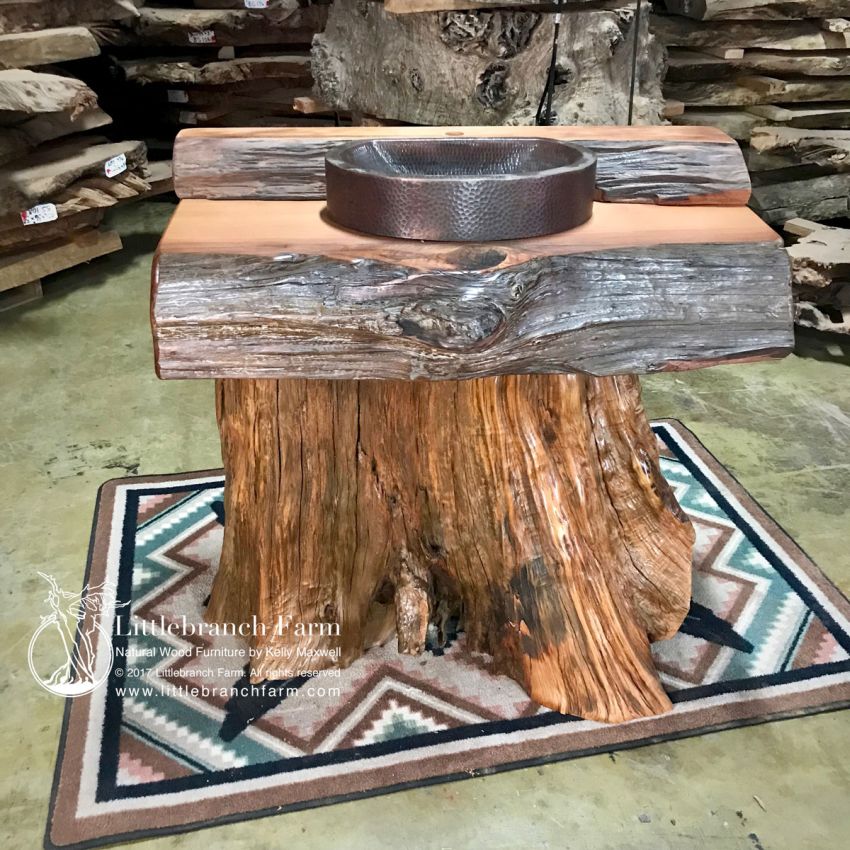 Handcrafted pedestal rustic vanity consists of live edge wood slab and salvaged root base, which is harvested from a forest floor. The base helps you bring a real part of the tree within your bathroom. It actually is a real tree stump, which will bring a natural and rustic appeal to your lavatory. Size: 36-inch wide x 36-inch tall x 24-inch deep.
Buy: Price on Request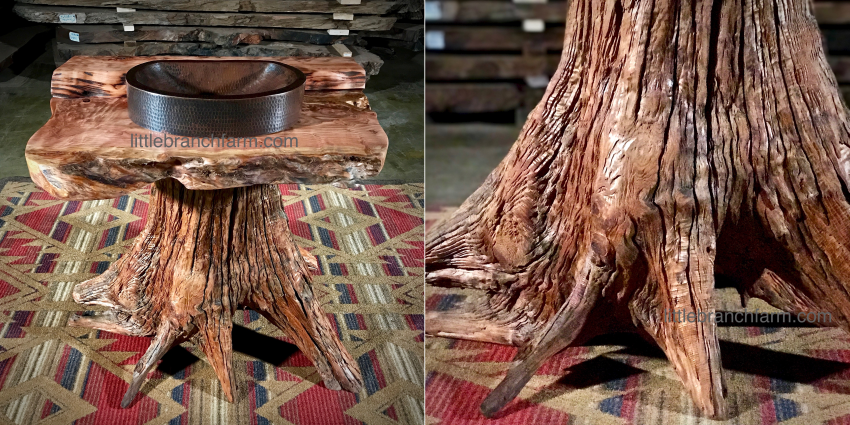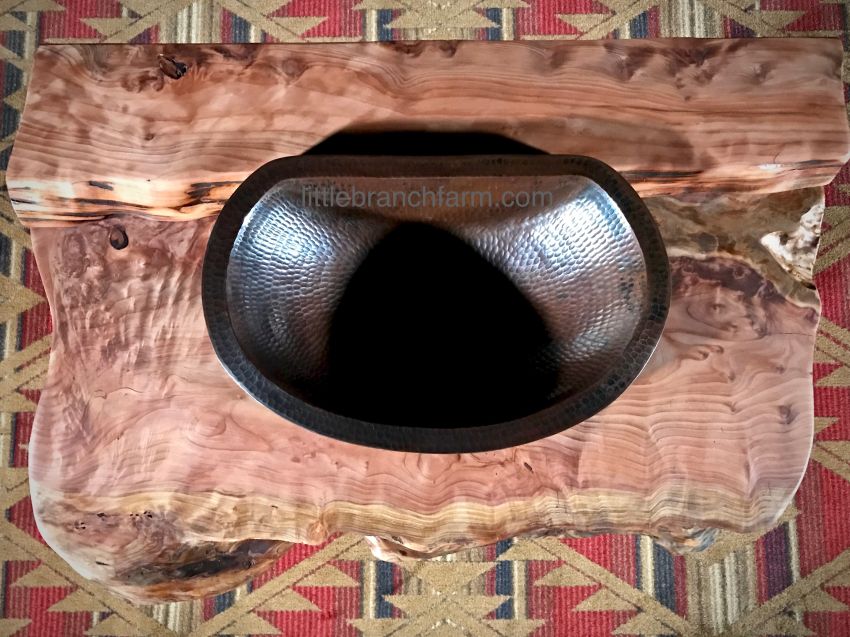 This custom rustic bathroom vanity boasts a live edge cypress wood slab countertop and strong grayish brown western cedar root base. It comes with a hammered copper sink with a natural patina to add aesthetic yet practical appeal to your powder room.
Buy: $3200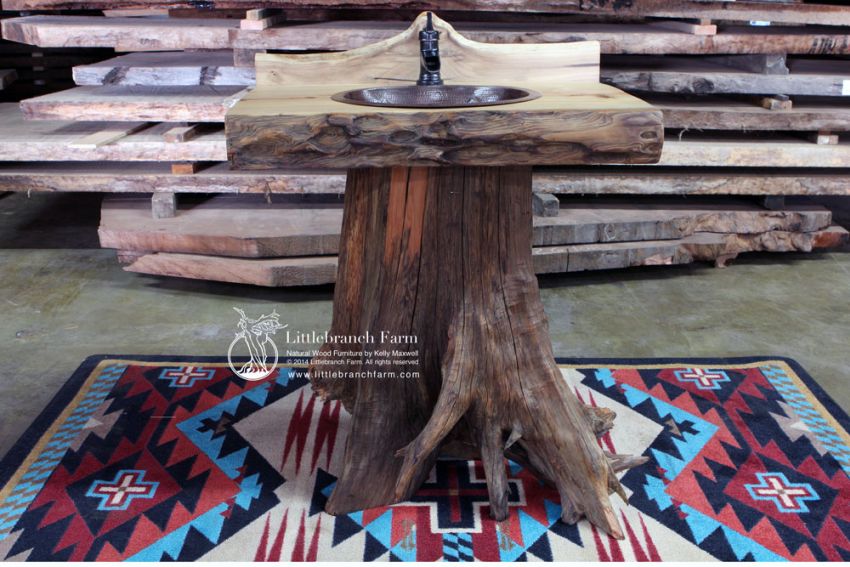 This stylish wood slab vanity cabinet has been built from old growth redwood wood slabs with live edge. It consists of all salvaged logs and root systems found on the forest floor, making each vanity unique. Apart from redwood slabs, the vanity is also available in maple burl and Claro walnut. Size: 36″ wide 24″ deep 34″ high
Buy: $2,985