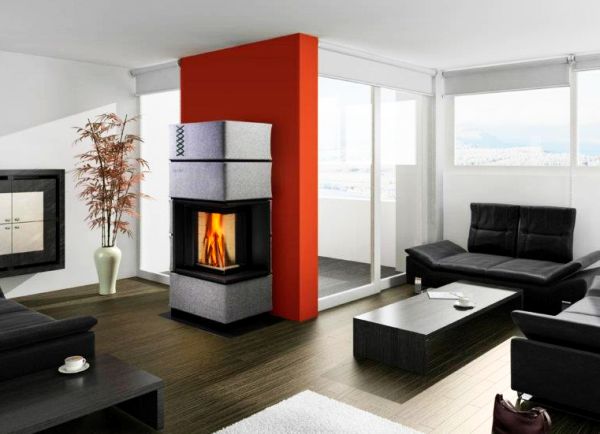 Originally used to heat the interiors of a house, a fireplace is now also an important element of home decor. Its original function is still intact, and yet it's the design aspect of the fireplace that has acquired more versatility. Created by Wieser Wohnkeramik (Feuerkultur), their latest project 'Lodenofen,' showcases a subtle primitive furnace, the kind native to Schladming, with a tinge of newness in terms of aesthetic designing and a few moulds of technology that make it more viable for all modern homes.
Living in extreme conditions of winter is nothing new to the residents of Schladming. Fireplaces are common site in their homes. Keeping this as the basis of it all, Lodenofen fireplace is stylishly draped in Loden, a traditional woollen cloth made from the pure virgin wool. This wool is taken from the local sheep and is regarded to be quiet effective against cold, wind, and rain. For some added fun, the unique design of the fireplace has been combined with a variety of colors. One can order it in nine different colors, to suit the interiors of the home.
Handcrafted in Gröbming, special emphasis has been laid on every detail of the fireplace that has bagged Red Dot Design Award 2012 for the company. The fine spread of the Loden over the chassis of the fireplace is something worth marvelling. To make it look even more aseptically appealing as well as more secured the Loden pieces have been stitched together with the help of numerous 'hafteln' or simple hooks. These hooks have further been fastened with the help of embroidered fabrics and ribbons of suitably matching shades.
Simple, warm, and beautiful are the three words that aptly describe the Loden furnace. Place one in a corner of your living room, and it is most likely to invite people to its warmth, and comfort.
Via: Feuerkultur